Seven Miniature No-Bake "Harry Potter" Desserts
I love to make themed Harry Potter desserts for occasions like a Fantastic Beasts release or Harry Potter's birthday. However, most of the images I find online are incredibly ambitious (I've tried the 3D model of a Quidditch pitch with flying people; it did not go well) or involve ingredients I don't know where to find (fondant?). Here are seven simple and cute desserts for summer that you can make without turning on the oven, using ingredients you can find at any grocery store. They're miniature too, so they're perfect for light snacking!
1. Cauldrons
Reese's Miniature Peanut Butter Cups
Black licorice (easiest with Twizzlers)

Cut a small circle in the top of the Reese's and cut off a strip of licorice. Bend the licorice into a handle and place on top of the Reese's.
2. Wands
Mini pretzel sticks
Sprinkles
Melted chocolate or a mixture of powdered sugar and milk, depending on whether you want it to be clear or not

Mix powdered sugar and milk together to make a paste. Dip the end of the pretzel in the paste or melted chocolate and then roll it in the sprinkles.
3. Witches' Hats
Hershey's Kisses
Oreos
Green food writing gel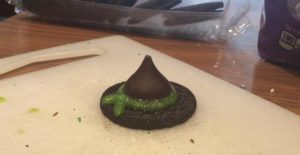 Take apart an Oreo and place the cookie with the logo up on the counter. Unwrap a Kiss and use the frosting from the Oreo to stick the bottom of the Kiss to the middle of the cookie. Use the green food gel to make a ribbon around the Kiss.
4. Butterbeer
Vanilla ice cream
Cream soda
Miniature drinking cups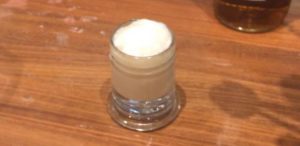 Mix vanilla ice cream and cream soda and pour them into the cup. You may want to spoon up some of the foam and put it on top.
5. Harry's Birthday Cake
Oreos
Frosting (or butter and powdered sugar if you want to make your own frosting)
Red food dye
Green food writing gel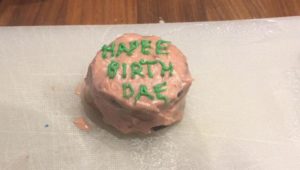 Mix the frosting with red food dye to make a light pink color. If you want to make your own frosting, mix a little bit of butter and powdered sugar together. You may also want to add just a dash of milk to improve the texture. Stick together two Oreos using the frosting and frost the entire outside of the Oreos. Use green food gel to write Harry a birthday message!
6. Chocolate Frogs
Haribo gummy frogs
Chocolate chips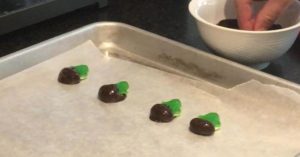 Melt the chocolate chips in the microwave for approximately one minute and stir until smooth. Dip the backs of the Haribo frogs into the chocolate and place on wax paper.
7. Brooms
Mini pretzel sticks
Reese's Minis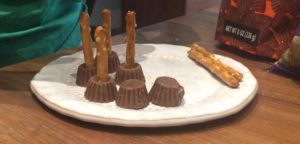 Flip the Reese's Minis upside down and stick the pretzel sticks in the middle.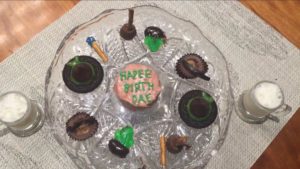 Tada! You're ready for your Harry Potter party!