Castium Revelio: Fashion, Puppets, and Shakespeare
by Alyssa Scott · Published · Updated
Welcome back to Casting News, your one-stop shop for the latest news on what our magical alumni have been up to. There's a lot to cover this week, so let's go! Castium Revelio!
Harry Potter
John Cleese (Nearly Headless Nick) has recently been working on the sitcom Speechless, and a couple of his costars sat down and talked about what it was like working with him. You can check out the video here.
See the stunning first look at Alfonso Cuarón's latest and "most essential" film, Roma. Indie Wire reports what Cuarón, director of Harry Potter and the Prisoner of Azkaban, said about Roma.
'Roma' is based on the director's own memories of growing up in Mexico City in the 1960s and '70s and found the director coming back to his home country to make a movie for the first time since 'Y Tu Mamá También.'
According to a recent tweet, Ellie Darcey-Alden (young Lily Evans) "is set to play Alice in an upcoming action TV series, Remnants!" IMDb tells fans that Remnants will be about a group of young World War Three survivors who will be dealing with their pasts and the threat of a Russian rebel group of soldiers.
Sony Pictures Classics has acquired North American and other key market rights to the movie The White Crow, directed by and starring Ralph Fiennes (Lord Voldemort). Deadline tells us what Sony Pictures Classics has to say about the movie.
Ralph Fiennes has fully captured the times and early life of Rudolph Nureyev in the most thrilling way possible with the pulsing energy of the man himself. ... We look forward to bringing Ralph's movie to the public.
According to PR Newswire, Fathom Events will present the National Theatre production of Antony & Cleopatra, in which Fiennes stars as Marc Antony, in over 500 movie theaters on December 6. The production of Antony & Cleopatra "will move audiences as Shakespeare's fated couple ... find themselves in a tragic fight between devotion and duty, where their obsession becomes the catalyst for war."
Genevieve Gaunt (Pansy Parkinson) and Ian Hart (Professor Quirrell) have been spotted in the trailer for Dusty & Me on Luke Newberry's Instagram. The movie will reportedly hit theaters in September.
Just Jared reports that Domhnall Gleeson (Bill Weasley) attended the premiere of The Little Stranger alongside costar Ruth Wilson. The horror movie hits theaters on August 31, but you can check out the trailer below!
Bill Nighy (Rufus Scrimgeour) was named one of Esquire's Mavericks of Style!
'It occurred to me that I've spent most of my life just slightly overdressed,' [Nighy] says. 'Jarvis Cocker had a good response when asked why he always wore a suit. He said, "Well, you never know who you're gonna bump into."'
Esquire agrees that this is a good idea, saying, "If you want Bill Nighy to look his best, put him in a suit."
Emma Thompson (Professor Trelawney) has been busy! Variety reports that Greenpeace enlisted her to narrate a new animated short, Rang-tan.
['Rang-tan' is] about a little girl and her orangutan friend — whose Indonesian forest home has been destroyed by the palm-oil industry.

Greenpeace produced the short as a way to apply public pressure on major food producers, including Nestle, Unilever and Mondelez, to stop using palm oil from suppliers that destroy rainforest habitats.
Thompson has also been spending time at the high court for her latest role in The Children Act, "in which her character has to decide whether Adam, a 17-year-old with leukaemia, should be forced to have potentially life-saving blood transfusions despite the procedure going against his religious beliefs as a Jehovah's Witness," according to the Guardian.
Finally, Thompson has also narrated the audiobook of Jane Austen's Emma. The publisher's summary on Audible's website says, "This lively comedy of manners, with its witty and subtle exploration of relationships, is often seen as Jane Austen's masterpiece." 
You can get the audiobook here
Fantastic Beasts
The Flash, starring Ezra Miller (Credence Barebone), has been confirmed to shoot at Warner Bros. Studios in Leavesden, UK. Heroic Hollywood reports, "There's no official start date yet on production for The Flash, although we know it's slated to begin in February." The film is expected to hit theaters in 2020.
Miller has also released a new song, "sadtown," in collaboration with Oliver Ignatius! Entertainment Weekly describes it as "the two artists coming together for a downtempo, string-heavy tune about the effect humans have on our planet."
While we shouldn't expect more music released under Miller's name, we apparently can expect more collaborations from the two. You can listen to "sadtown" here.
Ron Perlman (Gnarlak) will star in the Indie drama Run With the Hunted alongside Michael Pitt. The Hollywood Reporter describes the plot of the movie.
'Run With the Hunted' follows a young boy who commits a noble murder to save his best friend and is forced to run away from his hometown and leave her behind. Fifteen years later, he has forgotten his past and turned to a local gang. When his best friend then moves to the city in search of work and takes a job with a private investigator, she stumbles upon his 'missing' report and takes it upon herself to find the boy who saved her life.
A new image from Eddie Redmayne's (Newt Scamander) new movie, The Aeronauts, has been released by People! You can read more about the movie here on MuggleNet, and you can check out the image below!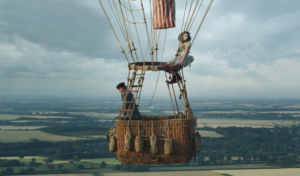 Harry Potter and the Cursed Child
Jeremy Chernick, special effects designer and creative consultant for Harry Potter and the Cursed Child, is set to work on special effects for the Beetlejuice musical, with Michael Curry handling puppet design. (Check out our story about Curry's puppet work at Universal Orlando here!)
Comic Book writes that Beetlejuice will open for pre-Broadway previews at the National Theatre in Washington, D.C., on October 14. The musical will officially premiere on November 4 and run through November 18.
That's it for this week's Casting News! Check out our archive to read more on what your favorite Harry Potter alumni are up to.