"Crimes of Grindelwald" Set Visit Interview: David Yates
David Yates, the director of Fantastic Beasts: The Crimes of Grindelwald, Fantastic Beasts and Where to Find Them, and the last four Potter films, sat down to speak with us during our Crimes of Grindelwald set visit. Yates shared the challenges of translating J.K. Rowling's brilliant writing into a cohesive film, discussed the relevance of world politics in this movie, and hinted at where in the world future films in the series might take us.
David Yates: It's a sort of fusion of genres, if you like, which I think makes it quite unique in this series of films that we've been making based on her work. Certainly beyond the Potter books, now she's writing these screenplays from scratch, originally for the theater, for the cinema. So she's come out with this very original melody. Fundamentally, it's a love story, but it has a really interesting thriller-esque sort of vibe to it as well. And the thing about her books and the thing about the movies [is], they're always very generous. They combined a number of genres. In one way, they're funny, they're emotional. They have a fantastical element, obviously. They can be quite dramatic. And so this movie is no exception. It's a really rich meal. It's full of different textures and tones, and the challenge always is to combine all of those textures into one. And Jo starts up brilliantly with the way she lays out the script. And so it's a really generous interesting thriller/love story.
Press: Can you talk about the politics of this movie? I'm wondering if you see this story in some ways as being a response to what's going on in the world right now.
David Yates: If you're making a movie, ultimately, you can't help but be sensitive to the world in which you create it. It influences you every single day, influenced Jo when she was writing the script, influences us as we put the whole story together. So we're alive to what's happening in the bigger world. But the themes, I think, are universal and archetypal and timeless. Rather than a direct political sort of counterpoint or context, it's really about the values of tolerance and understanding and a celebration of diversity. So they're the ideas, I think, that run right through a lot of Jo's work. And the values that we sort of explore in this film and the things that challenge those values and undermine those values, the promotion of fear and the persecution of otherness. But those things go through history. They're not just relevant to now. What's slightly scary is, they're becoming more relevant now. And what's wonderful is that we're making a movie that will be seen by millions of people and millions of young people, and we're making a story that celebrates tolerance, acceptance of the other, and [teaches you to] sort of be cynical when people pretend they have all the answers at a simplistic level, because they probably don't.
Press: Can you talk about Jude Law and how he shifted the dynamic between the main characters playing such a big role [as] Dumbledore and how that's changed the feel of the second movie compared to the first?
David Yates: So we're seeing Dumbledore as a young man, and Dumbledore as a young man's quite a rebel. He's quite complicated. He's far from perfect. He's an inspiring teacher. All the pupils love him. But as ever, being Dumbledore, he's a wonderful manipulator and he has this incredible ability to sort of maneuver people into situations that they may not want to be maneuvered into. And Jude brings this amazing freshness and sexiness and sensuality and sort of wit and sort of charisma to the role. And it's actually really wonderful to see this character as a young man and with Jude playing him. He's doing a really wonderful job.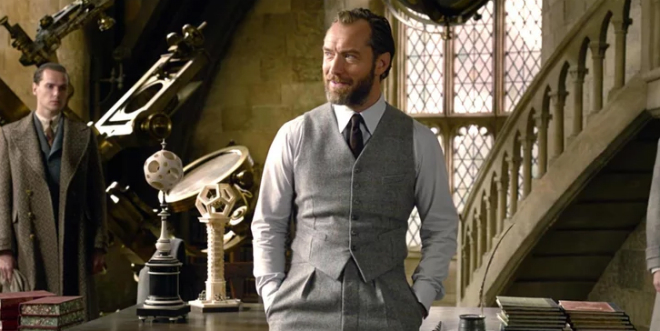 Press: I'm speaking for a million Brazilian fans. Is there any chance we can see Brazil or Latin America in general in the series? We're keen to know that. We are hoping.
David Yates: At some point, the movies are going to probably go all over the world. I know where the third movie's going. So we started in America. We came back to England. We're in Paris.
Press: Hogwarts is a big deal for fans, obviously. Was that decision something all of you came to in developing the story or did you not know it was coming till the script showed up?
David Yates: It was something that evolved in the developing process. Because we were introducing Dumbledore, it felt right to bring that world back into this one. We're there very briefly. Right in the middle of the movie, we go back [for] about ten minutes to Hogwarts and see it in 1927. And so it was a very organic, natural part of the development process that took us back there.
Press: On top of adding Hogwarts, there also seems like there are a lot more references to the nostalgia factor, like the stairs are moving in Newt's basement as a callback to the stairs at Hogwarts. How do you balance appeasing the fans of the original series and the nostalgia factor with striking new ground and creating something new?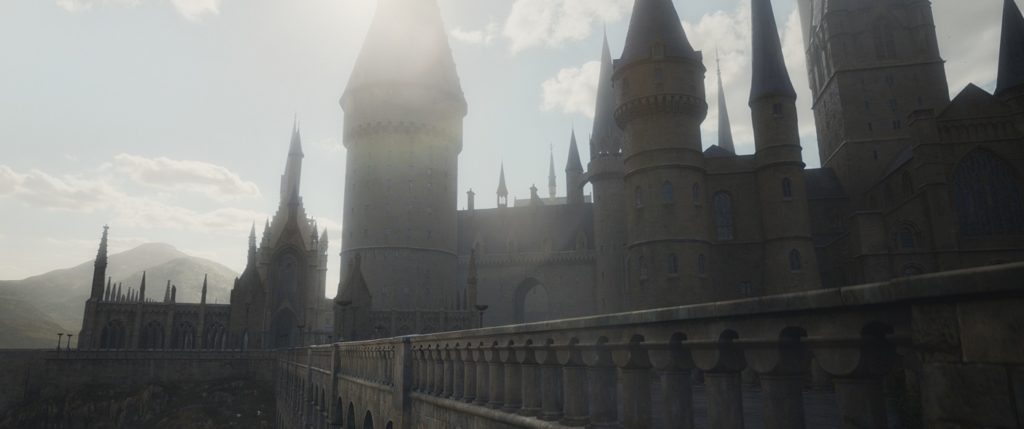 David Yates: Honestly, fundamentally, it's always about striking something new. And those things that are familiar, they're a part of what we're doing, but it's not really where I think Jo's or my or any of our interests really lie, ultimately. I mean, going back to Hogwarts is a very important function of this story, not a sort of way of appeasing the nostalgia factor of the series. And Jo, when she was here a couple of weeks ago, said it constantly surprises her as she writes how she feels like she's knocking down the walls of this world to break into new territory.
And that's what really excites her, is not looking backward, is actually realizing that you thought this world went this far, and no, it goes this far and this far and this far. And so I don't think she's really interested in repeating herself or leaning too much on the past. So there is no desire to go backward unless it really serves the function of the story and character.
Press: Talking about not repeating yourself and breaking new ground, what have you done on this movie that you'd never [done] before as a filmmaker?
David Yates: Well, in terms of the context of Jo's universe, this is a much more sensual film. We didn't really have sensuality or sexuality in any of the Potters or even the first Fantastic Beasts. We had these grown-ups, but ultimately, these grown-ups are really like big kids in a grown-up world. This is a slightly more sensual film because it is a love story. There's a sense of sensuality between the characters, which is lovely, actually. It feels like everything's growing up and getting a bit more sophisticated. This is a little bit more political with a small P than, perhaps, the others. And what we've done more than any of the others is, this is very much a sort of multi-character narrative. So we're following a lot of characters all at the same time, and it's a series of couplets. It's a series of love stories, really. It's a series of people. And really, the central theme is falling in love, falling out of love, falling in love with an ideology, being drawn into love, being corrupted by love. It all circles around that central premise of love, I think.
Press: Who is Kama?
David Yates: Yes. Who is Kama? Kama is a wizard who has a mission and he needs to fulfill that mission within this story. And he has a tragic past and a wonderful actor we've got playing him called William Nadylam. Brilliant.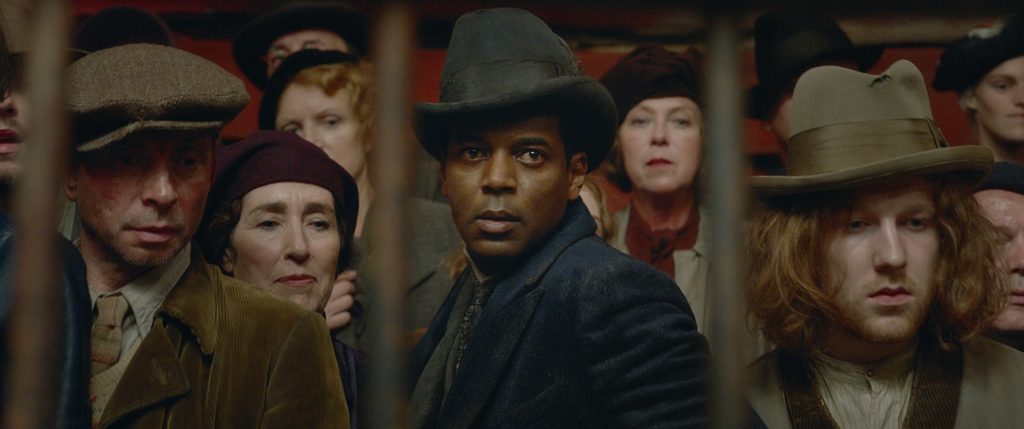 Read the rest of our set visit coverage here.
This interview has been edited for clarity. Additional formatting provided by Felicia Grady.