"Crimes of Grindelwald" Set Visit: What Are Grindelwald's Plans?
If we weren't sure after the events of Fantastic Beasts and Where to Find Them, the title announcement for the second installment firmly positioned Grindelwald as a growing force within the Fantastic Beasts series.
Fantastic Beasts: The Crimes of Grindelwald will open in the MACUSA cells, where multiple floors house over 100 prisoners, including Gellert Grindelwald. Grindelwald's history has made him an underworld hero, and he has worked his charm on his fellow prisoners – and it seems, MACUSA staff. Recently released character descriptions reveal Abernathy to be part of Grindelwald's inner circle. There is a plan to send Grindelwald back to Europe to be tried for his crimes, so MACUSA arranges for his departure. Only all won't go quite as planned. When Grindelwald takes over the Thestral-pulled carriage that has arrived to collect him and escapes in a "roller coaster escape plot," a high-stakes action scene takes place across the skies of Manhattan. "It's going to blow everyone away," hopes Martin Foley. The concept art we were shown of this scene, with the carriage and Thestrals flying over the city lights, feels reminiscent of the attack on the Millennium Bridge with a smidge of Harry Potter and the Prisoner of Azkaban's ride on the Knight Bus. Once he's escaped, he appears to be resuming his ambitions from the first film.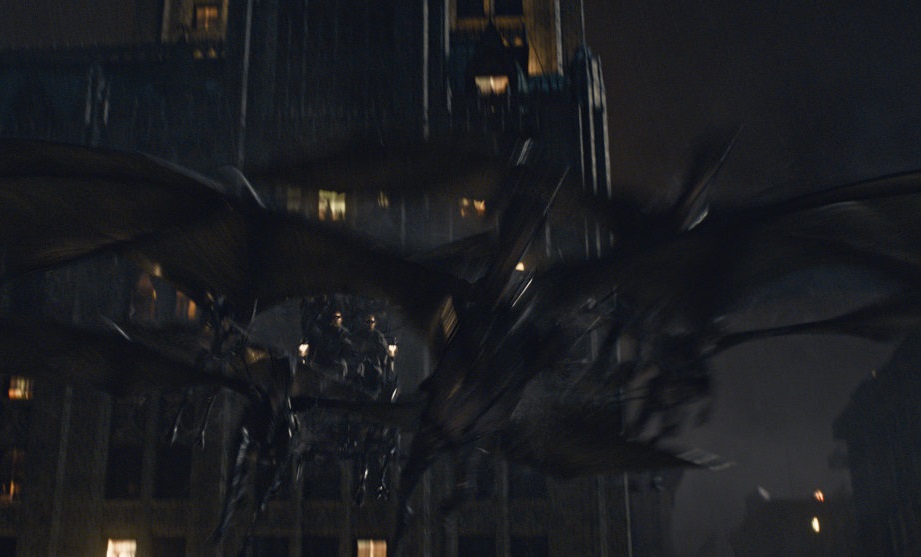 "He believes [Credence] is a key to his power, so Credence remains a significant figure for him," says Heyman from the set of Crimes of Grindelwald, and it looks as though Grindelwald will seek Credence out in Paris. As glimpsed in recent trailers, Grindelwald will host a rally, "almost like a rock concert," to declare his plans and recruit followers.
"Grindelwald is [trying] to persuade wizards that what he's doing is fair and just. He's not overtly aggressive or violent. He's just using his wit and charm," comments Martin Foley as we observed the concept art for this scene. Looking particularly ominous, there appear to be long drapes bearing a decorative G hung around the amphitheater. We know from the first Fantastic Beasts film that Grindelwald is using the Deathly Hallows symbol to some extent, so it's curious that the filmmakers have also chosen to develop his own typeface, presumably one that doesn't make it into the history books since Harry Potter and the Deathly Hallows claims that he didn't have a mark.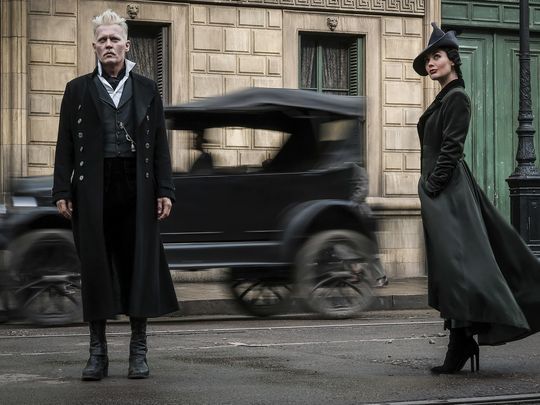 Since our set visit, new images have been released of Grindelwald joined by new character Vinda Rosier, no great surprise given the allegiance of her presumed descendants. However, the art department also showed us a particularly alarming concept drawing of Nurmengard; a spacious, high-ceilinged room with large windows overlooks a cliff top and in the bottom right-hand corner, the backs of Grindelwald and Queenie Goldstein. Could Queenie's affiliation to Jacob make her seek more visibility for the wizarding community? Or could her presence at Nurmengard be under false pretenses?
When or how he makes it to Paris, and in what form, remains to be seen. But Grindelwald will cast a long shadow over this next film, threatening Muggle and wizardkind alike.
Read the rest of our set visit coverage here.
Additional formatting provided by Madison Ford.