Claudia Kim Finally Breaks Silence on Her Character
SPOILERS AHEAD: PROCEED WITH CAUTION
Claudia Kim's character has been shrouded in secrecy ever since her casting. Over time, we learned she would be playing a Maledictus, a person born with a blood curse that destines them to turn permanently into a beast. However, her character's name remained a secret.
With the release of the new Fantastic Beasts: The Crimes of Grindelwald trailer, this missing piece of information was finally revealed, confirming a popular fan theory. Claudia Kim's character is Nagini. In the film, Nagini is part of the traveling Circus Arcanus, where she uses her affliction to entertain Muggles by turning into a snake.
Finally, I can say it!
I am #NAGINI ??♥️ https://t.co/NruaZhlVR2

— Claudia 수현 (@ClaudiaSKim) September 25, 2018
Kim confirmed that throughout Crimes of Grindelwald, she can turn into a snake and back at will, but she knows her time is limited. Due to her blood curse, the transformation will eventually become permanent. Kim spoke to Entertainment Weekly about her character's impending, uncontrollable destiny.
She does feel sometimes it's not controllable. She is bound to [permanently] transform at some point to a beast so she feels this pressure that the clock is ticking.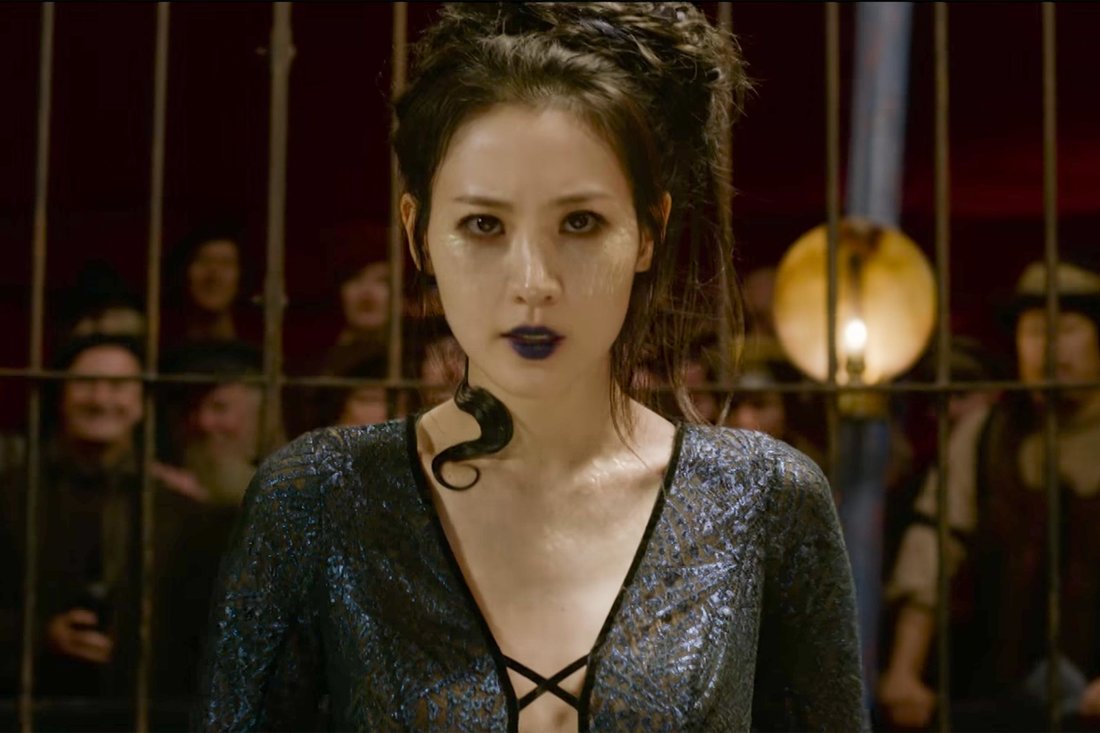 Kim explains that, despite one day serving Lord Voldemort, Nagini is not inherently evil. In the upcoming movie, we will have a chance to see who she was before she succumbed to her curse.
It will be so interesting to see another side of Nagini. You've only seen her as a Horcrux. In this, she's a wonderful and vulnerable woman who wants to live. She wants to stay a human being and I think that's a wonderful contrast to the character.
While her character may not technically be a wizard, she does have powers of her own. Kim describes the powers as something potentially unique that we may not have seen before.
She has powers that are yet to be explored. I can't confirm she has powers like wizards have. And she doesn't have a wand.
We know Nagini befriends Credence at the circus while he's on the run. With the reveal of the new character posters identifying Nagini as "aiding a fugitive," we can assume the fugitive in question is Credence. Kim reveals that the relationship between Nagini and Credence is incredibly meaningful to her character.
Sometimes I introduce myself as 'Credence's only friend.' It's amazing these two broken souls are able to form some kind of friendship within the circus. Credence is special to her because he encourages her to use her power.
Kim was thrilled to finally be able to break the silence on this huge secret she's been carrying around.
I've seen so many videos and fan theories on YouTube. Everyone is so good at analyzing every element there is. I've been very careful and aware that I should not spoil it for anybody. But I've been dying to say something!
There's still a lot about Nagini we don't know, including how her story ties into the larger plot involving Grindelwald. Will her character continue to appear in Fantastic Beasts films? Will we get a full history explaining how she ended up as one of Voldemort's Horcruxes? We'll just have to wait and see. Thankfully, the release of Crimes of Grindelwald is less than two months away!
Check out this video below of Claudia Kim's big reveal!
View this post on Instagram