Events Roundup: From Bar Crawling and Rescuing Fantastic Beasts to a "Harry Potter"–Themed Dinner
There are many ways you can spend your weekend: reading a good book, hanging out with friends, cooking up a storm… or, you can spend it living all your Harry Potter dreams. If you've got some autumn blues, this coming weekend is about to change your mood. Attend a magical bar crawl, rescue some fantastic beasts, or have a dinner fit for a wizard.
Go Bar Hopping with Expecto Bar Crawl
If you're in Colorado Springs, the Expecto Bar Crawl is coming your way! Count your Galleons, grab your wand, and prepare yourself for an awesome time on Saturday, October 6.
EpicEventz is combining wizardry and booze for an utterly magical mixture that promises to be an event you won't soon forget. It's for a good cause too – a portion of proceeds will be donated to the National Multiple Sclerosis Society.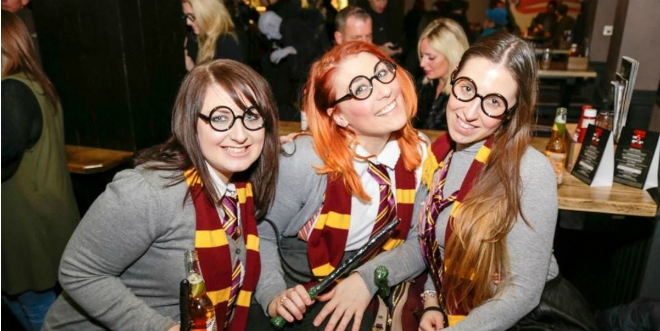 If you are attending this event, feel free to don your best robes and wizard's hat, but do remember that a lanyard will still be required in this case. Dressing up does not mean that you get to fully participate in the event; you still have to buy a ticket and wear your lanyard so that the bartenders will know that you paid and are part of the event. If you want to go as your best Muggle self, you are free to do so too. Make sure that you check in at the venue during the designated time since this is when the lanyards will be handed out. If you can't make it on time, have no fear – just ask a trusty friend to pick it up for you using your unscanned ticket. Also, keep in mind that there will be no refunds on tickets and you have to be 21+ to participate.
The bars participating in this event are as follows:
Chiba Bar
Brewer's Republic
Tony's Bar
The Thirsty Parrot Bar & Grill
Check-in will take place from 3:00 p.m. to 5:00 p.m. at the Thirsty Parrot Bar & Grill. You can grab your tickets here.
Save the Munbax with a Magical Immersive Theater Experience
If you're in Milton, Massachusetts, and have been feeling jealous of Newt and all his fantastic beasts, you will be happy to hear that you now have a chance to save some fantastic creatures of your own. Prepare yourself for an immersive theater experience at the Eustis Estate Magical Creatures Preserve that focuses on saving the Northern Crested Munbax. Interested? Your invitation has just arrived:
The year is 1898. Mrs. Hatherly and Mrs. Phipps cordially invite you to join Boston's progressive wizard and witch elite for an evening of potion-casting, spell-casting, divination, and creature talks. We will—we must!—come together to conserve the precious magic creature population of New England, most particularly, the Northern Crested Munbax.

Uncover your secret, magical alter-ego circa 1898.

Engage with magical creatures at the Magical Creatures Preserve.

Cast spells, mix potions, divine the future and launch a conservation society.

Help us solve the puzzle of the Northern Crested Munbax.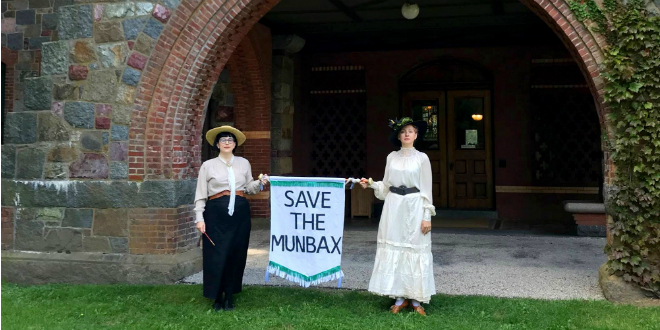 As a member of the fantastic beast–saving wizarding community, you will explore the beautiful Eustis Estate Magical Creatures Preserve and receive lectures and instructions from some of the best witches and wizards in the field. There is no better almost-Hogwarts experience than this one.
This magical event is taking place October 6–8 from 7:30 p.m. to 9:30 p.m. at the Eustis Estate in Milton, Massachusetts, and you can get tickets here. If you have any questions or need some more information, you can contact Mrs. Hatherly and Mrs. Phipps at knockknock@greendoorlabs.com.
Treat Yourself to the "Muggle Mischief Managed" Dinner
Colder weather means that you will probably get the munchies sometime soon. There is no better way to satisfy the craving for delicious food than going to a Harry Potter–themed dinner party.
Dietrich Bronner, a chef from Frankenmuth, Michigan, has just the thing. His first Harry Potter–themed dinner, Muggle Mischief Managed, will take place October 7, but unfortunately, it is already sold out. Three more events were scheduled to meet the demand, but those are all sold out as well. Now there is a wait list of about 500 people hoping to get a taste of his magical dishes. Bronner says that he knew the dinners would be popular, but he had no idea it would foster such a big response. He is currently trying to get more dinners on the calendar.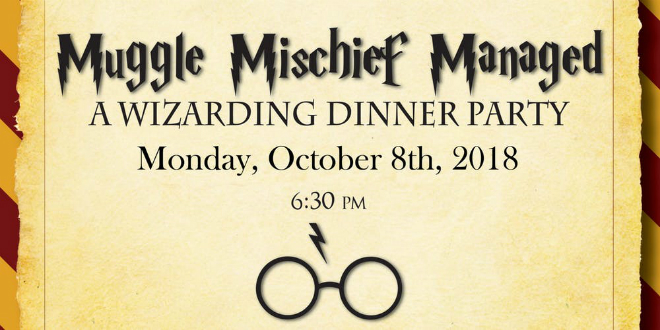 Bronner is an eccentric, self-taught chef and a co-founder of the Frankenmuth Farmer's Market. Bronner is best known for his creation of unique ice cream flavors, including jalapeno popper, chicken and waffles, and kettle corn. He also works as the product development and catalog manager at Bronner's Christmas Wonderland.
He has not yet released the magical 9 3/4-course menu for the dinner, but he promises that it will be truly magical.
Some items will change colors before guests' eyes. Others will literally disappear. Some foods will fizz and crackle and pop. Table elements, such as candles, will be much more than they appear to be. And the most popular foods from the books will be fully incorporated.
If your mouth is already watering just thinking about these Harry Potter dishes, you can join the Muggle Mischief Managed email wait list here.