Lethal White Horses
by Dr. Beatrice Groves
White horses have been galloping everywhere among the gingerbread crumbs J.K. Rowling has dropped in the lead-up to the publication of Lethal White on September 18.
First up is the title. Presumably, it is a nod to lethal white syndrome, a genetic disease (prevalent in American Paint Horses) that causes foals that are born entirely white to die. Then there was the striking USB stick on which Rowling stored the completed novel:
Finished. #LethalWhite pic.twitter.com/4VHWDZf0fO

— J.K. Rowling (@jk_rowling) March 23, 2018
Then there have been the Twitter headers. Early in 2017, Rowling noted that her Twitter headers reflect what she is working on, and there have been a number of white horses among them. This image for example, is (I think!) an articulated artist's model for a horse (the post in the middle serves to hold it up when the legs have been moved to illustrate running):
Might these all be red (white) herrings?
John Granger, in his magisterial survey of all Rowling's white horses, has suggested so (and see his fascinating suggestion as to what "white horse" might really mean).
I think, though, this cannot be a complete red herring. Speaking as Galbraith, Rowling has spoken of the rules of detective fiction:
It was very important to maintain the reader's interest without feeling that they were being led down pointless rabbit holes for my own amusement. The No. 1 rule in this genre is: You have to play fair.
If this is all a rabbit hole, has she been playing by her own rules?
Amid the renewed interest in the Strike series, brought on by the airing of the TV adaptations of The Cuckoo's Calling and The Silkworm in the UK in early autumn 2017, Rowling changed her Twitter header to Benjamin West's Death on the Pale Horse (1817):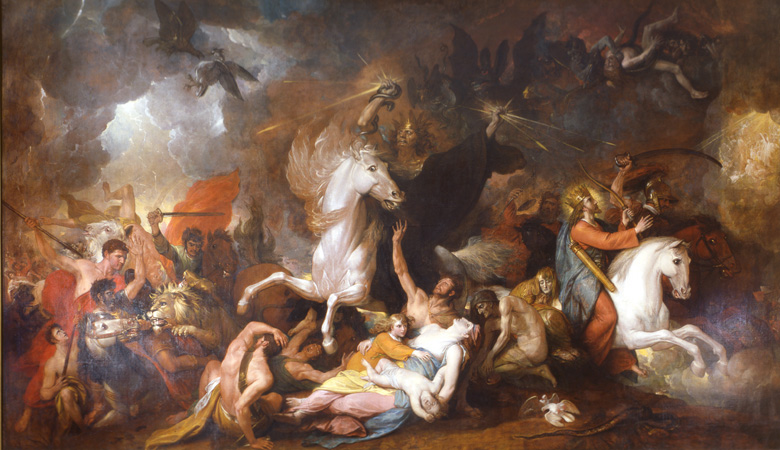 This Twitter heading certainly gives food for thought – it is a monumental reimagining of a biblical passage about death and a pale horse: "And I looked, and behold a pale horse: and his name that sat on him was Death" (King James Version, Revelation 6.8). West's visualization of this passage puts two white horses center stage. The choice of Death on the Pale Horse as Rowling's Twitter header is even more striking now that death and horses have been irrevocably linked in Lethal White's blurb: "I seen a kid killed… He strangled it, up by the horse."
The grammar of that "up by the horse" phrase is odd. It suggests the horse is a place, not an animal. There are horses that are places in England: the 17 or so chalk horses that have been etched into English hillsides. This suggestion has been mooted by at least two people recently, and it is an idea I am very taken by. A chalk horse would explain the odd grammar of the phrase "up by the horse," and it would also fit with the way in which it has been specifically white horses that have been lurking behind all of Rowling's equine clues. All of these spectacular horse geoglyphs in the UK – the Salisbury White Horse, the Westbury White Horse, the Cleadon White Horse, the Osmington White Horse – are known as "the White Horse."
All of these White Horses are modern (18th century or later) with one notable exception: the fabulous Uffington White Horse below.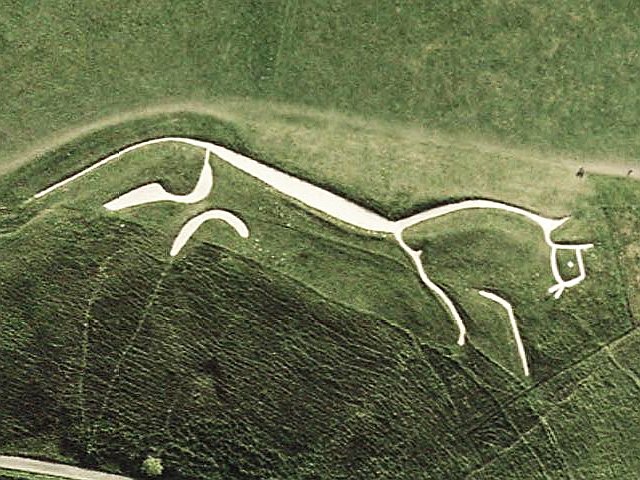 If Rowling is thinking of a chalk horse as the place where the historical murder was witnessed, then I think the Uffington White Horse is the best guess. This is not only the most historical of the White Horses – the original that all the others are copying – but its mythic origins have some interesting resonances with mythological names in both the Strike series and Harry Potter. And incidentally (sharing a name with the Pale Horse of Rowling's Twitter header above), it has appeared in detective fiction before: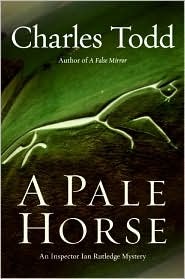 Hengist: White Horses and Chocolate Frogs
For a long time, historians argued as to whether the Uffington White Horse was of Saxon origin or from much earlier – Roman or even Bronze Age (c. 2500–800 BC). Both theories are laid out in John Aubrey's Monumenta Britannica (c. 1665–93), the first English book of archaeology. (Aubrey shares a number of Rowling's interests: He was the first substantial collector of English folklore and wrote the first book on the origins of English place-names). Aubrey suggests that the unusual form of the Uffington White Horse – symbolic rather than naturalistic – may mean it was carved in pre-Roman Britain. During the Civil War siege of Colchester (1648), a first-century gold coin was discovered in the Roman city walls (which had been breached during the battle). The stylized picture of the horse on the reverse of the coin put Aubrey "in mind of the White Horse cut in the hill called White Horse Hill in Berkshire; which some will have to be made by Hengist or Horsa."¹ Earlier, however, Aubrey had himself accepted the idea that the Saxon Hengist cut this White Horse into the hillside as a sign of his victory:
… this rich and pleasant Vale of White Horse, Hengist or Horsa (a Saxon king)… took into his possession. Hengist signifies a horse, as also Horsa. The White Horse was their standard at the conquest of Britain: which is the origin of the White Horse cut out in this chalk hill. It is seen many miles from thence." (2: 820–1)
Hengist, of course, is better known to Potter fans as someone who turns up on a Chocolate Frog card.
Hengists are few and far between in English folklore/history, so it seems fair to assume that this Saxon Hengist was where Rowling found the name. (Possibly – given the frankly astonishing knowledge of early modern plays Rowling has shown in her Silkworm epigraphs – she met him as the title character of Thomas Middleton's play Hengist, King of Kent [1616].) But there is a general nonplussedness among Potterheads as to why Hengist should turn up among the otherwise magical or magic-related figures who are found on Chocolate Frog cards. The Harry Potter Lexicon notes, for example, with charming candor, that"Hengist was a Saxon King of Britain shortly before King Arthur's time, who helped King Vortigern defeat Scot and Pict rebels. Later, he led a rebellion of his own, and eventually founded the county of Kent. Quite what this has to do with wizardry, I don't know."
Well, I don't know either. But I have found one poetic link between Hengist and magic in the Victorian imagination, and suitably enough, it is about white horses. The mid-Victorian poet Charles Tennyson Turner (brother of the more famous Alfred, who is quoted at length at the end of The Cuckoo's Calling, wrote a sonnet entitled "The White Horse of Westbury." This poem speaks of the magic spell woven by the chalk white horse geoglyphs created by Hengist and Horsa:
As from the Dorset shore I travelled home,
I saw the charger of the Wiltshire wold;
A far-seen figure, stately to behold,
Whose groom the shepherd is, the hoe his comb;
His wizard-spell even sober daylight owned;
That night I dreamed him into living will;
He neighed—and, straight, the chalk poured down the hill;
He shook himself, and all beneath was stoned;
Hengist and Horsa shouted o'er my sleep,
Like fierce Achilles; while that storm-blanched horse
Sprang to the van of all the Saxon force,
And pushed the Britons to the Western deep;
Then, dream-wise, as it were a thing of course,
He floated upwards, and regained the steep.
("The White Horse of Westbury," in Small Tableaux [1868])
The White Horse casts a "wizard-spell" over the speaker, causing him to dream that Hengist is alive once more and riding "that storm-blanched horse" etched into the hillside.
Horse-Loving Twins
Hengist and Horsa's deep connection with horses starts with their names, which mean "stallion" and "horse," respectively, in Old English. Mythical horse-riding twins are very common in European folklore, and it is believed that the idea of Hengist and Horsa stems from the divine twin horsemen of Greek myth, the Dioscuri.
The myth of the Dioscuri (Castor and Pollux) has already entered discussions of the Strike series because Strike's mother (Leda) shares her name with their mother, the mythological Leda who gave birth to Castor and Pollux (and their sisters Helen of Troy and Clytemnestra) after her rape by Zeus in the form of a swan.

Strikingly, Castor and Pollux are not only revered horsemen, but they also have two links with white horses: They abduct the Leucippides ("daughters of the white horse"), and their skill in horsemanship is reputedly linked "to the idea that they rode the 'white horses' of foam that were formed by curling ocean waves."
The fact that Hengist, the reputed creator of the White Horse of Uffington, turns up in Harry Potter and that, as a horse-riding twin, his mythology links closely with Leda's sons, who turn out to have their own double connection with white horses, is at least suggestive. It seems to me to back up the idea that the odd grammar of "by the horse" is indeed pointing to a horse that is a place, a chalk horse.
However, it may just be that I am biased. For like Billy in Lethal White, I have my own childhood links with a white horse.
The Vale of the White Horse is near Oxford, and when I was a child, I was taken to play there by a friend, and we helped maintain its whiteness by cleaning (or "scouring") it. I first found out its mythical connection with Hengist when, a while ago, I googled "Hengist" in order to try to find out why Rowling might have put him on a Chocolate Frog card. Alongside finding out about Hengist's links with the Uffington White Horse, I also – with a jolt – found out something about my own childhood. The Wikipedia entry notes that the age of the horse has now been settled and that it is the more ancient origin story that is correct. It is not a Saxon horse, but a Bronze Age one:
In 1995, using optically stimulated luminescence dating, David Miles and Simon Palmer of the Oxford Archaeological Unit assigned the Uffington White Horse to the late Bronze Age.
Reading this gave me a strange thrill – since David Miles was the friend's dad who took me to play there in the late '80s. Unbeknownst to me, as I was mucking about on the hillside, the person beside me was mulling over some paradigm-shifting research that would prove this horse to be over 2,000 years older than all the other chalk horses in England.
I fear Billy's childhood recollections of the horse will have no such happy ending, but I'll admit to a hope that we may be remembering the same one…
---
¹Aubrey, John. Monumenta Britannica: Or, A Miscellany of British Antiquities. Eds. John Fowles and Rodney Legg. Vol 2. Dorset: Dorset Publishing Company, 1980. 96–7.
Writing with cutting-edge literary analysis of the series,
Bathilda's Notebook
explores the literature and ideas that have most inspired Rowling, from Shakespeare to Sherlock Holmes.
Want more posts like this one? MuggleNet is 99% volunteer-run, and we need your help. With your monthly pledge of $1, you can interact with creators, suggest ideas for future posts, and enter exclusive swag giveaways!
Support us on Patreon