Review & Giveaway: Harry Potter by Danielle Nicole!
Here at MuggleNet, we're always on the lookout for new and interesting licensed wizarding world merchandise. After 20 years, we've pretty much seen it all. Anytime new merch makes an appearance, we're on it like Mrs. Norris sniffing out students roaming the halls during the night at Hogwarts.
One of the designers of Potter-inspired items we've been keeping our eyes on has been handbag designer Danielle Nicole. We've seen her work before for other brands, including her gorgeous Beauty and the Beast rose bag. This time, we are so pleased to get the chance to review a new item from her Potter line and give away one of her bags to you!
When the Slytherin wristlet arrived, the box was HUGE. I don't know if it's because I am super picky when it comes to handbags and my only experience with wristlets has been smaller versions, but this bag is much bigger than any wristlet I have ever seen.
The super soft material gives you the feel of luxurious leather, and the embroidered sparkling snake represents House Slytherin well.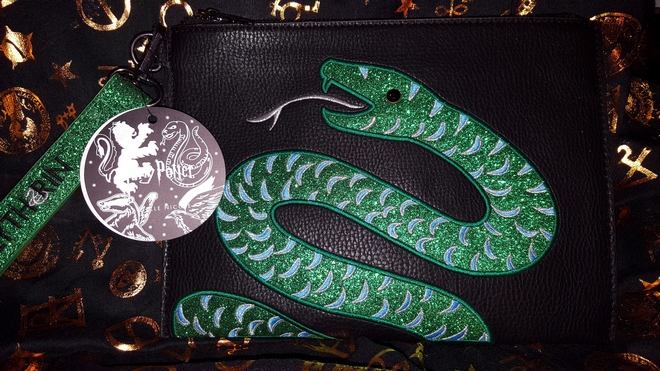 From the snake's bejeweled eye to the dancing silver tongue, it's clear exactly whom this pouch belongs to. The glittering green wristlet that is attached is also removable, so you can choose to carry this as a pouch in your hand or with the strap.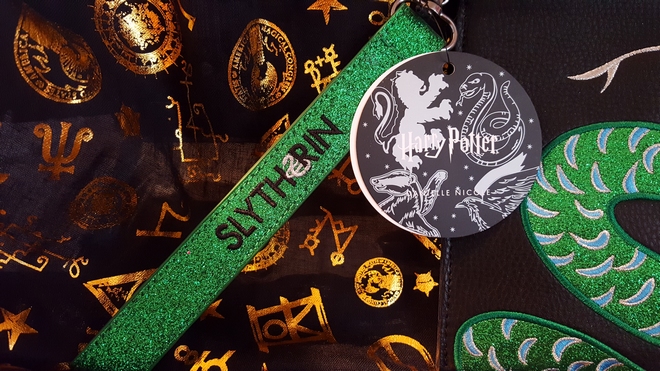 The zipper and pull, stamped with the Hogwarts crest, is gun-metal gray. This only adds to the sleek and sexy feel of the bag, in my opinion.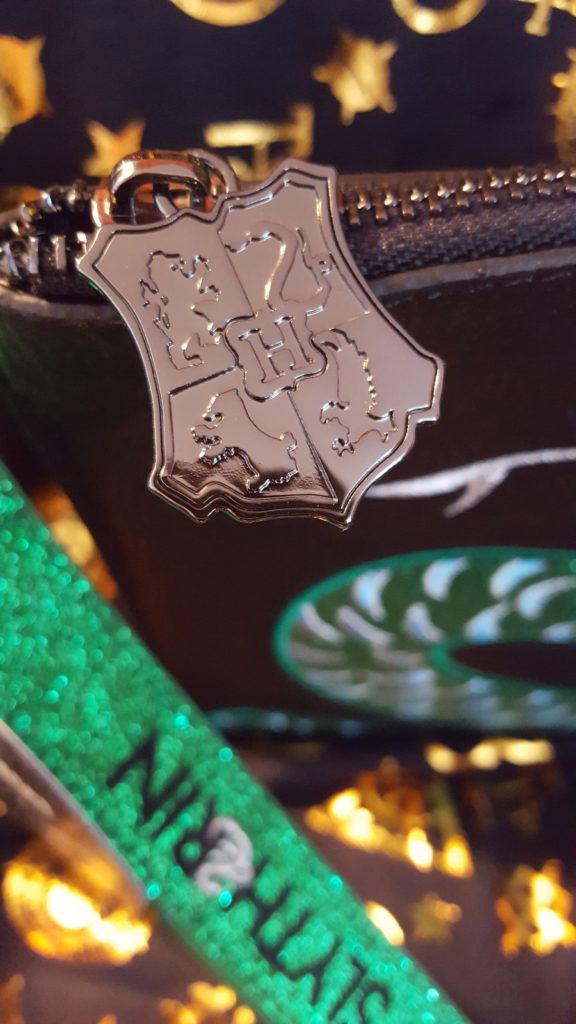 What's wonderful about this beautiful bag is that you have a truly magical and stylish design that meets necessity. Sewn inside the bag is a set of three cardholders, which means you can drop in your favorite lippie, your cell phone, and your keys and still have a place to secure your credit cards for easy access during a night out on the town.
How can you get your hands on one of Danielle Nicole's bags? Enter our giveaway, of course! Our contest will be open from September 17 through 11:59 p.m. on October 1. We will have one House backpack to give away to a lucky reader. The winner will get to choose which House they want to represent.

The winner will be contacted via email after the contest ends and must respond within 24 hours, or another winner may be chosen. Enter below to win your backpack!
The Slytherin House pouch was provided for review by Danielle Nicole.