What Is the Exact Date of Harry's 20th Anniversary in the US?
If you have Harry Potter "20th-anniversary whiplash," we don't blame you. Bloomsbury celebrated 20 years since the publication of Harry Potter and the Philosopher's Stone in June 2017 and the 20th anniversary of the UK edition of Harry Potter and the Chamber of Secrets on July 2, 2018.
Meanwhile, Scholastic – which published Harry Potter and the Sorcerer's Stone a year later than its UK counterpart – has been teasing celebrations of the book's 20th anniversary since early in 2018, even though the anniversary month wasn't until September. Finally, on September 1, many outlets – including MuggleNet – officially celebrated the anniversary of the novel's US publication.
#SorcerersStone was published 20 years ago. What was the news like then? What were the reviews? #HarryPotter #20YearsofHarry – https://t.co/TgEnUU5FSQ pic.twitter.com/PbJ2NJovr0

— MuggleNet: the World's #1 Harry Potter site! (@MuggleNet) September 1, 2018
It was surprising, therefore, when official outlets – including Scholastic, Pottermore, and J.K. Rowling herself – tweeted about the anniversary four days later, on September 5.
It's been 20 years since the U.S. publication of Harry Potter and the Sorcerer's Stone! Celebrate the magic by sharing what Harry Potter means to you. #HarryPotter20 pic.twitter.com/Gw4bOK7IMe

— Scholastic (@Scholastic) September 5, 2018
Happy birthday Harry Potter and the Sorcerer's Stone! It's been 20 years since the first Harry Potter book was published in the US. Do you remember where you were when you first read it? @Scholastic #HarryPotter20 pic.twitter.com/6WZD8U3fCy

— Pottermore (@pottermore) September 5, 2018
Harry Potter was first published in the US 20 years ago today, so
I'm sending lots of love to American Potterheads, who've given me some of the most memorable moments of my Potter-related life!@Scholastic #HarryPotter20 ?? ⚡️❤️

— J.K. Rowling (@jk_rowling) September 5, 2018
We can't complain about celebrating our favorite book twice in the span of a few days, but some fans were left wondering, what is the correct date for celebrating the 20th anniversary of Sorcerer's Stone? At MuggleNet, we decided to find out.
First, we turned to Philip W. Errington's 2015 book J.K. Rowling: A Bibliography 1997-2013, which includes detailed publication information about the Potter series. As it turns out, Errington had a little bit of trouble with this question as well.
Although no publication day is recorded [for Sorcerer's Stone], 1 October 2018 is assumed. In an email […] from January 2013 Arthur A. Levine noted that 'I'm fairly certain that we didn't have strict 'on sale' dates…the publication 'day' would simply be the first of the month listed.' Nielsen BookData provides a publication date of 1 October 1998.
Errington based his assumptions on the publication date listed on the copyright page of Sorcerer's Stone, which is not September at all, but October 1998.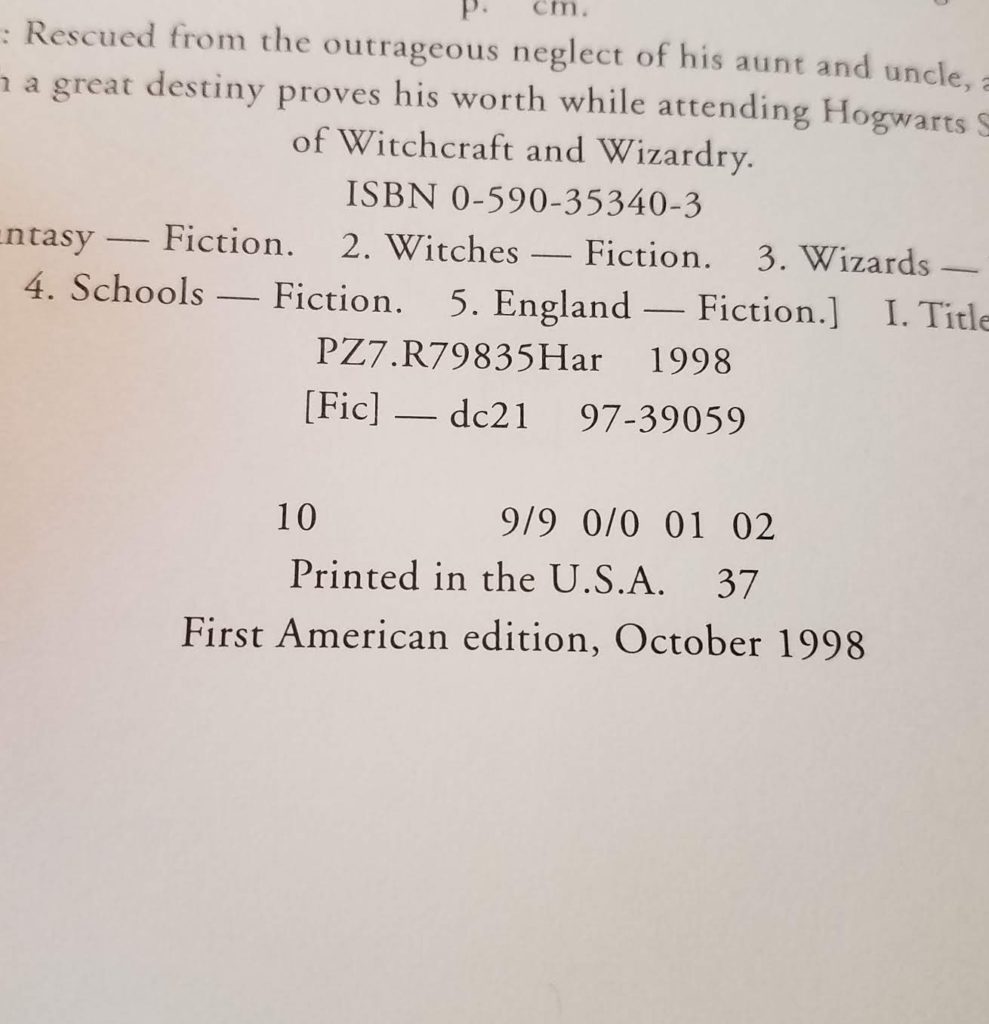 Since Scholastic was publicizing the 20th anniversary in September, not October, we knew the date printed in the book itself must have been a bit belated. This is not an unusual occurrence and usually means that the publication date shifted between when the book was sent to the printer and when it was actually released. This 1998 review from Publishers Weekly – which would later be quoted on the back cover of subsequent printings of Sorcerer's Stone – also confirms that the book went on sale in September 1998.
Finally, we, like Errington, decided to bring our question directly to the book's US editor, Arthur Levine, for clarification. Here's what we learned:
There actually never was a specific pub date for Sorcerer's Stone. It started to be sold in stores in the beginning of September 1998. So we chose September 5 to celebrate this momentous occasion; it is the first week the books would have been available.
No wonder fans were confused! Neither September 1 nor September 5 is the "real" anniversary, and either one could have been the day US readers were first encountering Harry Potter and the Sorcerer's Stone in their local bookshop.
Errington's research was essentially correct but off by one month because of the date printed in front of the book itself. We have a feeling, however, that now that Scholastic and J.K. Rowling have both publicly marked September 5 as the series' US "birthday," this is the date fans and outlets will continue to commemorate in the future.
Now we only have to sort through the 20th anniversaries of all the other books in the series to get everything straight – and by then it will be time to celebrate the 25th!