A Magical Start to New York Comic Con: "Cursed Child" Takes On a Different Stage
For the first time ever, Harry Potter and the Cursed Child cast members helmed a panel at New York Comic Con (NYCC). This is the first appearance the Harry Potter play has had at any convention. On Thursday, the original seven cast members took the stage to a completely packed room. While the cast is still committed to keeping the secrets (even with one slip-up from Alex Price, who portrays Draco Malfoy), they did share a few tidbits about the production, behind the scenes, and some exciting things coming in the future.
Below are seven things revealed during the NYCC panel.
1. The cast members shared their Hogwarts Houses.
Jamie Parker (Harry Potter), Poppy Miller (Ginny Potter), Anthony Boyle (Scorpius Malfoy), and Alex Price (Draco Malfoy) all share the same Houses as their onstage counterparts. Meanwhile, Paul Thornley (Ron Weasley) and Noma Dumezweni (Hermione Granger) are both Ravenclaws, and Sam Clemmett (Albus Severus Potter) is a Hufflepuff.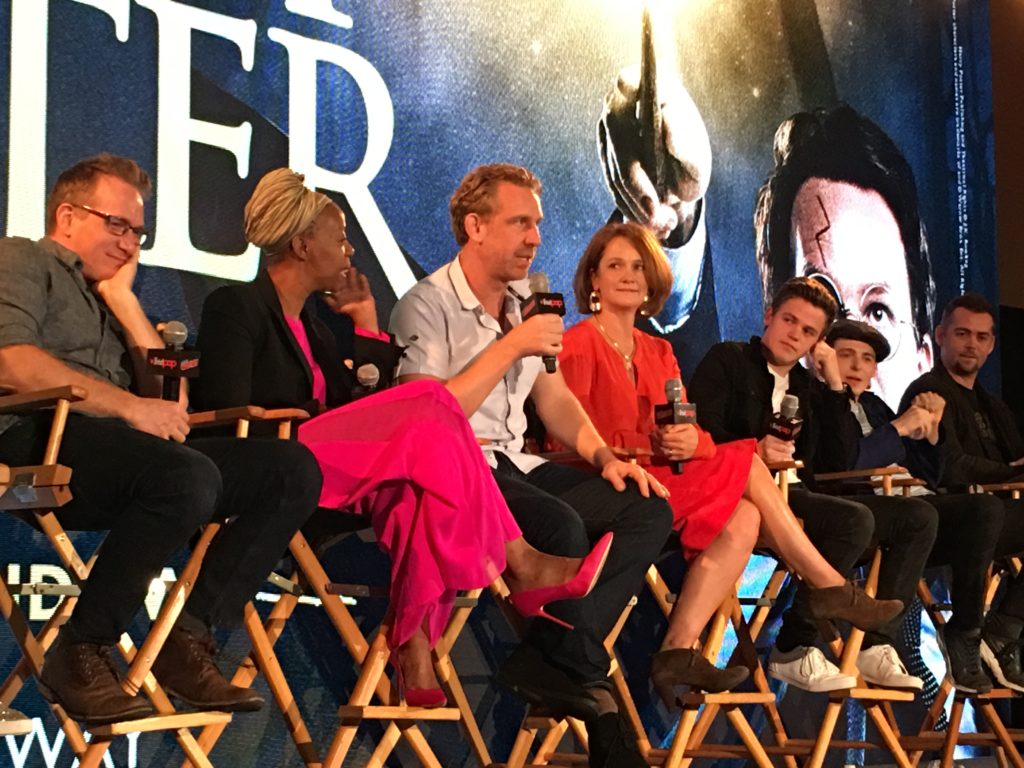 2. We were treated to a rare video clip from the play.
The content of the play has been kept hush-hush (audience members attending the West End and Broadway productions are handed a pin that reads "keep the secrets"). Panel attendees got a rare glimpse at the production with a clip of choreography when Albus Potter and his fellow first years are attempting to harness their magic.
3. Jamie Parker is a man of many talents.
Jamie Parker not only plays the Boy Who Lived on stage, but he can also sing. By sing, we mean he's a modern-day Frank Sinatra. Jamie crooned his way through "My Time of Day" from Guys and Dolls after plenty of urging from Noma Dumezweni and more than a little pressure from an eager audience. It was also revealed that he is a regular Jim Dale, recording himself reading chapters of the Harry Potter books every night for his son to have a bedtime story.
4. There are differences between the London and New York productions.
When asked what the difference was between the London and New York productions, Alex Price was very quick to point out American enthusiasm and sheer loudness. He says the London audiences were much more reserved than in New York. Alex says that was a bit of a shock because he didn't think the London preview audience's reaction could ever be topped but that the Broadway debut did just that.
Other cast members revealed that they feel much more confident in their roles in the Broadway productions, having been playing those parts for around three years now. Anthony Boyle says he was nervous about being fired his entire time in the West End and spent much of the rehearsal process just trying to get it right. He felt that he was "shooting in the dark" during his performances in London, but on Broadway, he has finally found the character and knew exactly what he wanted to do with Scorpius. Anthony feels that the play has improved overall since coming to New York.
5. What would the cast members like to teach at Hogwarts?
The cast members were asked which subject they would most like to teach, were they professors at Hogwarts, and the answers did not disappoint. Poppy Miller chose "Broom Flight," correcting herself immediately after with "or should I say 'Flying.'" The crowd cheered at this, acknowledging Ginny's post-school career as a Quidditch player on the Holyhead Harpies.
Paul said Potions would be boring, like chemistry. Poppy then suggested Paul should teach Care of Magical Creatures. After much consideration, Jamie chose Defense Against the Dark Arts to pay due diligence to Lupin, stating that "There's something so desperately needed about Lupin's presence in that classroom and in that slot in the faculty, and I think Harry would have wanted that."
6. Jamie and Noma go "way back."
Jamie and Noma revealed that their friendship is a long one. The two starred together in another play in the West End that Jamie called "the worst play ever," but Noma remembers it much more fondly, saying, "I actually really liked it."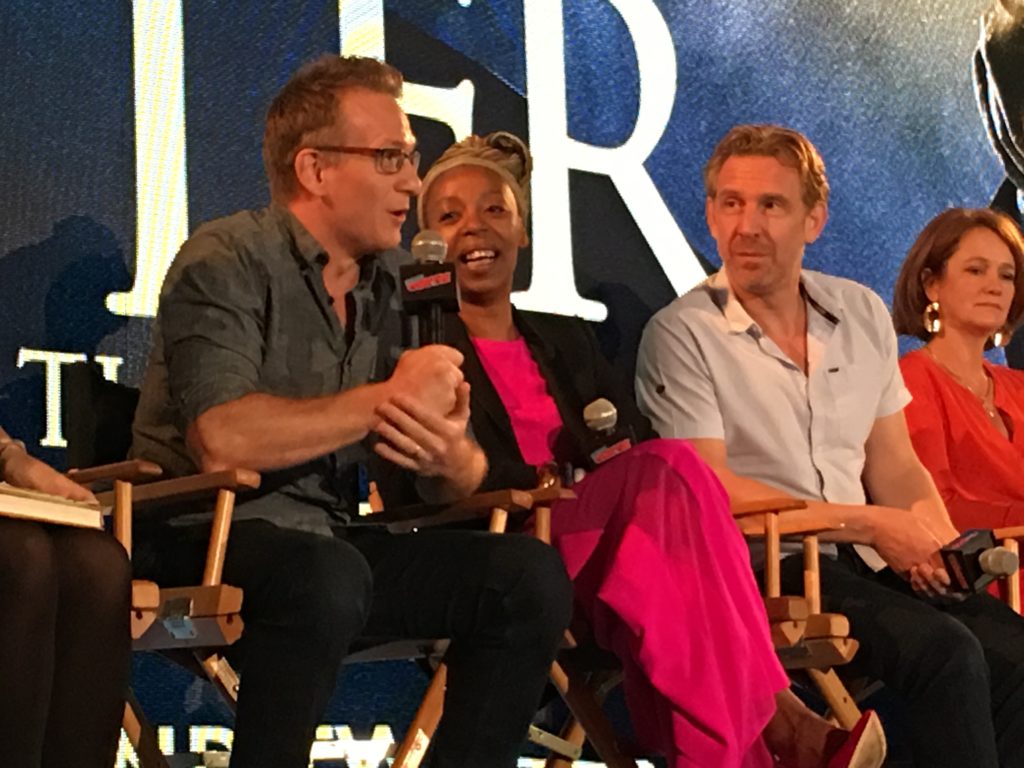 7. We heard a snippet of the soon-to-be-released soundtrack.
The panel audience heard a preview of the previously announced soundtrack for Cursed Child. Imogen Heap is the woman behind the ethereal and powerful music heard throughout the production. The track played at the panel is from a scene in the Ministry of Magic, according to Noma, and features sounds of swooshing cloaks in the instrumentation. The soundtrack will be released in full on November 2, 2018.
The cast made it through without spoiling the play for those who haven't seen it, but the general consensus of the panel is that you have to see the play in person at least once to truly appreciate the magic.