UPDATED: Daniel Radcliffe Is Voicing Rex Dasher in Upcoming Playmobil Movie
Daniel Radcliffe is about to grace our screens once more, but this time he will appear in the form of animated character Rex Dasher in upcoming film Playmobil: The Movie.
This animation-live action hybrid film, that is based on the popular kid's toy line, is due to be released next year. Other voices joining Radcliffe's include Anya Taylor-Joy (Split, Thoroughbreds), Gabriel Bateman (Annabelle), and Jim Gaffigan(13 Going on 30, 17 Again). Singers Meghan Trainor and Adam Lambert, apart from appearing on the soundtrack, will also form part of the cast.
The film will take viewers along on the adventures of siblings Charlie (Bateman) and Marla (Taylor-Joy). When Charlie unexpectedly disappears into the animated universe of Playmobil, Marla has to go on a quest to bring him home. As she embarks on an exciting adventure, she finds herself teaming up with some unlikely new friends. There is the smooth-talking food truck, Del (Gaffigan), the dashing and charismatic secret agent, Rex Dasher (Radcliffe), and a wholehearted misfit robot and extravagant fairy godmother (Trainor). Emperor Maximus, the villain of the story, will be voiced by Lambert.
—
UPDATE (October 17): 
Playmobil has released a first look at the movie. Radcliffe's character is on the far right, looking dashing in a suit.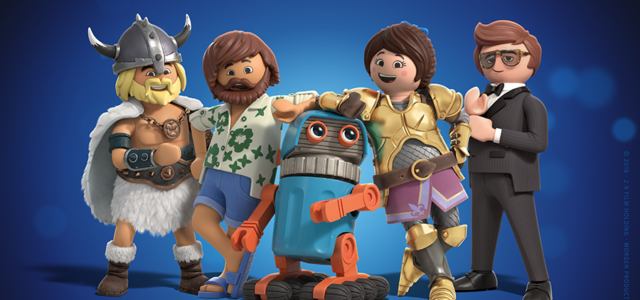 —
Disney veteran Lino DiSalvo, who worked as head of animation on Frozen (2013) and as animation supervisor on Tangled (2010) and Bolt (2008), will serve as director and story creator.
With a talented cast of actors and singers, this film promises to provide entertainment for old and young alike.
Playmobil is set to be released on August 16, 2019.