Don Your Dress Robes for a Halloween Party in a Place of "Potter" History
Whether it's trolls in the dungeon, deathday parties, or surprise visits from escaped prisoners, Halloween is always an eventful time of year for students at Hogwarts! Luckily for those magical folk who have already graduated from the famous school of witchcraft and wizardry (or indeed, from Ilvermorny), the Blantyre Resort and Estate is hosting a Harry Potter-inspired Halloween party, in the very place where John Williams' iconic soundtrack was written.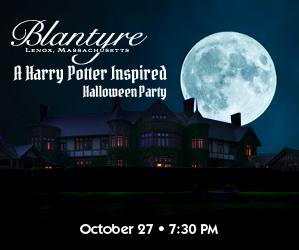 Located in the Berkshires, Massachusetts, the Blantyre Resort and Estate will host its Potter-inspired adults-only Halloween party on October 27. The event will take place in the gilded age mansion, a grand-looking building that was built in 1902 and situated on 110 acres of country estate. This historic mansion not only looks magical but was also the place where John Williams wrote the original score for the Harry Potter and the Sorcerer's Stone.
Join us for a magical Halloween party inspired by Harry Potter and the magical world of Hogwarts. Our gilded age mansion (where John Williams wrote the score to the Harry Potter films) is the perfect backdrop to enjoy music, food, butter beer & more. Visit https://t.co/hDXNSDm7ns pic.twitter.com/kgYPSqwpqo
— Blantyre (@BlantyreResort) October 8, 2018
Surrounded by Potter history and Tudor-style architecture, guests will experience a Halloween feast of themed cocktails, butterbeer, and some of the wizarding world's favorite treats before enjoying an evening of live entertainment. What's more, guests are encouraged to dust off their robes and come dressed as their favorite character from the series!
Tickets to this unique event cost $85 per person, plus tax and banquet amenity fee. For more information and to make a reservation, check out the Blantyre Resort and Estate website.
Will you be attending this magical Halloween event? Let us know in the comments!