Experience the Magic of a Pensieve at New York Comic Con
For the 20th publishing anniversary of Harry Potter and the Sorcerer's Stone, Audible and Pottermore paired up to create a new, interactive experience for attendees at New York Comic Con. Harry Potter: A Pensieve Experience invites fans to immerse themselves in various characters' memories by entering a Pensieve.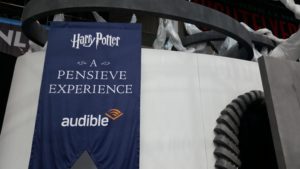 While waiting in line, participants listen to audiobook narrator Jim Dale give a brief background of the Pensieve and how it works. Then before entering, attendees are able to select a vial containing a memory of one of six main characters (Harry Potter, Ron Weasley, Hermione Granger, Lord Voldemort, Severus Snape, or Albus Dumbledore).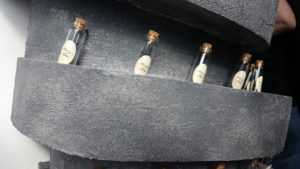 Surrounded by an elusive and mysterious cloud of smoke, attendees are invited to approach one of four stations and insert their chosen vial to listen to a memory. Each memory lasts one to two minutes and can be taken from anywhere in the series, giving listeners the opportunity to revisit the world and the story in a new way.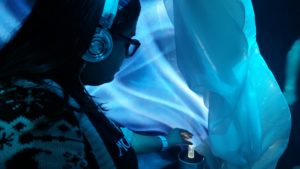 What's fun and unique about this experience is being able to listen to a different memory from each character at the different stations. Those of us in attendance could've easily spent hours listening and relistening in this rare, immersive opportunity.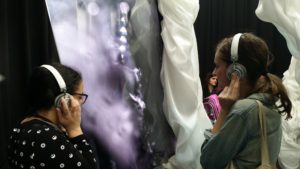 The decision to bring the Pensieve to life is a daring one since we only see its exterior throughout the film series. The moment we go inside as fans, we're brought directly into the character's memories and skip the in-between. It felt like walking in limbo, traveling from memory to memory while navigating the shimmery decorations.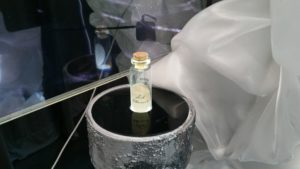 "It was nice to have an interactive activity that focuses on the core Potter series," said SpeakBeasty editor Catherine Lewis, who went on to explain, "So much of our fandom at the moment is concentrated on the Fantastic Beasts: [The] Crimes of Grindelwald release that it was great to take 20 minutes to be reminded of how this all came to be."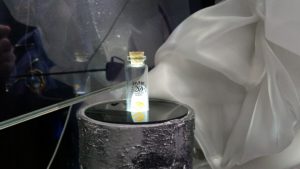 Upon exit, visitors are handed a card with a special code to be used on Audible for a free audiobook. Personally, I was very excited to see that the code could be used to download a copy of Harry Potter: A History of Magic narrated by Natalie Dormer, but fans are not limited to that. The code can be used on anything on the website.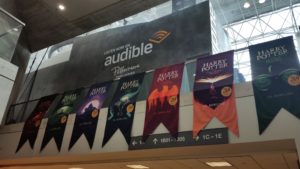 Fans are then invited to film a video of themselves casting a spell. They can choose between the six wands that belong to the six characters whose memories they can visit. They can then email the video to themselves for later viewing. This is a super fun way to end a very magical experience.
This was a fantastic part of New York Comic Con. Fans were very enthusiastic to see such a special and unique Harry Potter experience. There is no word yet on whether or not this is coming to any other event, but let's hope that this magical experience shows up again.