"Crimes of Grindelwald" to Be Shown in Immersive ScreenX Format
We often dream of being in the next cinematic installment of Newt Scamander's magical adventures and now that dream is (almost) a reality! Starting November 16, fans will have the chance to experience the wizarding world like never before with the release of Fantastic Beasts: The Crimes of Grindelwald in ScreenX.
Thanks to cinema technology company CJ 4DPLEX, fans will be able to watch Crimes of Grindelwald in a way that completely immerses them in the movie. ScreenX uses a 270-degree panoramic screen and multi-projection technology to expand movies from the center of the screen to the walls of the theater, surrounding the audience in the action of the film.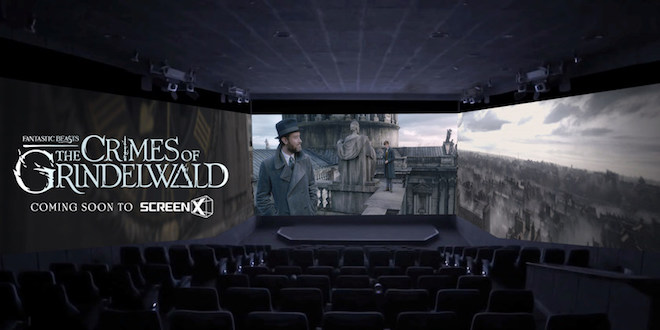 Crimes of Grindelwald has received the ScreenX treatment as part of a multi-movie deal between CJ 4DPLEX and Warner Bros., which has already seen The Meg and The Nun turned into immersive moviegoing experiences. Speaking about its latest ScreenX venture, CJ 4DPLEX promised fans a very different movie experience from what the previous Potter or Fantastic Beasts films could provide.
We are certain the expansive, 270-degree screen will immerse audiences in the [w]izarding [w]orld as never before and deliver all the magic, mystery and adventure this much-anticipated epic has to offer.
There's no word yet on whether the rest of the films in the series will receive the ScreenX treatment, but we definitely can't wait to immerse ourselves in the magical streets of Paris! Until then, check out the ScreenX Crimes of Grindelwald trailer below.
Are you excited by the idea of an immersive Crimes of Grindelwald experience? Will you be attending a ScreenX showing? Let us know in the comments.