Review & Giveaway: Magical Merchandise for "Fantastic Beasts: The Crimes of Grindelwald"
The release of Fantastic Beasts: The Crimes of Grindelwald is just around the corner, and with another installment from the wizarding world comes more magical merchandise! GB Posters have sent MuggleNet another fantastic parcel of their products for review, so keep reading to see what was in it and find out how you could win your own magical bundle.
Starting with the largest box in the parcel, I unwrapped a beautiful, framed collectors' print of Newt with his suitcase. I think the print would be the perfect thing to take to conventions or premieres to get signed by Fantastic Beasts cast and crew. After which, you could return it to its frame and have a really special memento.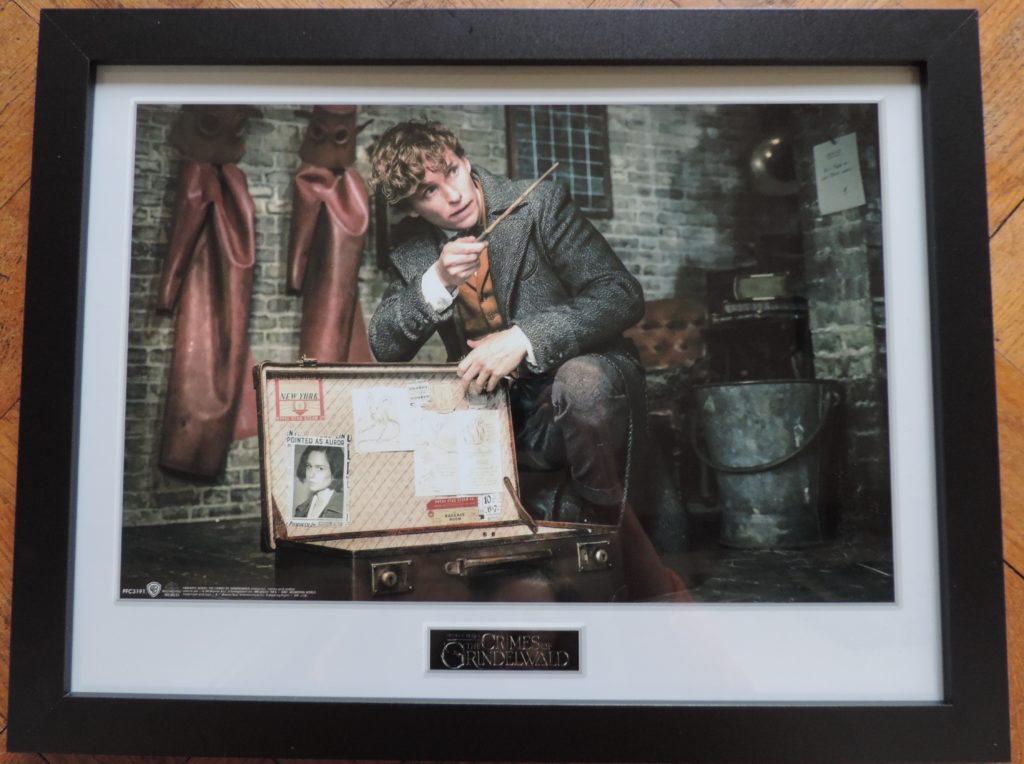 For those of us in the northern hemisphere, the nights are drawing in, which means I aim to be spending even more time curled up with a book and a hot cup of tea. Imagine my delight then that my mystery parcel contained not one but seven wizarding world mugs! Let's start with the most magical one.
What starts as a plain black mug bearing the Fantastic Beasts and Where to Find Them logo and a cute Niffler silhouette can be transfigured into a turquoise mug with a large picture of a Niffler on it just by filling it with your favorite hot drink!
I also received the same Niffler image on a HUGE (larger than A1) poster, along with a similarly-sized copy of the first Crimes of Grindelwald poster where Newt and Dumbledore stand strikingly back to back. Both posters are of good quality and don't seem like they'd tear easily, but if you've not got a lot of free real estate on your bedroom wall, maybe opt for one of GB Posters "Mini Posters"!
The last two bits of Fantastic Beasts merchandise in the box were – you guessed it – mugs! These ones are both microwave and dishwasher-safe. The first has a really nice graphic of the silhouettes of Dumbledore and Grindelwald facing off across the text: "Pick a Side." I'm #TeamDumbledore all the way, but if I am drawn to the dark side, I'm ready to switch to coffee as black as Grindelwald's soul in the second mug. It's emblazoned with the very Chanel-esque Grindelwald emblem that I can just imagine Jamie Campbell Bower's teen Gellert dreaming up to make himself look cool.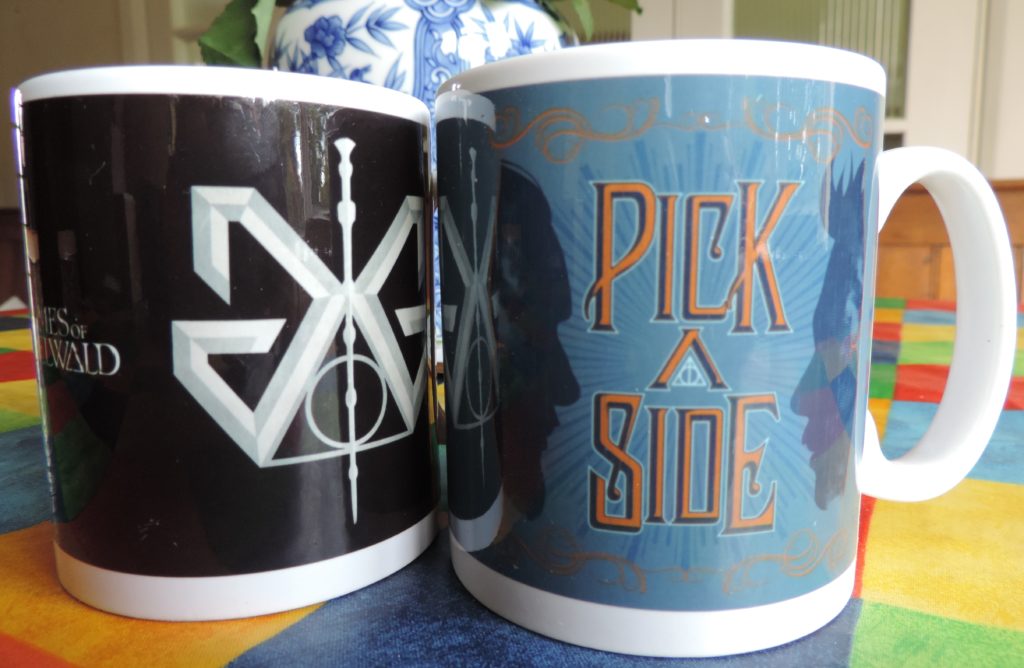 Not forgetting the boy wizard without whom Fantastic Beasts wouldn't exist, GBPosters also threw in a few Potter pieces. These included two embossed rubber keyrings – a cute "Chibi" design of Harry Potter and a Hogwarts crest which was attached, along with a well-sized ID wallet, to a black lanyard bearing the Harry Potter title treatment. Both keyrings were a bit big to attach to the sole key I carry with me every day, but they'd be appropriate for a lanyard, bunch of keys or even keeping track of a spare key.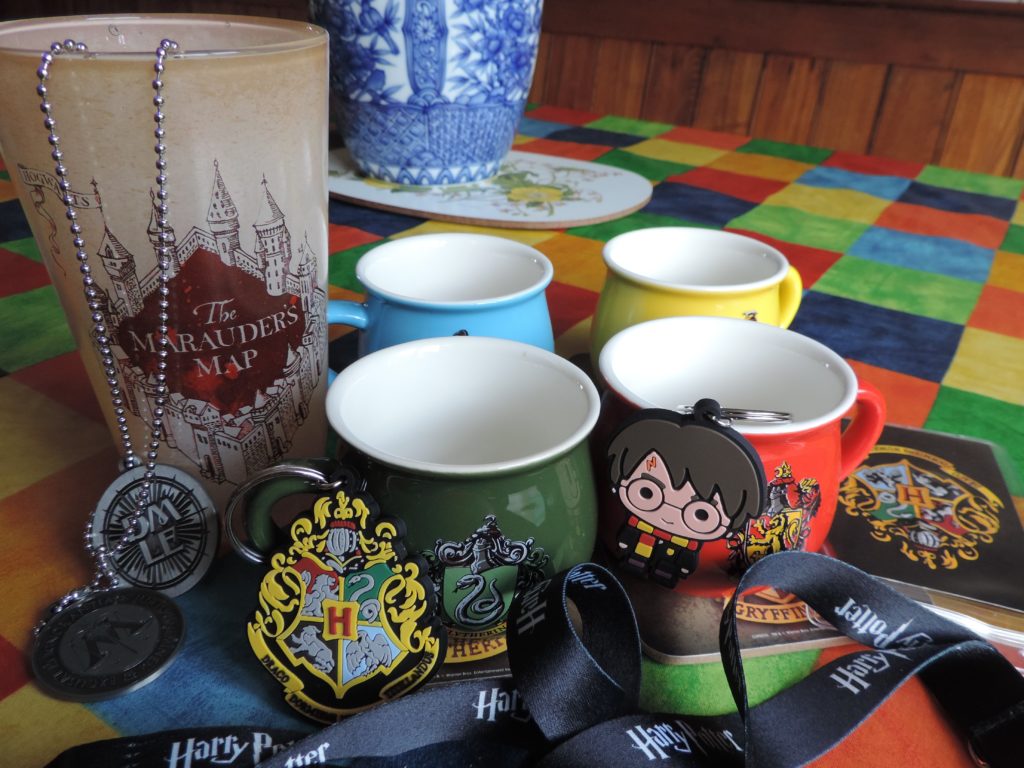 If I fancy a change from all the hot beverages I plan on using the mugs for, I've now got a Marauder's Map pint glass, which has "I solemnly swear that I'm up to no good" with "Mischief Managed" on one side and the cover of the Map on the other. Like the Niffler mug, it is hand wash only but definitely worth the extra care.
Also pictured above is a Ministry of Magic dog tag necklace. It's a really simple metal ball chain with discs for the Ministry and DMLE (Department of Magical Law Enforcement), but it's a fun nod to Aurors like Harry and Theseus Scamander.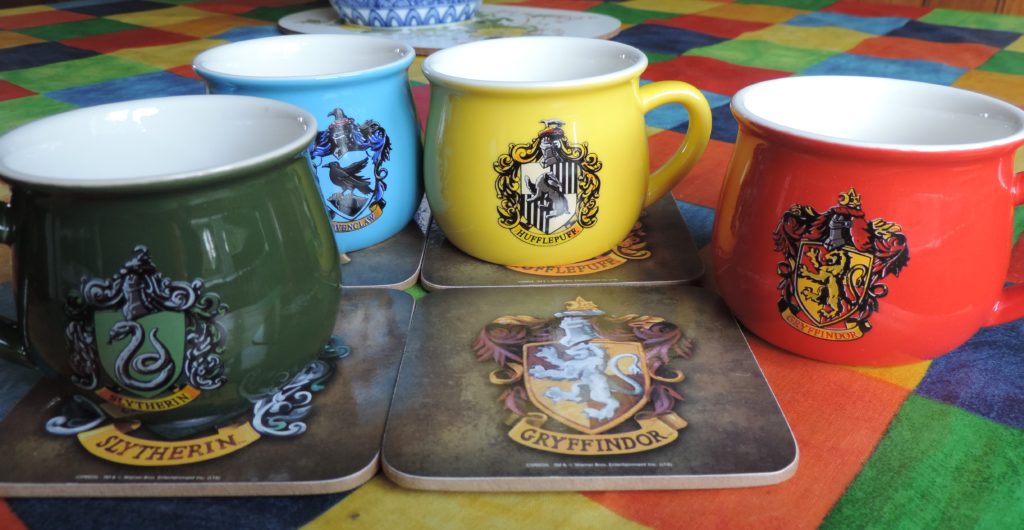 The remaining set of mugs were my favorite thing in the GB Posters parcel. There's one in each Hogwarts house main color with the respective crest on it. They're fairly small and their shape suggests a cauldron. Luckily the final thing in the parcel was a set of Hogwarts house coasters, so I'm prepared for all the cups of tea in my future!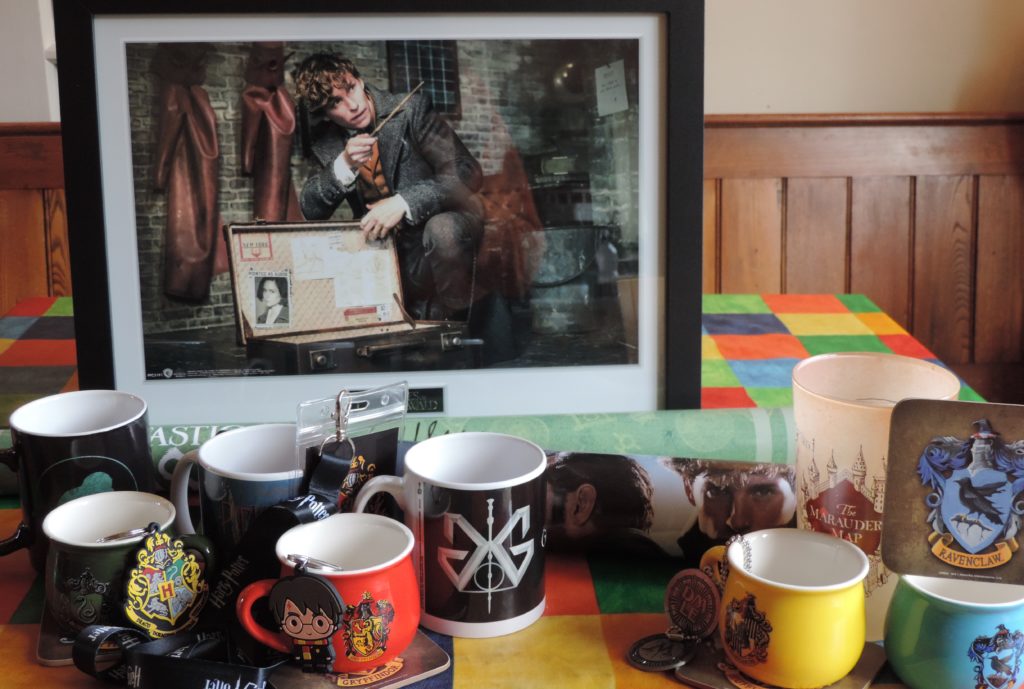 Now to the moment you've been waiting for! How can you bring home some of this incredible merchandise to add to your own collection? Starting October 29 and running through 11:59 pm. on November 12, you can enter to win one of 6 prizes from GB Posters and MuggleNet!
Our giveaway is open worldwide, and here is what you can win:
1 Fantastic Beasts: The Crimes of Grindelwald Magical Bundle, featuring:
1 Fantastic Beasts: The Crimes of Grindelwald movie poster, 61 x 91.5 cm
1 Niffler heat changing mug
1 "Pick a Side" mug
1 Niffler maxi poster, 61 x 91.5 cm
1 Albus Dumbledore framed collector print, 30 x 40 cm
Secondary prize for five winners will be 1 Fantastic Beasts: The Crimes of Grindelwald movie poster, 61 x 91.5 cm
Winners will be contacted via email after the contest ends, and we must have your response within 24 hours or another winner will be chosen in your place. Make sure to check your spam and junk folders in the event our online owl delivers your message to the wrong box!
While our giveaway is open worldwide, due to licensing restrictions, anyone who wants to purchase these items from GB Posters must live outside of the United States or Canada. This makes your entries in our giveaway even more important if you live in the US or Canada because it might very well be your only opportunity to take home one of these amazing items!
For those lucky readers outside of the US or Canada, GB Posters is offering an exclusive discount for purchases, for their entire site. Simply enter the code "Muggle10" at checkout to get a 10% discount on your purchase!
No more waiting! Enter today to win one of these magical prizes!