Signed "Harry Potter and the Sorcerer's Stone" Poster Up for Auction
Get your Galleons ready because Prop Store is auctioning off the perfect addition to the collection of any Potter fan. On November 20, not only will a promotional poster of Harry Potter and the Sorcerer's Stone be auctioned off, but this poster is also signed by the main trio cast: Daniel Radcliffe, Rupert Grint, and Emma Watson!
As you can see below, the poster lists their signatures next to their likenesses, but with bidding starting off at £475, this exciting piece certainly isn't cheap.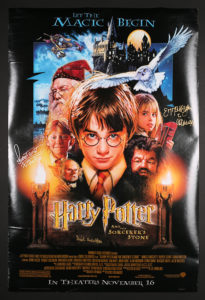 Fans will also be able to bid for other impressive articles, including rare Star Wars posters, original James Bond posters, and other autographed posters such as The Greatest Showman, signed by Hugh Jackman.
This is the second time that Prop Store has held a live cinema poster auction, and it is expected that sales of the over 400 collectibles will total over £250,000 ($330,000)! This also isn't the first time that Prop Store has auctioned off Harry Potter collectibles, with pieces made available in previous auctions.
Stephen Lane, CEO of Prop Store, spoke of his excitement to bring the auction back for a second round.
After the success of our inaugural Cinema Poster Auction earlier this year when we sold £200,000 worth of posters and artwork, we are delighted to offer over 400 lots in our forthcoming Poster Auction in November 2018. Prop Store lives and breathes entertainment memorabilia, and the addition of poster auctions now allows us to provide a fully rounded service to the movie collecting community.
The final auction will take place on November 20 in London, though the pieces are available to view and bid on now. Non-UK fans can also get involved since bids can be placed from around the world by phone and online, and the auction will be live-streamed throughout the event for fans to watch!
You can check out the full catalog now!
Will you be putting in a bid for this exciting piece?