You Could Win a Trip to the UK Premiere of "Fantastic Beasts: The Crimes of Grindelwald" by Supporting Lumos
Missed your chance to win a trip to the premiere of Fantastic Beasts: The Crimes of Grindelwald with Lumos's campaign back in June? The charity is offering a second chance to score tickets to the film's London premiere with the purchase of a limited-edition, very chic (if we do say so ourselves) Newt Scamander pin. Don't take our word for it – see it for yourself below.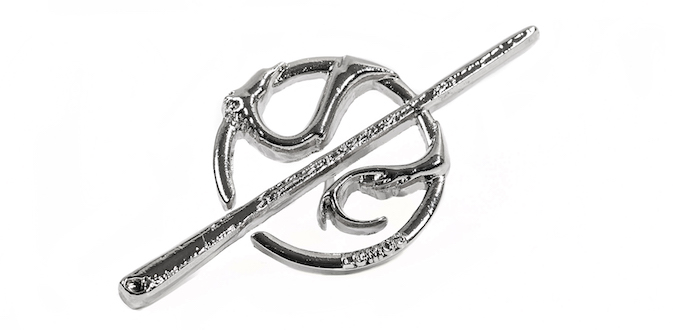 The pin, which is an artful rendering of Newt Scamander's wand and an Occamy, retails for £5.99 and can be purchased either online through Lumos's website or in person at Fantastic Beasts: Wizarding World Wands Supporting Lumos, a new sculpture installation on Peter's Hill in London. Beginning on October 18 and running through November 13, the installation will feature nine 15-foot wands illuminating a walkway between Millennium Bridge and St. Paul's Cathedral each evening from 6:45 to 10:45.
For a chance to win tickets to the London premiere of Crimes of Grindelwald on November 13, all you have to do is purchase your pin before 11: 59 p.m. on October 31. Even if you miss out on scoring premiere tickets, you can still bask in the joy of knowing you supported a worthy cause and picked up a limited-edition item – the spin cast zinc alloy and nickel plated pin will only be on sale until December 31.
Lumos CEO Georgette Mulheir commented on the announcement:
Lumos is delighted to be able to give wizarding fans this very special chance to own their very own piece of magic and support our vital work helping vulnerable children around the world.

This beautiful pin badge features Newt Scamander's wand and an Occamy and will make a wonderful addition to any fan's collection.
Will you be ordering a pin or stopping by Peter's Hill to support Lumos this holiday season? We sure hope so!