Events Roundup: Beat Those Winter Blues with These Magical Events
If the weather is starting to get cold where you are, a weekend of magic might just warm you right up. If you've been out of touch with your witch or wizard self because of all the crazy end-of-year stuff happening, you're in for a treat.
Treat Yourself to a Magical Weekend at the Wonderful Weekend of Wizardry
If you're in Tacoma, Washington, get out your wizard's robe and warmest scarf, because the Weekend of Wizardry is coming your way. Taking place at Hotel Murano and running December 6 to December 9, this four-day fan-created event will give you the opportunity to meet your fellow housemates for some classes and group activities. Get ready to attend a make-and-take workshop, celebrity panels, and some photo ops. You will have the opportunity to get your hands on some autographs as well.  You can also prepare yourself for an amazing Wizard's Feast, a Holiday Ball, and a Magical Tea Party.
This event is open to witches and wizards of all ages, and you are encouraged to dress your very best – whether it be as your favorite Harry Potter character or any other magical creature. Feel free to get creative! The weekend will feature over 100 hours of different programming that will cater to all ages and interests. Witches and wizards can also meet up with their new friends in the common areas, spend their Galleons at the Vendor's Alley, sit down for a spell-casting session, or grab a Magical Concoction and socialize with their new acquaintances.
The main event hours are as follows:
Thursday registration will open at 3:00 p.m. The event will take place from 4:00 p.m. to 10:00 p.m.
Friday and Saturday registration will open at 8:00 a.m. The event will take place from 9:00 a.m. to 10:00 p.m.
The special event hours are as follows:
The Friday Wizard's Great Feast Event will take place from 7:00 p.m. to 9:30 p.m.
The Saturday Magnificent Witches and Wizards Holiday Ball will take place from 8:00 p.m. to 12:00 a.m.
The Sunday Magical Wizardry Tea Party and Divination event will take place from 10:00 a.m. to 12:00 p.m.
You can grab your tickets here.
Curious about who the specials guests at the event will be? Have a sneak peek below.
Psssst! Stanislav Ianevski, who plays Victor Krum in the films, will also be attending the event.
Ready to pack your trunk? Here's Angela Wehnert to tell you some more about the overall event.
Test your Potter Knowledge with a Harry Potter Trivia Night
Do you reckon that you know absolutely everything there is to know about the Harry Potter world? This is your chance to put your knowledge to the test.
If you're in New York, head over to the New-York Historical Society Museum and Library on December 7 and test your knowledge against some other witches and wizards. It promises to be an entertaining night of exploring the world of Harry Potter and enjoying some Hogwarts House–themed cocktails. Experts from Pottermore will also test your knowledge of the wizarding world with some questions.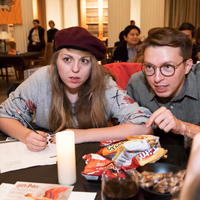 If your skills prove to be the best around, you could take home some incredible prizes from Audible, Scholastic, the BBC, Harry Potter and the Cursed Child, Warner Bros., and the NYHistory Store. Some of the exciting prizes include:
An exclusive Harry Potter Audible listening package
Character wands from Broadway's Harry Potter and the Cursed Child
 A 20th-anniversary collectible boxed set of all seven Harry Potter books
An illustrated edition of Harry Potter and the Sorcerer's Stone featuring Jim Kay's stunning full-page artwork
20th-anniversary posters featuring Harry Potter cover artwork by Brian Selznick
A copy of BBC's magical documentary Harry Potter: A History of Magic, about the exhibition
Tote bags, magnets, and bookmarks from the NYHistory Store
All the thinking might make you thirsty and quite ravenous, so take your Galleons along as there will be snacks and drinks available for purchase.
You are encouraged to invite all your fellow Potter friends to join your team for the trivia night. Do keep in mind that teams may not exceed six members and each member has to purchase a ticket to take part in the event. You are also invited to stop by the Pay-as-you-wish Friday Night at the Museum before the trivia from 6:00 p.m. to 8:00 p.m. Also, keep in mind that your trivia ticket does not give you admission to the exhibition Harry Potter: A History of Magic.
Ready to put all that wizarding knowledge to the test? Grab your tickets here. The trivia night starts at 8:00 p.m. In the meantime, do what Hermione does best and revise some of your magical knowledge.