Review: Con*Quest Harry Potter Dark Arts Journals Box Set
Even though we may not be witches or wizards, there are still a few wonderous bursts of magic that we Muggles can experience. To many, the blank page of a fresh and untouched notebook falls within this category.
Con*Quest has found the perfect way to combine the magic of journaling with the magic of the wizarding world into one fabulous Dark Arts Journals Box Set. These journals are the perfect size and weight to slot neatly into a small bag for a Harry Potter solution to the everyday notebook.
The journals feature the original Harry Potter and the Order of the Phoenix Death Eater mask designs by concept artist Rob Bliss. These designs were inspired by Mogul arabesque decorations, which twist and twine in a web of rhythmic, linear patterns. The arabesque tendrils are intricately engraved upon the masks, each Death Eater gifted their own particular motifs and personality.
Con*Quest's addition of the charcoal-esque smoke that licks ominously at the edges of the journal frames creates a beautiful but deeply haunting aesthetic. It is reminiscent of the inky clouds that swirl inside of a Pensieve and creates the impression of a Death Eater Apparating in a whirl of smoke or invading the mind.
Inside the notebooks, Con*Quest has really thought of everything – there are two lined-page notebooks, two graph paper notebooks, two dot grid notebooks, and one blank-page notebook to satisfy all of your artistic, note-taking, bullet journaling, and doodling needs.
The paper is very white and smooth, which is great for those who love that crisp, fresh look. With an ordinary Bic pen, the pages exhibited zero bleed and a little bit of ghosting, which I found minimal but may be distracting for some of the more serious journalers. The corners of each page are also inscribed with the Dark Mark.
There's always the dilemma of what to do with a notebook once it is complete. I, for one, have a hefty pile of notebooks on the corner of my desk, which are heavily penned from cover to cover, yet I just can't bring myself to throw them out.
What I love about Con*Quest's Dark Arts Journals is that they come in a boxed set. Once you finish one journal, all you need to do is put it back in the box and pull out the next one, creating the perfect solution to this dilemma.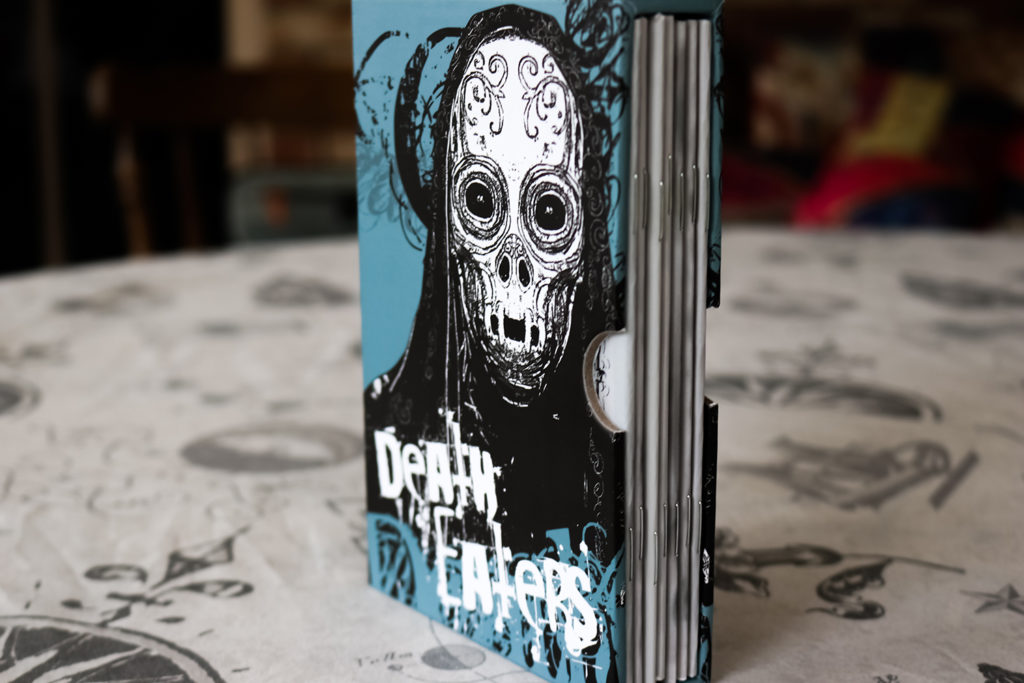 The Con*Quest Harry Potter Dark Arts Journals Box Set is now available for purchase and shipping to the United States and Canada.