Review: "Crimes of Grindelwald" and "Chamber of Secrets" Funko Pop!s
I first became aware of the existence of Funko Pop! figures when I was working part-time at a Barnes & Noble bookstore. I began to see these collectible figures with large black eyes, and initially, I wasn't sure how I felt about them. Back then they didn't cover the extent of pop culture properties that they do today, so perhaps it was just because the first batch didn't catch my eye.
However, when Funko released the first wave of Harry Potter figures? SOLD! It was at that point that I couldn't resist beginning my ever-growing Funko collection. Among my collection are figures from Game of Thrones, Stranger Things, and many of the Marvel superhero movies. I can hardly enter stores like FYE and Newbury Comics without buying new Funkos to add to my collection. Last week, Funko, one of our exclusive partners, sent me a box of 12 wizarding world Pop! vinyl figures. Five of them are from Fantastic Beasts: The Crimes of Grindelwald, and the other seven are based on Harry Potter and the Chamber of Secrets.
The first batch, from Crimes of Grindelwald, includes the characters of young Albus Dumbledore, Gellert Grindelwald, and Newt Scamander. In the newest movie, Newt Scamander finds himself caught in between Dumbledore and Grindelwald in a pretty major way, as he also does here.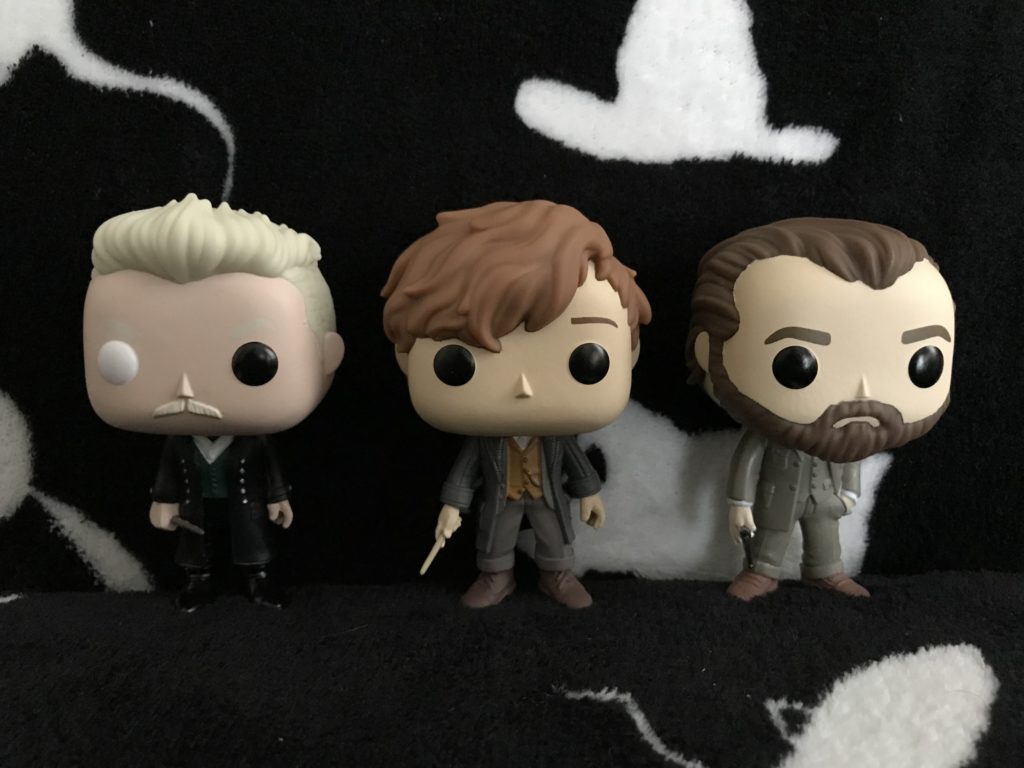 Then we have Grindelwald and Dumbledore with the symbol for the Deathly Hallows placed between them, which they once sought out together in the past. There is certainly quite a history between these two! Grindelwald looks eerie with his two different-colored eyes, while Dumbledore looks quite dapper in his suit, just as Jude Law does on screen in the Crimes of Grindelwald movie.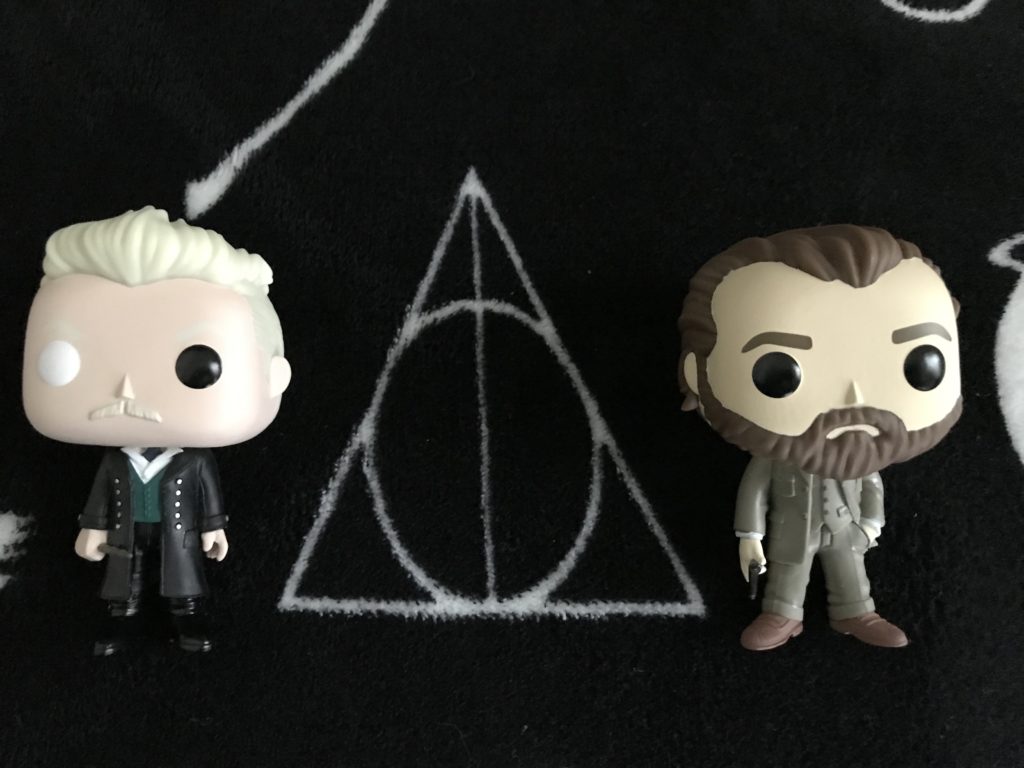 Then we get two beasts introduced in the new movie, the Chupacabra and the Matagot. The Chupacabra, despite its very sharp-looking teeth, looks quite adorable and like it would make a loyal pet. It has six legs, and from the back, its stripes and tail look distinctly lizard-like.
On the other hand, you have the Matagot, which does NOT look like you would want to have it as a pet. It is a cat-like guardian creature that helps guard the French Ministry of Magic in Paris. Despite its fearsome look, one neat feature of this Pop! is that its purplish eyes glow in the dark. THAT doesn't make them even creepier. NOT AT ALL.
Other figures in the Crimes of Grindelwald Funko line include a Thestral, Pickett the Bowtruckle, and an irresistibly adorable pair of baby Nifflers.
The second batch of Funkos are figures from the Chamber of Secrets film. First are Harry, Ron and Hermione dressed up in special coats for their Herbology class with Professor Sprout, each of them also wearing a pair of earmuffs and carrying a baby Mandrake in their hand. They each look fairly calm despite holding a screaming Mandrake they just pulled out of the pot! The expressions on the Mandrakes' faces are quite grumpy and show their displeasure at being disturbed during the lesson on re-potting them.
The next four Funkos are Ginny Weasley, Tom Riddle, Gilderoy Lockhart, and Nearly Headless Nick. Ginny is dressed in her Hogwarts robes and is writing with a quill in the infamous Horcrux diary that once belonged to Tom Marvolo Riddle, whose name you can see stamped on the back of the miniature diary. And despite the lack of a mouth on him, you can picture Tom Riddle with an unpleasant sneer on his face due to his arched eyebrows (and the fact that he is a younger Lord Voldemort).
Then you've got the pompous Gilderoy Lockhart, one-time Defense Against the Dark Arts professor at Hogwarts and giant fraud of a wizard. Just looking at him, he has a self-satisfied look on his face that is very fitting, and his one foot popped forward completes the overall smug look of the character. To round out the Chamber of Secrets ensemble, the Nearly Headless Nick (or Sir Nicholas de Mimsy-Porpington, as he prefers to be called) Pop! figure stands out the most with its translucent blue ghostly look. Unlike the other figures, he comes with a circular plastic stand with two pegs that pop right into the soles of each of his shoes. And, as it is prone to do on a regular basis, his head wobbles on the bit of muscle and sinew still holding his head onto his neck after his botched beheading.
Overall, I am excited to be able to further multiply my Harry Potter collection by adding these Funko Pop! figures! I can't wait to see what other characters from the wizarding world Funko chooses to turn into collectible figurines next. They'll certainly always have a home on my bookshelves! How many Funko Pop! figures do you have in your own collection?
All of the Funko Pop! figures from the Fantastic Beasts and Harry Potter lines featured in this post were provided by Funko for review.