Timothy Spall Supports "Potter" Crew Members' Good Cause
We all love to be transported by the magic of the Harry Potter films, from actors' incarnations of our favorite characters to the beautiful sets and costumes. Now, two of the crew members who helped create the magic of the Potter movies are looking to fans to help in raising money for Jenson's Giant Leap, an auction benefiting a young relative with cerebral palsy.
Andrea Dempsey and her father, John Payne, worked on the model unit for multiple Harry Potter films, with Payne taking part in the construction of the 1:24 scale model of Hogwarts now displayed at Warner Bros. Studio Tour London – The Making of Harry Potter. Between them, Dempsey and Payne worked on nearly all the Potter films.
Now, Dempsey and Payne are using their Potter connections to raise money for Dempsey's nephew and Payne's grandson, Jenson. Jenson is nearly four and has cerebral palsy but fortunately has been selected for a surgery that should enable him to walk and live pain free. While the surgery itself is covered by the National Health Service, the post-op physical therapy is not. This therapy is key in order for Jenson to get the most benefit from the surgery, so the crew members have decided to auction off some Harry Potter memorabilia to raise funds.
Payne is offering his own crew member jacket for Harry Potter and the Half-Blood Prince in the auction. This exclusive item was never for sale and only made available to crew members who worked on the Potter films. It's not too often that they come up for sale – you can place your bid here.
The family also has the support of one of the stars of the Potter movies, Timothy Spall – who portrayed Peter Pettigrew in the films. Spall has donated a one-of-a-kind item: his own personal copy of Harry Potter and the Deathly Hallows, used to prepare for his role in the final two movies. Of particular interest are Spall's notations on the scene of Pettigrew's death. Just for this auction, Spall also penned a special letter detailing a conversation he had with director David Yates about how to film Pettigrew's final scenes. This hand-written note, along with a drawing Spall did of his character, accompany the Deathly Hallows book. You can place your bids right here.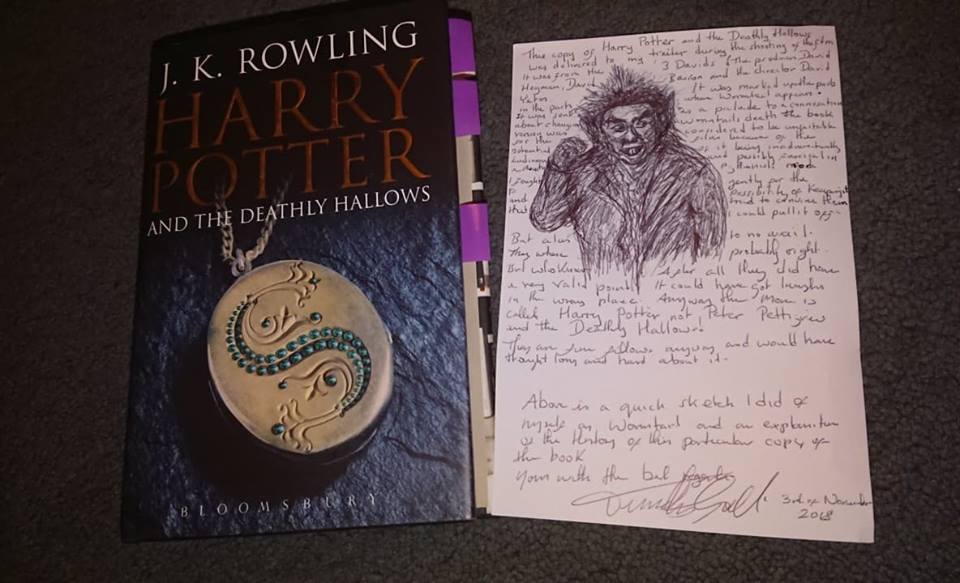 You can bid on both items here. This Cyber Monday, indulge your inner Potter fan and help out a little boy who really needs it!