Seven Times "Harry Potter" Showed Me Love Is Real
From the moment that Harry and Ron met, JKR effortlessly showed us that love is real. Before our favorite Hogwarts students matured and developed romantic attachments, we all watched as friendships and familial bonds were formed in the most beautiful way. On this Valentine's Day, I can't help but reflect on the pure love that the characters of our favorite series demonstrated over and over again, and how their examples have inspired me to love all those who cross my path.
1. James Potter's Sacrifice
People – both fans and characters in the series – constantly acknowledge how Lily sacrificed herself to protect Harry. They often forget that James had to sacrifice himself first to allow Lily to then sacrifice herself. Without James's readiness and strength, who knows if Harry would've ever been given the chance to be protected by his mother. Both parents demonstrated the most powerful love, giving up their lives in order to give Harry a chance to have one himself. They were just 21 years old at the time.
2. Hermione Obliviating Her Parents' Memories
At the beginning of Harry Potter and the Deathly Hallows, we get just a small, throwaway sentence about the Grangers' fates.
I've also modified my parents' memories so that they're convinced that they're really called Wendell and Monica Wilkins, and that their life's ambition is to move to Australia, which they have now done. That's to make it more difficult for Voldemort to track them down and interrogate them about me—or you, because unfortunately, I've told them quite a bit about you.
Assuming I survive our hunt for the Horcruxes, I'll find Mum and Dad and lift the enchantment. If I don't—well, I think I've cast a good enough charm to keep them safe and happy. Wendell and Monica Wilkins don't know that they've got a daughter, you see." (DH, ch. 6)
In Harry Potter and the Deathly Hallows – Part 1, we witness one of the most powerful acts of love in the entire series. Not only is Hermione abandoning her education and her family, but she is also giving those things up and assuming she may never return to either.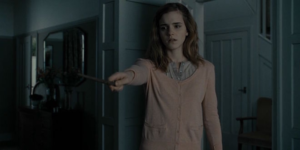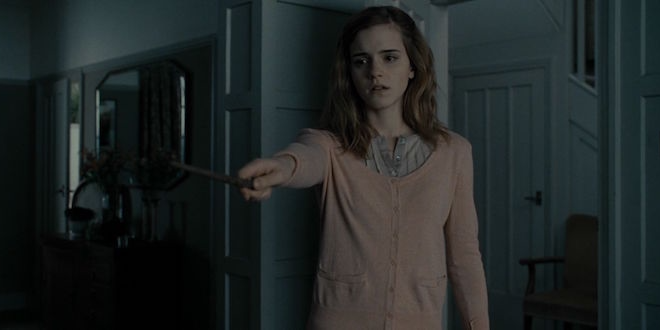 3. Hagrid Carrying Harry's Seemingly Lifeless Body
Harry could feel Hagrid's arms trembling with the force of his heaving sobs; great tears splashed down upon him as Hagrid cradled Harry in his arms, and Harry did not dare, by movement or word, to intimate to Hagrid that all was not, yet, lost.
[…] 'Harry,' sobbed Hagrid. 'Oh, Harry … Harry …'" (DH, ch. 36)
Just reading Hagrid's words, "Oh, Harry," makes me sob like a babbling bumbling band of baboons.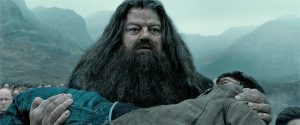 4. Sirius Buying Harry a New Broom
After Harry's Nimbus 2000 was destroyed in Harry Potter and the Prisoner of Azkaban after being attacked by Dementors during a match, Harry found himself with a mysterious replacement. Although young Harry didn't know it at the time, this surprise came from his godfather, Sirius Black. Even though Sirius didn't really know Harry, and didn't have money, he went out of his way to help is godson nonetheless. If that doesn't pull at your heartstrings, just a reminder that Sirius also bought Harry his very first toy broomstick as a young child.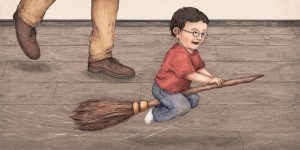 5. Mrs. Weasley Whole-Heartedly Accepting Harry as Her Own
There has never been a doubt in my mind that Harry Potter has always "been" Mrs. Weasley's son. With seven biological children of her own, she didn't think twice about accepting Harry into their family just the same.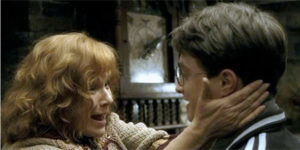 6. Harry Sharing His Candy with Ron, Whom He Had Barely Met
'Go on, have a pasty,' said Harry, who had never had anything to share before or, indeed, anyone to share it with. It was a nice feeling, sitting there with Ron, eating their way through all Harry's pasties, cakes, and candies (the sandwiches lay forgotten)." (SS, ch. 6)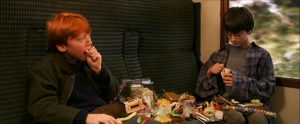 7. Narcissa Saved Harry in Order to Save Her Own Son
'Is Draco alive? Is he in the castle?'
The whisper was barely audible; her lips were an inch from his ear, her head bent so low that her long hair shielded his face from the onlookers.
'Yes,' he breathed back.
He felt the hand on his chest contract; her nails pierced him. Then it was withdrawn. She had sat up.
'He is dead!' Narcissa Malfoy called to the watchers." (DH, ch. 36)