This "Harry Potter"-Themed Ice Hotel Will Transport You to Beauxbatons
Harry Potter-themed hotels have been around for years. Recently, Levi Ice Hotel – Luvattumaa was transformed into a Potter-themed "snow castle" in Levi, a ski resort in Kittilä, Finland.
Discovering Finland describes Luvattumma as an "ice gallery" and "snow hotel."
There is a wide selection of snow rooms in various sizes, decorated individually with ice sculptures, snow reliefs, and lights. In addition to the accommodation, there is also an ice chapel, for extra[-]special weddings, as well as a gallery packed with striking ice sculptures.
Last month, a Potter fan stayed at the hotel and wanted to share her experience with us. Read her review below! (Also, thank you to Kylie for bringing this hotel to our attention.)
—
by Anne O'Brien
The Ice Hotel at Levi is a place where the magic of Harry Potter comes to life through the unique ice carvings and sculptures embedded into the walls of its rooms. The first sign of this is when an enormous carving of Hedwig welcomes you into the spacious Ice Bar. A vast array of potions, such as the Wolfsbane Potion and Felix Felicis, are on display in the form of solid ice bottles and are clearly labeled to entice you, whatever your mood. You can then sit down and enjoy your potion under the larger-than-life Dobby, on the amazing crystal-clear, transparent ice tables and benches, which are a testament to the local fresh mountain rivers.
Once you are ready, the sprawling carving of Hogwarts Castle embedded into the wall invites you to enter its grand hallway as an enormous carving of the Hogwarts crest greets you, along with ice-carved books, which line the staircase leading down to the chapel and dormitory. First of all, you must pass by carvings of trunks and an owl cage, the Hogwarts Express, and then, of course, Diagon Alley, the first stop. An Occamy, Demiguise, and shy unicorn also watch over your arrival.
The chapel is real and can be used for weddings. There are life-sized pews on each side carved out of solid ice, and gigantic chandeliers are carved high on either side of the walls. The altar is another surprise, complete with not only ice altar rails and steps but also the Mirror of Erised, to complete the fairy-tale wedding.
Who else should greet you as you enter the dorms? None other than Harry and Hermione – these carvings are at least 3.5 m high by at least 2 m wide, on either side of the hallway. Each of the rooms has unique carvings such as the Nimbus 2019, the Golden Snitch, a boiling cauldron, the Time-Turner, a mandrake, a Diricawl, a Swooping Evil, an Erumpent, Dementors, and many more, all of which, along with the other carvings, are silhouetted by different shades of lighting including pink, red, blue, green, yellow, and white.
The beds have an ice frame, but thankfully, you are given a balaclava, a pillow, and a below-zero-degrees sleeping bag to keep you warm and snug at night.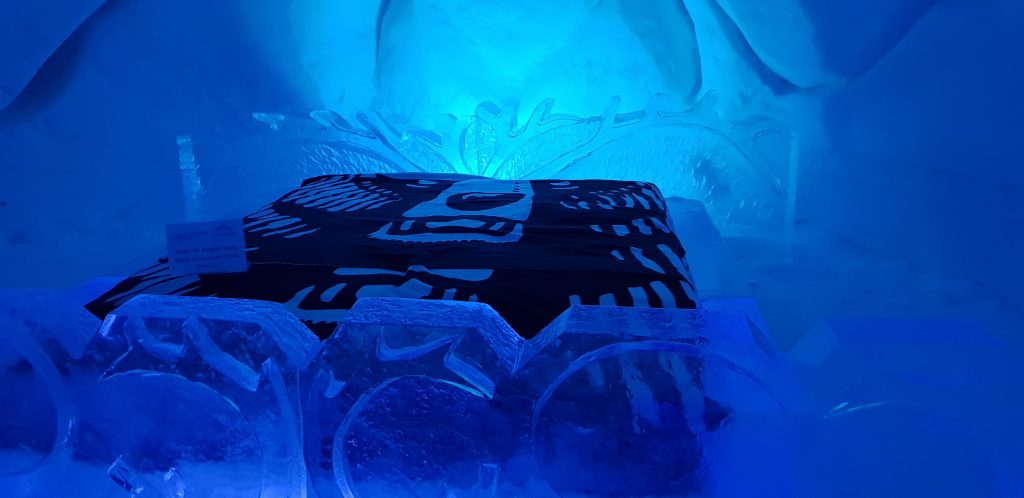 The main hotel reception and dining area have a unique entity all of their own. It's as if you are stepping back in time, into a rustic, warm, homely, old-fashioned timber inn, only paralleled by the warm, welcoming, and sincere staff, only too eager to serve you and make your stay a memorable one. Traditional Finnish/Lapland and Sami decor adorn every corner, including acorn and reindeer antler lights, native dried flowers, handcrafts, trolls, dolls in traditional costumes, and farming tools, and heck, there's even a scarecrow and a barn front. You just have to see it to believe it. In fact, when you think you've spotted it all, you discover yet another hidden trinket that was staring right at you.
The location is also idealistically set away from the town, providing opportunities to go snowmobiling. More importantly, we were fortunate enough to see some of those elusive, magical, northern lights that night. We were able to borrow kicksleds for free from the hotel to go kicksledding on the numerous paths in this beautiful wilderness area.
Whether you are an avid Harry Potter fan or not, the experience you have staying here at the Ice Hotel and sleeping in an igloo cannot be measured and will remain with you forever. I would return in a heartbeat to stay here at the Ice Hotel or even just visit the restaurant and explore the surrounding area, as do other locals. It is a real hidden gem!