Events Roundup: Wind Down with Some "Harry Potter"–Inspired Drinks
If you're in need of some serious downtime, there are some amazing Harry Potter–themed events just waiting for you to buy their tickets. These upcoming events are all about treating your tastebuds to some magical drinks, so bottoms up – it's going to be a good week.
Treat Yo'self at the Witches and Wizards Beer Festival
Potterheads in the US who have a love for butterbeer (who doesn't?) can get ready to spend some Galleons on the Harry Potter Beer Festival hosted by Rock Star Beer Festivals. Tickets are still available for Seattle on March 1, Denver on March 2, Louisville on March 29, and Austin on May 11.  The Wizards and Witches Beer Festival has been touring all over the US since November 24 last year and will visit more cities after it's spread its magic in these upcoming cities.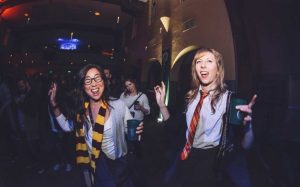 Attendees can expect to find a venue that will teleport them straight into the wizarding world. Venues will be filled with magical decorations resembling locations like Diagon Alley, the Leaky Cauldron and Hogwarts' Great Hall. Ryan Wieczorek, director of marketing and sales at Rock Star Beer Festivals, said that they try to find venues that closely resemble that of the wizarding world, like modified churches or historical buildings, so you can expect these venues to look and feel just as magical as Hogwarts itself.
Butterbeer isn't the only drink that will be served at this magical event; there will also be a variety of other beverages you can enjoy, including Snape's Lair of Secret Cider Potions. Since the original butterbeer doesn't include alcohol, there will be adult-friendly butterscotch for those looking for something with a little bit of a kick. You can also treat yourself to various winter- and holiday-themed ales.
As with any wizarding party, there has to be some good music. The Weird Sisters have a busy schedule, but there will be a DJ filling the air with some magical sounds. And what is a beer festival without some good food? This event promises to provide you with plenty, and to top it off, there will be photo ops with characters as well.
Tickets are $35 each, and you have to be 21 or older to attend.
Indulge in a Butterbeer-Fuelled Bar Crawl
Canadian Potter fans can look forward to their own Harry Potter–themed happy hour, with a butterbeer-fuelled bar crawl coming to Toronto's Entertainment District this March.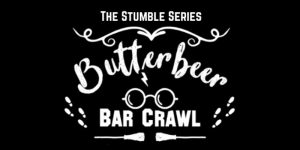 There will be four participating bars with unique drink specials, and you can expect each location to look like the inside of a magical bar you'd find in Hogsmeade. Each bar will also be hosting Triwizard challenges, so make sure you read up on some spells and bring along your wand – you don't want to be unprepared for this one. If you survive the Triwizard challenge, you get to attend the Yule Ball after party – there's no better motivation than that.
Participating witches and wizards are encouraged to dress their very best – there will be prizes for the best dressed, so put some thought into it. Early bird tickets are on sale now, and if you get your tickets before March 7, you will be rewarded with a complimentary Butterbeer Bar Crawl mug. Who doesn't want a cool mug for free?
The crawl is taking place on March 30, starting at 3:00 p.m. EDT. Early bird tickets start at $25. Keep in mind that only witches and wizards 19 years and older will be allowed to participate in the event.