Scholastic and Little, Brown UK to Release a Behind-the-Scenes Book from "Harry Potter and the Cursed Child"
Harry Potter and the Cursed Child is on its way to world domination – with its opening dates for San Francisco, California, recently announced, more and more fans are getting the opportunity to enjoy this magical story. For those who haven't had the opportunity to see the play and are wishing for some Cursed Child excitement in their lives, Little, Brown is here to make your day.
Start saving those precious Galleons – an official behind-the-scenes book of Harry Potter and the Cursed Child is being released and it will include both Parts One and Two. You heard that right – more magic is about to come your way. This exciting new edition will be titled Harry Potter and the Cursed Child: The Journey, and it will be published in hardback on September 17. US fans who are wondering if they'll be getting their hands on it upon its release, never fear – Scholastic has your back and the book will be made available in the US when it is released. For tech-savvy Potterheads, the e-book will be published by Pottermore Publishing.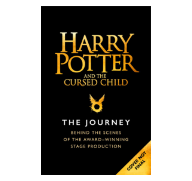 As the title suggests, the book will document the journey of Cursed Child to date. It has been put together by writer Jody Revenson (who has written extensively about the Potter films in the past) and Harry Potter Theatrical Productions Ltd. and will document the play's early days when everything was just getting started. Fans can look forward to seeing the earliest phases of the play's development and find out exactly how J.K. Rowling created this magical story. It will also cover the assembly of the play's actors and artists. This book is basically going to tell you all the secrets you've wanted to know since you knew of the play's existence.
The publisher is very excited about this new piece of work that has surfaced from the Potter world, saying that this book will be the perfect gift to anyone who loves Harry Potter and all it entails.
With stunning photography, insightful interviews and never-before-seen sketches, notes, candid backstage photos and more, this full-color deluxe edition offers readers unparalleled access to this unique production and is a beautiful gift for Harry Potter fans and theatre-lovers alike.
It doesn't get any better than this. The book covers everything you'd ever want to know about what was going on behind the scenes when the play first started coming to life, and with the full-color deluxe edition, you're bound to feel as if you were actually there. Now all you have to do is pray that September comes quickly.