Asmodee UK Launches "Harry Potter Dobble"
It seems like there will never be a shortage of new Harry Potter games, and now Asmodee UK has announced the release of another! The company is launching Harry Potter Dobble, which will be released in summer 2019.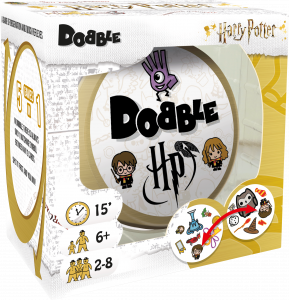 Dobble is a simple game that is perfect for all ages. If you can match a symbol from the card in play to one of your cards, you win the card. Whoever has collected the most cards at the end of the game wins.
Harry Potter Dobble will play the same way, but players will match "stylized images of Harry Potter, Hermione Granger and Ron Weasley, wands, creatures, Hogwarts [H]ouse crests and more." It will be the same fun game you've always enjoyed but this time with a Potter twist!
Never heard of Dobble but think this sounds familiar? In the United States, the game is released under the name Spot it! Hopefully, the release of Harry Potter Dobble means America will be getting Harry Potter Spot It! as well.
Have you played Dobble? Are you excited for this new game? Let us know!