Work as an Administrative Wizard with the Government of Canada
The working world just earned its share of wizarding magic! Set to work practicing your finest spells and most outstanding Quidditch maneuvers; the government of Canada is recruiting for "Various Administrative Wizardry Positions."
With temporary, part-time, and full-time positions available, the Treasury Board of Canada Secretariat (TBS) has a variety of teams for the most charming of applicants to join. Successful applicants, who will either reside in Canada or be Canadian residents living abroad and will have both a high school diploma and administrative experience, will be motivated and passionate. The Ministry of Magic has long been secretive about the finer responsibilities of its best and brightest, and the Canadian government is no exception – the job listing doesn't specify exactly which spell-binding tasks new recruits will be responsible for, but it does promise the chance to make an impact on Canada's magical and Muggle communities.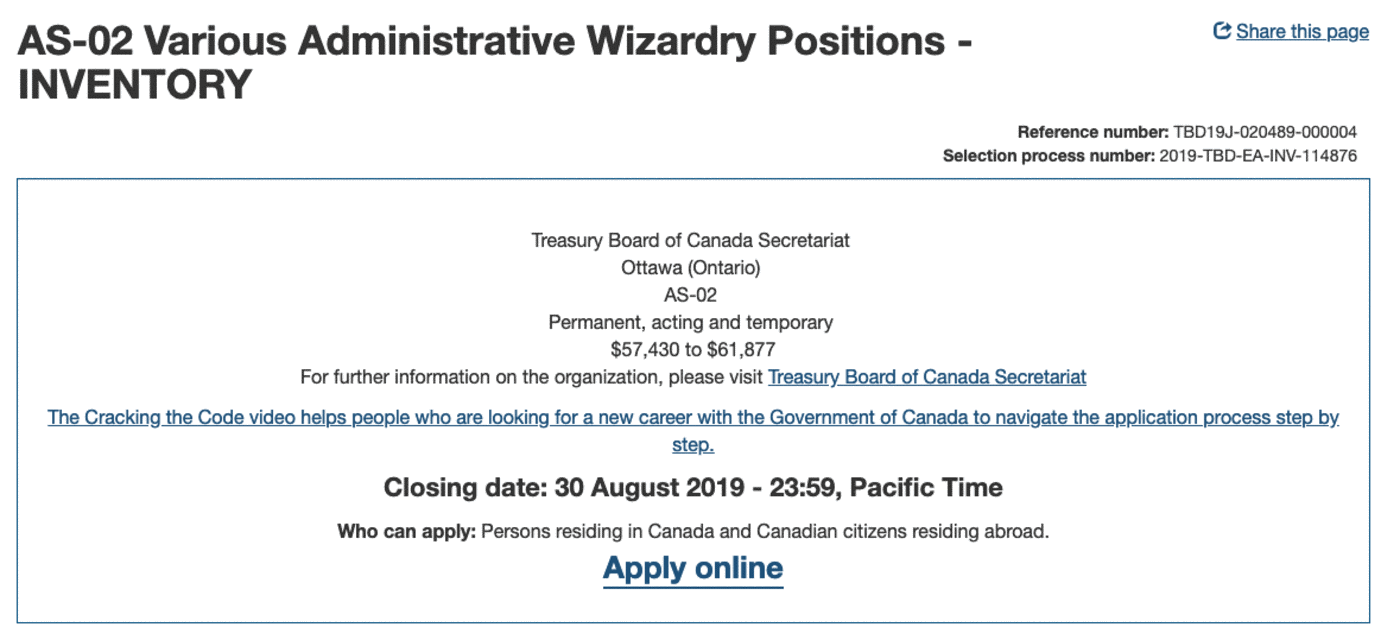 Keen to make the most of some of the best traits in the business, this role is open to alumni of all Houses. TBS even specifies exactly which House qualities could make an application shine.
Are you a Gryffindor (brave, loyal, courageous and adventurous), a Ravenclaw (wise, creative, clever and knowledgeable) a Hufflepuff (hard working, dedicated, fair, patient) or a Slytherin (resourceful, ambitious, determined and crave leadership)?

No matter what 'house' you belong to, Treasury Board of Canada Secretariat (TBS) has various teams that we would love to use our 'sorting hat' to place you into. We are looking for strong and motivated candidates that are interested in making an impact on Canadian citizens. With our Talent Management Program, we will help you grow, learn and further develop your magical career within the Public Service. Come and let TBS become your home away from home!
If you've always dreamed of working as a wizard, your chance is here; apply now! TBS is set to conduct its first random "wizard" selection on April 8, 2019, and the overall deadline for applications is August 30, 2019.
Get those administrative, processing, tracking, proofreading, and staff and client management and liaison skills in spell-binding shape! The government of Canada is waiting!