Events Roundup: Count Your Galleons and Get Ready for Plenty of Magic This March
Calling all Potterheads looking for a good time: All the magic you need is right here, from Northeast ComicCon to Dublin Wizard Con, we've got you covered.
Meet Up with Chris Rankin at Northeast ComicCon
Get ready to enjoy some downtime at Northeast ComicCon, taking place at Boxboro Regency Hotel in Boxborough, Massachusetts, from March 15 to 17. The real reason you should go is because Chris Rankin, who portrayed the role of Percy Weasley in the Harry Potter films, is going to make an appearance. If you can only attend one of the scheduled days, fear not – Rankin will be there for all three days, signing autographs and offering photo ops with fans. It gets more exciting – the original flying Ford Anglia used in the films will be there too, and Rankin will be taking pictures with fans at the car. A picture with Chris Rankin and the Ford Anglia? That's enough to make all our Harry Potter dreams come true.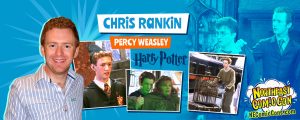 Despite the fact that he will be very busy signing autographs and taking pictures with fans, Rankin will also do a Q&A about his career in creative arts. Bring your favorite notebook with you, because you'll definitely want to take notes on the useful tips he's bound to share. The fun doesn't end there; Rankin will be attending a special Wizardry Wand Acting Interactive Experience as well. This is where fans will learn how to use their imagination to act, much like Rankin had to do on the set of Potter. Fans will also learn how to cast spells and are encouraged to bring a wand. It'll be like taking classes at Hogwarts. If you don't have a wand, don't worry – Orchardworks Magic Wands will be selling wands along with some other necessary wizarding supplies, so make sure you withdraw some Galleons from Gringotts before you go.
Speaking of Galleons, there is a special VIP experience available for the event that includes the following:
A weekend pass with early access admission
An autograph from Rankin
A selfie photo op with Rankin using your own camera or phone
A reserved seat at the Careers in the Creative Arts Q&A that Rankin is hosting on Sunday (March 17)
A reservation for Rankin's Wizardry Wand Acting Interactive Experience on Saturday (March 16)
A special laminated badge (note that it is limited to 75 people, so jump to get your VIP tickets)
The times for each day are as follows:
Friday: 4:00 p.m.–8:00 p.m.
Saturday: 10:00 a.m.–6:00 p.m.
Sunday: 10:00 a.m.–5:00 p.m.
Grab your wand, withdraw those Galleons as soon as possible, and get ready for an unforgettable weekend.
Treat Yourself to a Weekend Full of Fun and Magic at the Dublin Wizard Con
If you weren't able to attend the WizardCon in Newton, New Jersey, last year because you're in Ireland, your chance has finally arrived.
If you're in Dublin, rejoice! You can start saving up those Galleons for a ticket to Wizard Con, taking place at the RDS arena on July 13 and 14.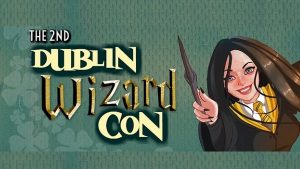 The event promises to provide you with endless entertainment – from escape rooms to magical markets with vendors and stalls. You will also have a chance to show off your knowledge of all things Potter with a good old quiz. After all the day's activities, you can attend the Death Eater Disco that will take place in the evening – and yes, you are encouraged to wear your very best wizard's clothes since there will be a cosplay competition with various prizes up for grabs.
Part of the proceeds from the event will be donated to three charities – Dog's Trust, Barnardos, and Pieta House. If you were still in doubt about whether or not you should attend, you probably have your answer now. Having a good time and knowing that part of the money you spend will go to a good cause always feels amazing. So dust off those wizard's robes and get ready to have an awesome time. The event will run from 10:30 a.m. to 7:00 p.m. on both Saturday and Sunday. You can grab your tickets here.