Castium Revelio: Let's Get Mysterious!
by Brienne Green · Published · Updated
We're feeling decidedly mysterious this week at MuggleNet as we delve into a few wizarding world alumni projects from the realm of espionage and intrigue. We've got the latest news on the next James Bond film and a new trailer for Men in Black: International, both released just today and starring Ralph Fiennes and Dame Emma Thompson, plus an update on Sir Kenneth Branagh's latest Agatha Christie adaptation, Death on the Nile. As if that weren't enough, Daniel Radcliffe was spotted greeting his fans, David Thewlis has been cast in a new film project, and Jason Isaacs is lending his voice to a new Star Trek video game, all in this week's Casting News! Go ahead and read on… we promise we'll let you keep your memories afterward. Castium Revelio!
Harry Potter Cast & Crew
Fans out and about in London this week were treated to a surprise when Daniel Radcliffe (Harry Potter) stopped outside of his hotel to greet admirers, sign autographs, and pose for photos. His graciousness with fans is one of the bazillion reasons we love him, and you can view a couple of photos at Just Jared Jr.
Meanwhile, Emma Watson's (Hermione Granger) 2017 live-action version of Disney's Beauty and the Beast is serving as inspiration for a new restaurant at Walt Disney World. The Sun says the bar and lounge will be themed around the movie, including a large golden chandelier based on Belle's iconic dress, references to the enchanted rose, a formal library area, and French furnishings. We can't wait to be their guest!
It seems as if Dame Emma Thompson (Sybill Trelawney) never slows down, and that's certainly the case again this week. The actress had a pair of new trailers released for her upcoming UK television series Years and Years, which we let you know about at the beginning of this year, and the latest film in the Men in Black franchise, Men in Black: International.

Years and Years is scheduled to premiere in May as a six-part series on BBC One, while Men in Black, in which Thompson reprises her role as Agent O, will hit theaters June 14. The trailer for that film is hot off the web, as it was released at midnight today, and you can also view the trailer for Years and Years below.
In other Thompson news,
Variety says
the actress will star in a new satirical short film,
Extinction
, based on the recent Extinction Rebellion protests in London, in which Thompson participated. She'll portray a veteran environmentalist who secures a meeting with a senior government official.
One of Thompson's completed projects, Last Christmas, has also received a new release date. The movie, written by and starring Thompson and based on the Wham! song of the same name, also stars Emilia Clarke and Henry Golding and will premiere a week earlier than previously announced, on November 8.
We've been anxiously awaiting the debut of the adorable-looking animated film The Queen's Corgi, starring Dame Julie Walters (Molly Weasley), since we announced her participation in December, and the moment is drawing nearer! Lionsgate Films UK released a new trailer for the movie last week, and it's scheduled to premiere July 5. Walters - in all appropriateness - voices the Queen.
Another actress has been added to the stellar cast tabbed for
Sir Kenneth Branagh
's (Gilderoy Lockhart) latest Agatha Christie adaptation,
Death on the Nile
.
The Hollywood Reporter says
Black Panther
star Letitia Wright has been added to a docket that already includes Armie Hammer, Gal Gadot, Jodie Comer, and of course, Branagh himself in the role of Hercule Poirot. Branagh, who also directs the films, became the latest actor to take on the character in 2017 with
Murder on the Orient Express
.
Death on the Nile is expected to begin filming at the end of September, with a release date of October 22, 2020. And while multiple film projects were reported this week as being scrapped after Disney's acquisition of Fox's assets closed last month, rest easy: Branagh's project is not among them.
We let you know in January that Sir Michael Gambon (Albus Dumbledore) had been cast in Sky One's upcoming series Breeders, but it has now been released that the actor has withdrawn from the project, reportedly for health-related reasons. We're obviously distressed over the news and wish Gambon all the best going forward!
Fans were hoping a promotional video released today on Twitter by the official James Bond account would finally reveal the 25th movie's title, but unfortunately, that wasn't the case, leaving the project under its working title of Bond 25 for now. Ralph Fiennes (Lord Voldemort) will be reprising his role as M in the upcoming movie.
Variety reports, however, that one major bit of casting was confirmed during the video release: recent Oscar-winner Rami Malek (Bohemian Rhapsody) will be portraying the next Bond villain. The actor expressed his delight, stating, "I will be making sure that Mr. Bond does not have an easy ride of it in this, his 25th outing." Yep, he's going to nail this.
Some filming has already begun on locations that will include London, Italy, and Norway, and you can get a glimpse of the plot in the official log line below.
Bond's peace is short-lived when his old friend Felix Leiter from the CIA turns up asking for help. The mission to rescue a kidnapped scientist turns out to be far more treacherous than expected, leading Bond onto the trail of a mysterious villain armed with dangerous new technology.
Fiennes' directorial labor of love, meanwhile, The White Crow, is finally arriving in theaters worldwide Friday, and Fiennes made the rounds over the past two weeks in support of the release. While in Moscow, the Daily Mail reports, he was additionally honored with the prestigious Konstantin Stanislavski Award, given for outstanding achievements in acting and devotion to Stanislavski's method.
Fiennes then made his way to New York City for a screening of the film, during which he addressed the rigorous undertaking it was.
It's been a very, very long road. We were mad. We were mad to take on this subject of Rudolf Nureyev. Mad. Completely mad. But we did it. Many of you here, who know the film business or are close to the film business, you know how hard it is to put a film together, to raise the finance, to get the resources, especially when the independent film world is so challenged at the moment.
Fiennes also revealed he took his inspiration behind the camera from Steven Spielberg, who directed the actor in Schindler's List.
I've never forgotten Spielberg's energy on a set, his vigor, his sort of vocal lack of restraint. It's great to feel [the director's] personality, present and communicating and not hiding in a tent, looking at a monitor, relaying their directions to the first AD.
You can view a selection of photos of Fiennes in both Moscow and NYC below, and be sure to experience The White Crow in theaters!
John Cleese (Nearly Headless Nick) has wrapped up filming on romantic comedy The Naked Wanderer. Cleese plays media mogul Brian King, uncle of Cameron King (Callan Durlik), whose best friend, Jake (Angus McLaren), has made the decision to trek 2,500 miles up the coast of Western Australia wearing only a loincloth. Jake is making the walk under the guise of raising money for charity while actually attempting to win back his ex-girlfriend. Cleese's character offers to sponsor the venture in hopes of a bit of good press. There's no information yet on whether the movie will be released in the US or the UK.
Cleese and his infamous comedy troupe, Monty Python, are also celebrating the 40th anniversary of 1979's Life of Brian, the story of a man born on Christmas Day in the manger next door to Jesus. In honor of the milestone, the hilarious flick is returning to cinemas around the US and the UK.
National Geographic has announced it will begin production this year on a scripted drama series based on Annie Proulx's 2016 bestselling novel Barskins, and Deadline Hollywood says David Thewlis (Remus Lupin) has been cast in a leading role. The actor behind our favorite Defense Against the Dark Arts professor will portray Monsieur Claude Trepagny, a wealthy landowner with grand plans for New France.
'Barskins' follows a disparate group of outcasts who must navigate the brutal hardships, competing interests, and tangled loyalties at the crossroads of civilization - 1600s New France - where the war to escape their past and remake themselves is cast against the vast and unforgiving wilds of North America.
Now that your hearts have been warmed by thoughts of Remus, allow us to mildly terrify you. Thewlis is also appearing in the upcoming reboot of classic horror movie Child's Play, playing Shane, while Mark Hamill (Star Wars) takes over as the voice of the demonic doll, Chucky. A new trailer was recently released for the film, which premieres June 21. Oh, by the way - in this version, Chucky can control all of your smart devices. Just fantastic.
A television drama starring
Timothy Spall
(Peter Pettigrew) that was originally scheduled for release in 2017 is now finally on the horizon,
the Radio Times says
.
The Hatton Garden Heist
tells the true story of a 2015 cash and jewelry heist in London's Hatton Garden district by a gang of elderly thieves who very nearly committed the perfect crime. Ahead of the May release of the four-part series, ITV unveiled a trailer this week. We'd love to share it, but unfortunately, it's not been made viewable in the US. If you live in the UK, however, click the link above to check it out! As for the rest of us, enjoy a photo of Spall and his costars below, along with a picture of the actor from his recent appearance on British talk show
Lorraine
. Spall - who is already an inspiration after beating leukemia in 1996 - discussed his recent significant weight loss and offered a few rather cheeky tips.
If I was going to write a diet book, it would be two pages. The first one is, food and booze is lovely and exercise is horrible. Right, turn over the page: If you eat too much and drink too much, you put on weight. If you eat about the right amount, you don't. And that's it really!
Yes, yes, we know Captain Lorca is supposedly dead and all, but like all good Star Trek fans, we can keep our fingers crossed that Jason Isaacs' (Lucius Malfoy) character will return from the great beyond at some point in the future. Until then, PC Gamer has revealed we can take our solace in a new massively multiplayer online (MMO) game from Star Trek Online: Rise of Discovery. The game will feature Lorca and Commander Landry, voiced by Isaacs and Rekha Sharma.
'Rise of Discovery' aims to fill in some blanks and give us a bit of backstory about the pair across two episodes. It's set before the events of the first season, and players will need to help the commander rescue a stranded Captain Lorca and deal with the Klingons of House Mo'Kai.
The game is scheduled for a May 14 launch, and you can view a trailer below.
Helen McCrory (Narcissa Malfoy) stepped out this week in London in support of British sustainable accessories brand Bottletop's new campaign. #TOGETHERBAND was launched in celebration of Earth Day and, the Daily Mail says, has established 17 goals meant to protect Earth and foster prosperity by the year 2030.
We may just go ahead and resign ourselves to the fact that we won't know the official identity of Bill Nighy's (Rufus Scrimgeour) Detective Pikachu character until the May 10 release, but we can now see the actor in character, thanks to a new set of photos released last week by Warner Bros. You can view the full gallery here, courtesy of Vital Thrills, or just check out the stills featuring Nighy in the gallery below. Warner Bros. UK also released a new featurette for the movie Wednesday; give that a look as well!
MuggleNet has been keeping you thoroughly up to date on Amazon Prime Video's impending series
Good Omens
, but as they say, you can never have too much of a good thing! Prime Video recently released a new featurette, in which you can see both
David Tennant
(Barty Crouch Jr.) and
Miranda Richardson
(Rita Skeeter) in action!
While there are no Irish films on the docket for this year's Cannes Film Festival,
Brendan Gleeson
(Mad-Eye Moody) will be costarring in the anticipated drama
Frankie
, alongside Isabelle Huppert (
The Piano Teacher
) in the titular role.
IndieWire describes the film
as the story of
"a family vacation that takes a turn for the worse when a dramatic event of some kind pulls at three generations' worth of deep-seated tension."
Cannes will run May 14--25, and the movie is scheduled for an August 28 release in France while still seeking US distribution.
Speaking with the Irish Times
, Huppert said,
"That was my first time with Brendan, and he was wonderful."
What's On Stage says Clémence Poésy (Fleur Delacour) will be joining Rupert Everett (My Best Friend's Wedding) in a new production this summer at Theatre Royal in Bath, England. The two will appear in Uncle Vanya, the tale of the events that unfold when an elderly professor and his much-younger wife pay a visit to the rural estate that supports their glamorous urban lifestyle. The play is scheduled to run July 18–August 3, and you can book tickets here.
MuggleNet gave you the lowdown on Nick Moran's (Scabior) action flick Avengement in March, and Entertainment Focus says digital and disc release dates for the film - which is scheduled for a May 24 premiere in theaters - have been set. Avengement will be available on digital download June 17 and on Blu-ray and DVD July 1, and you can preorder your copy here.
Bloody Disgusting reports Ralph Ineson's (Amycus Carrow) latest horror film, Brahms: The Boy II, a sequel to the 2016 film The Boy, has been scheduled for a July 26 release. Ineson will portray Joseph in the movie, which also stars Katie Holmes. You can read a brief description below.
After a family moves into the Heelshire Mansion, their young son soon makes friends with a lifelike doll called Brahms.
Another popular horror film starring Ineson, 2015's The Witch, was released Tuesday to 4K, Blu-ray, and digital download. Meanwhile, Ineson's upcoming HBO miniseries Chernobyl, which also stars Adrian Rawlins (James Potter), has its May 6 premiere coming up soon, and HBO released a new featurette this week, which you can view below.
As
we let you know a few weeks ago
,
Simon McBurney
(voice of Kreacher) is starring alongside Russell Crowe in a seven-part miniseries based on Roger Ailes,
The Loudest Voice
. McBurney portrays media mogul Rupert Murdoch. The series is set to debut June 30, and Showtime released a new teaser trailer last week.
Sophie Thompson
(Mafalda Hopkirk) quickly became a fan favorite in March 2018 when she
made her debut
on long-running British soap opera
Coronation Street
as clairvoyant Rosemary Piper, and the actress hinted this week that she wouldn't mind returning to the role at some point.
Digital Spy says
Thompson was asked by host Christine Lampard while appearing on the talk show
Lorraine
whether a Rosemary comeback might be possible. She replied,
"Well, Christine, Rosemary - she didn't die, that's all I'm saying."
Entries are now being accepted for an art prize named in honor of the late Sir John Hurt (Garrick Ollivander). The Holt Festival's Sir John Hurt Art Prize is currently inviting entries, the Eastern Daily Press says, with the winner to receive $2,262 and their entry exhibited at the Sainsbury Centre for Visual Arts in Norwich, England. Prospective entrants have until midnight on June 16 to register. The festival will run July 21–27 in Holt, England.
The music of John Williams, who composed the scores for the first three Harry Potter films, is being celebrated with a new album by the Los Angeles Philharmonic. Celebrating John Williams features music from some of the composer's most iconic scores, including, the Financial Times says, "a wizard brew of musical ingredients from the 'Harry Potter' films." You can pick up your copy on Amazon.
It's a safe assumption that a good portion of the moviegoing world is aware of Alfonso Cuaron's (director of Harry Potter and the Prisoner of Azkaban) semi-autobiographical film Roma after it won him Oscar, Golden Globe, and BAFTA awards for best direction, along with a truckload of other honors. Now, the Hollywood Reporter says, Roma has a chance to collect additional accolades at this year's Ariel Awards in Mexico. Cuaron's movie has received 15 nominations, including in the Best Picture and Best Director categories. The ceremony will be held June 24 at the Cineteca Nacional.
Stephen Fry (narrator of the UK Harry Potter audiobooks) has been credited with a dramatic rise in the number of people being screened for cancer in England. The Eastern Daily Press says after Fry's candid discussion about his prostate cancer diagnosis on BBC Breakfast in 2018, a record 2.2 million people were checked for the disease last year. Fry had surgery in January 2018 and has said he is "well and extremely thankful."
Fry has also been confirmed as a speaker at this year's Hay Festival of Literature and Arts in Hay-on-Wye, Powys, Wales. The festival is scheduled to run May 23–June 2.
Fantastic Beasts Cast & Crew
It's been four years since Johnny Depp's (Gellert Grindelwald) band, Hollywood Vampires, released an album, but Loud says the group - which also includes Alice Cooper and Joe Perry - has new material on the way. Their sophomore album, Rise, is set to debut June 21 via earMUSIC and will feature 13 tracks of original material, plus a few covers, including Depp performing David Bowie's "Heroes."
Cooper says that, with this album, the band is "establishing what the Vampires' sound really is." The group will be touring the Southwest in May, and you can check out their first single from the new album, "Who's Laughing Now," below.
Zoë Kravitz
's (Leta Lestrange) latest appearance in a new campaign for high-end suitcase and travel bag company TUMI was a particularly special one for the actress. It marked her first on-screen appearance with her father, rock musician Lenny Kravitz.
Luxury London
spoke with the pair at Lenny's home in the Bahamas, where Zoë expressed that being on camera for the first time with her dad was
"really special. It's kind of surprising that it took this long, but it was all meant to be. It was also really fun working with my dad."
You can read the full interview with the Kravitzes here and check out TUMI's campaign film, "What the Future Holds," and a few images below.
Downton Abbey
creator Julian Fellowes is going from tea and crumpets to headers and penalty kicks.
The Radio Times reports
the cast has been set for Fellowes' upcoming six-part Netflix series,
The English Game
, which explores the origins of soccer (or football, don't hurt us) and how the game has bridged class divides in England. Listed among the cast are
Kevin Guthrie
(Abernathy) and
Henry Lloyd-Hughes
(Roger Davies,
Harry Potter and the Goblet of Fire
). Filming has reportedly begun, and the series is expected to be released in 2020.
We've been keeping you apprised on Jessica Williams' (Eulalie Hicks) new film, Booksmart, and we finally know who the actress will portray in the coming-of-age comedy. Entertainment Tonight spent a day on the set and was able to sit down with not only director Olivia Wilde (Tron) and stars Beanie Feldstein (Molly) and Kaitlyn Dever (Amy) but also Williams, who plays one of the pair's teachers, Ms. Fine.
Ms. Fine sees a lot of herself in [Amy and Molly]. That is her journey in the film. She reconciles with her past through these girls. The reason I wanted to do this film was because I wanted to do a film that I wish I was able to see when I was in junior high and high school. I feel like this movie is that. Also, I wanted to support women. I was super excited that Olivia Wilde was attached. I feel like she really cares about every one of us, and she wants to respect who my character, who everyone's character, is.
Booksmart hits theaters May 24.
The Cannes Film Festival is coming up May 14--25, and Cannes Critics' Week - a section of the festival dedicated to first and second films - will include Ingvar Eggert Sigurðsson's (Grimmson) latest project, A White, White Day. According to Variety, Sigurðsson stars as Ingimundur, "an off-duty police officer who is grieving the recent death of his wife in a car accident when he begins to suspect another local man of having had an affair with her." The film is set for a May release in France.
Harry Potter and the Cursed Child Cast & Crew
The Express has released a new, exclusive clip from the upcoming J.R.R. Tolkien biopic, Tolkien, and we're particularly excited about it since it's the first we've seen that features more than just a passing glimpse of Anthony Boyle's (Scorpius Malfoy, original cast) character. You can see Nicholas Hoult (Tolkien), Boyle as Geoffrey Bache "G.B." Smith, and the other members of Tolkien's group of friends, the Tea Club and Barrovian Society (T.C.B.S.), attempting to diffuse the tension as they prepare to enter World War I. Tolkien premieres May 10.
Harry Potter and the Cursed Child celebrated its one-year anniversary on Broadway Monday, and the production marked the occasion by releasing a new photo from the play. In it, you can see current cast members Bubba Weiler (Scorpius Malfoy) and Nicholas Podany (Albus Potter) in action, with Albus jumping backward in shock as Scorpius experiences the effects of eating a Pepper Imp.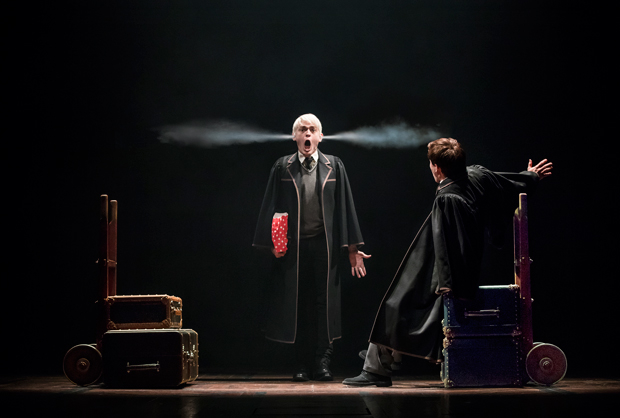 Jack Thorne (cowriter) also had a 2010 television miniseries, on which he worked with director Shane Meadows, arrive on Amazon last week. This Is England '86, part of a trilogy exploring the struggles of various people in mid-1980s England, is streaming now. In addition, the writer's new Channel 4 drama, The Virtues, which we let you know last week would be airing in May, has a new trailer, and Thorne released it Wednesday via Twitter.
#TheVirtues trailer - gut wrenching performances from amazing actors - @StephenGraham73, @helenbehan, @NiamhAlgar, @markohalloran - beyond beautiful direction by the great @ShadyMeadows - please watch this show, so so proud to be part of it - https://t.co/hsqDd0l7kK

— Jack Thorne (@jackthorne) April 24, 2019
We're incredibly excited about how many great projects are on tap for our wizarding world favorites! Which actors' endeavors are YOU most looking forward to? Let us know in the comments, and be sure to return next week for more Casting News!