Look Out, Sirius: Dubai Police Force Testing Flying Motorbikes
It may be about four decades too late, but the authorities have finally added a viable tool to the arsenal they'd have needed to keep Sirius Black in check.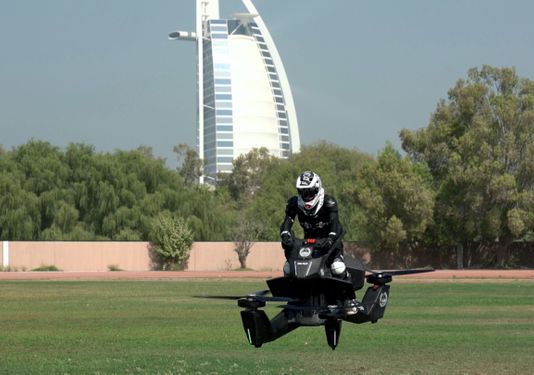 USA Today says police in Dubai are in the process of training on Hoversurf's first production unit hoverbikes. The flying motorbikes will allow officers to rise above traffic during pursuits and access hard-to-reach areas – not to mention chase down rebellious teenage wizards fresh out of Hogwarts.
The electric vertical takeoff and landing vehicles (eVTOLs) weigh 253 pounds and can reach a height of 16 feet and speed of 60 mph. They're powered by electric ducted fans and propellers, and their lithium manganese nickel batteries offer 10–25 minutes of flight time per charge with a pilot aboard, up to 40 minutes if being utilized as a driverless drone.
Perhaps the best news, however – provided you have a Gringotts vault the size of the house of Black's – is that the S3 2019 hoverbikes are available to anyone. The vehicles are Federal Aviation Administration-approved and retail for $150,000. A $10,000 deposit is required.
The Dubai Police Force is well known for its futuristic crime-fighting efforts, with various electronic vehicles and high-end sports cars already in its fleet. The police force took delivery of the hoverbikes from California-based Hoversurf in October 2018 and expects to have them in use by 2020.
.@DubaiPoliceHQ starts training on flying Hoverbike. #Dubai https://t.co/qyRQXozfRM #Dubai

— Dubai Media Office (@DXBMediaOffice) November 8, 2018
While the closest most of us are going to get – for now – to soaring above the city streets on a flying motorbike we obviously named Elvendork is a trip to Universal Orlando Resort to ride Hagrid's Magical Creatures Motorbike Adventure, accessible airborne vehicles seem to be an eventuality. USA Today says Uber is currently working with the United States Army, NASA, and established aircraft manufacturers on a flying vehicle network it hopes to begin testing in 2020, and Cincinnati-based Workhorse hopes to have an FAA-approved personal helicopter available to customers by 2021.
What do you think of the new hoverbike technology? Let us know in the comments!