New Chocolate Frog Card at Universal Orlando Features a Familiar Face
This is an exciting time for Chocolate Frog card collectors – a new wizard card has been released at Universal Orlando Resort! The brand-new card features the famous and beloved wandmaker, Garrick Ollivander.
These collectible cards come in every Chocolate Frog box at Universal Orlando. Currently, there are 11 witches and wizards featured on the cards – Godric Gryffindor, Helga Hufflepuff, Rowena Ravenclaw, Salazar Slytherin, Albus Dumbledore, Gilderoy Lockhart, Bertie Bott, Hengist of Woodcroft, Jocunda Sykes, Devlin Whitehorn, and the latest addition, Garrick Ollivander. The only way to collect them all is to purchase at least 11 Chocolate Frogs, but there is no way of knowing which card you will find!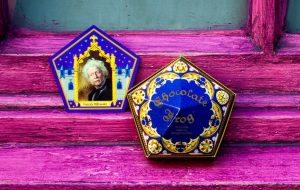 Chocolate Frogs can be purchased at Honeydukes in Hogsmeade, at Sugarplum's Sweet Shop in Diagon Alley, or through Universal's online store.
Which cards have you collected and which cards are you still missing? Let us know in the comments below!