Hallmark Releases New "Harry Potter" Collectible Gifts
Hallmark, known for its magical selection of Christmas ornaments, greeting cards, and more, has released a new line of Harry Potter collectible gifts. The items, which are exclusive to Hallmark Gold Crown stores, are perfect for anyone who could use a little touch of magic. The new collection includes "[high]-tech ornaments, home decor, ceramics, plush, apparel and greeting cards."
Christine Taylor of Hallmark Licensing was quoted in a press release from Hallmark.
We know Harry Potter fans are passionate and share a real emotional connection to the Wizarding World. These new gifts are designed to bring to life the memories and feelings they have toward their favourite characters and moments from the films.
Luckily, you won't have to wait for the new merchandise. The collection is already available in Hallmark Gold Crown stores and online, except for the Hallmark Keepsake Ornaments.
The gift collection is now available exclusively at Hallmark Gold Crown® stores across the country and online at Hallmark.com. Harry Potter™ Hallmark Keepsake Ornaments will be available beginning this July during the annual Ornament Premiere event in stores and online.
The press release also provided more details on the new items. They include oversized mugs, decorative quotes, and two new additions to Hallmark's "itty bittys" line of plush collectibles. Among the characters now available in plush form are Hagrid, Dobby, Luna Lovegood, and Professor McGonagall.
Along with information about the new Keepsake Ornaments, Hallmark also revealed that a Christmas tree topper will be part of the collection.
This year's offering includes three new interactive Hallmark Keepsake Storyteller Ornaments and a coordinating Christmas Tree Topper that recreate an epic scene from the iconic film Harry Potter and the Sorcerer's Stone using light and sound. Two additional ornaments featuring the book cover from Harry Potter and the Chamber of Secrets™ and one inspired by Weasleys' Wizard Wheezes will be available in 2019.
The new products are a continuation of almost 20 years of collaboration with Warner Bros. Consumer Products. Hallmark announced its first line of Harry Potter products back in August 2000.
Check out a photo of some of the new merchandise!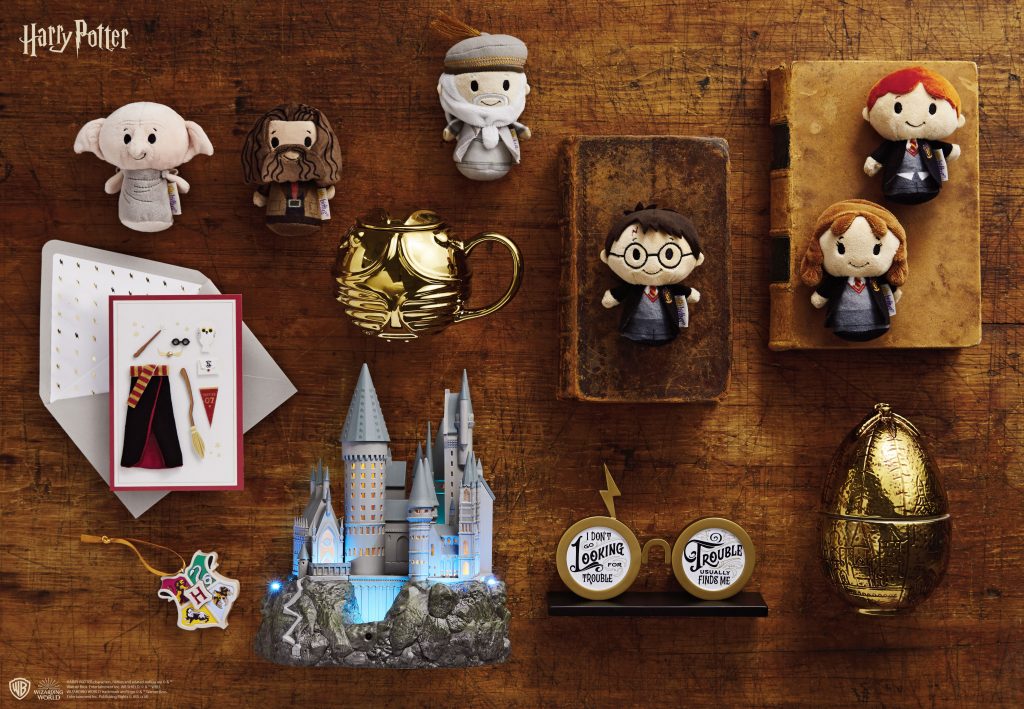 You can also find the full press release below.
Will you be buying any of the new Harry Potter gifts from Hallmark? What do you think of the products?