Review and Giveaway: Win a Harry Potter Magical Beasts Game from Goliath Games!
The Harry Potter Magical Beasts board game by Pressman brings finding our favorite beasts from the wizarding world to life. It's a game full of wonder, hope, and good ol' competition! As a board game lover, I was overly excited to receive this product in the mail. To be honest, I am an avid Amazon Prime user and kind of forgot what it was like to have a package come to my house without two-day shipping. I was unsure of when I would get the board game, but to my surprise, it was on my doorstep three days later! I was happy to see that and wanted to play the game right away. I opened it up and began to read the instructions.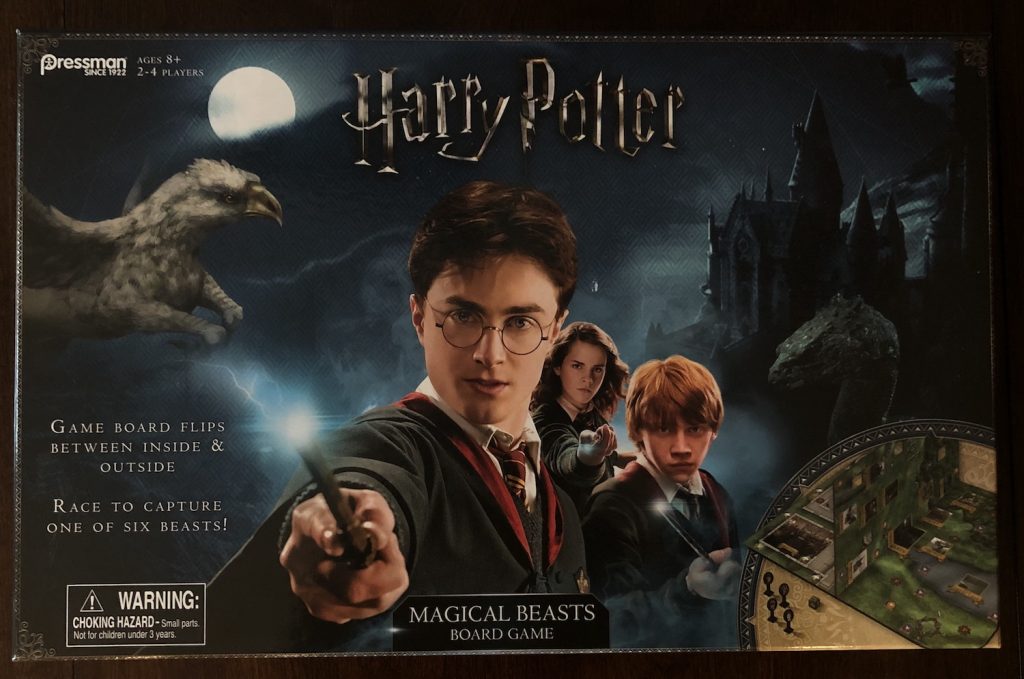 Before getting into the nitty-gritty of the instructions and the game itself, I think it is important to explain my first impression. The game was packaged very nicely, and there wasn't a mark or a scratch at all on the box; everything from the plastic wrap around the box to the inside of the box was absolutely pristine, and my inner neat freak was very satisfied and happy. I started to read the instructions after opening it, and as I was reading, I noticed that there was a pictorial representation of each piece of the board game. I am a visual learner, so the instructions definitely helped me understand how to play the game better. The end of the instructions left me a bit confused; this section talked about the clue cards in the game, and it wasn't until I read it a few more times that I understood it a bit more.
The gist of the game is trying to find at least one beast, and once you find one beast, you win! You have to make your way to specific spaces that will allow you to pick up the matching cards. These spaces include location, class, color, and size. Once you collect the corresponding cards to a singular beast, you win! Now, the board game has two sides: it flips!
This was such a cool concept to me because this allowed there to be a little bit more competition and it added to it too. If this game just had you finding the magical beasts in a specific path, it would be like every other board game I have played. The fact that you can flip sides to allow more gameplay was exciting and fascinating! In order to flip the board, you must roll the "P" on the die; this stands for passage. You get to move yourself to a passage space and flip the board. If your opponents are not on a passage space themselves, you get to move them wherever you want once you flip the board.
There is one side that represents Hogwarts, and the other represents the grounds. Each side has different spaces that match the cards; two cards are represented on each side. This can make the game really intense and entertaining because when you and your opponent(s) need the same card, but it's represented on the other side, it soon becomes even more of a competition!
Besides the great details of this board game, there were only two things that I found could change. The difficult-to-understand instructions regarding the clue cards were one of them, but once you start playing, you get the hang of everything! The other thing would be how many people you play with. I was playing with my boyfriend, and we found the game ending soon after we started. After the second time we played, we were easily finding cards because we really understood the game at that point, but it was still fun! The game can be played with up to four people, and I think if you have three other people to play with, definitely invite them over!
I had a great time with this game, and I would recommend it to any Harry Potter fan who loves making the series come to life, no matter if they are eight or fifty-eight! It's exciting to be able to find magical beasts in the comfort of your own home!
Now you can bring home a Harry Potter Magical Beasts game to play with your friends and family, thanks to our giveaway sponsored by Goliath Games! Simply enter via Rafflecopter anytime during the contest period, starting May 15 through May 29 at 11:59 p.m. ET, and we will select two winners from the United States and two winners from Canada. Respond to our email within 24 hours to claim your game, or another winner may be chosen. Don't forget to check your spam or junk folders in case our email goes astray somehow.
A Harry Potter Magical Beasts game was provided to MuggleNet for review by Goliath Games US. All opinions belong to the reviewer.