CCXP Cologne: MinaLima Tease a Potential New Product
Germany is not the number one location for Harry Potter activities, so getting CCXP here in Cologne and having the talented graphic design duo MinaLima in attendance with their magical booth delighted the Harry Potter community in the Central European country. Furthermore, Warner Bros. teamed up with the well-known German merchandising shop Elbenwald to bring the official Wizarding World shop to Cologne. 200 m² (approx. 2,152 square ft) of exhibition floor was filled with items featured in the Harry Potter and the Fantastic Beasts series. Fans could shop their Hogwarts apparel and more in Hall 8. There was also a photo opportunity with a set piece of Hagrid's hut.
In Hall 7, fans could get their fill of magic by visiting the shop of MinaLima, with many prints from both Harry Potter and Fantastic Beasts. Fans could also study the details of MinaLima's graphical ingenuity, buy their very own prints, and even meet the creators themselves.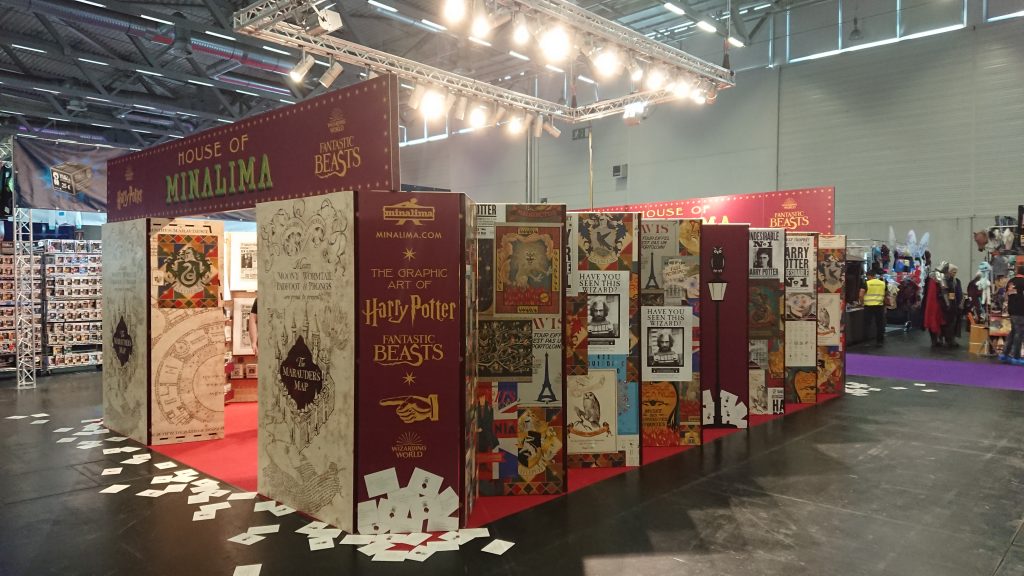 MuggleNet was able to talk with Miraphora Mina and Eduardo Lima, the creators of MinaLima, at their stand, where many fans took the opportunity to get their products signed by the duo. Miraphora explained the design of their stand, which was something brand new and specifically done for this convention but would hopefully last for many more to come. The setup was especially unique because of the walls, which were not in a straight line but rather in a zigzag format, providing many small niches and nooks where all the products were displayed.
Miraphora explained that she and Eduardo had planned to take the atmosphere of their shop in Soho, London to CCXP. This was definitely achieved by the design of the walls and the music in the background, which gave visitors a chance to step out of the hectic bustling of the con and take a trip into the wizarding world.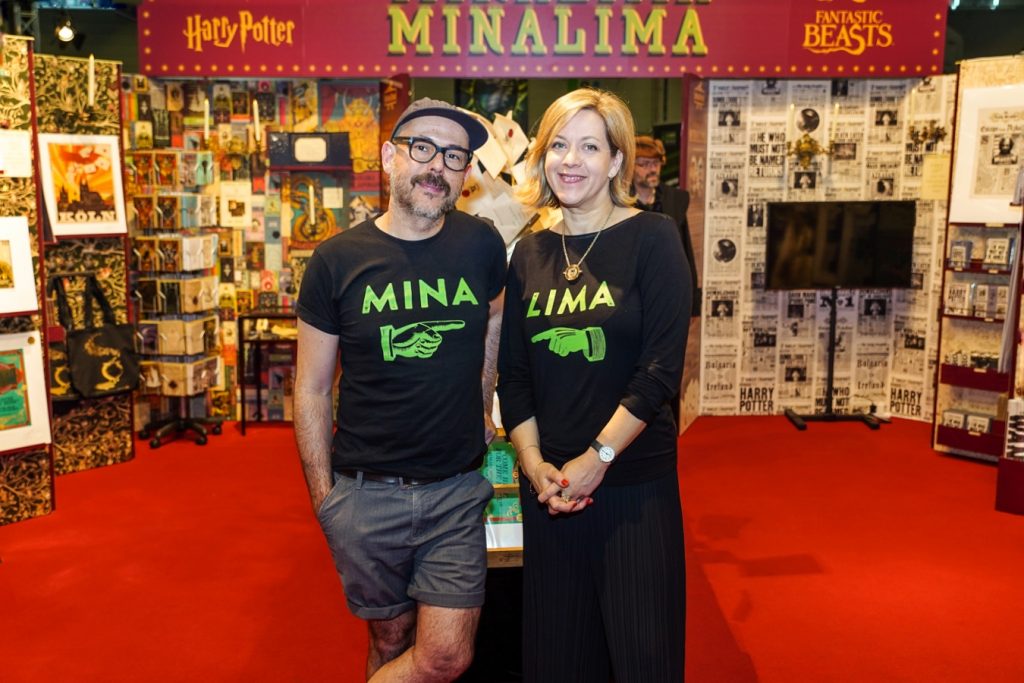 But that wasn't all that was unique about their stand. In fact, they hinted that the new wallpaper they used for it might eventually become available for fans to buy. They couldn't confirm this yet, since it would have to be cleared by Warner Bros., but we are sure fans all over the world would love to get their hands on some MinaLima wallpaper! Three designs were featured at CCXP: the Black family tapestry, the Marauder's Map, and the newspaper designs from the Daily Prophet.
Talking about their experience of Cologne and the German fans, they admitted that they hadn't had much time to see anything outside of the convention but had managed a quick trip to Cologne Cathedral. When asked about German fans, Miraphora said that they were aware of the traffic they receive on their website from Germany and were therefore really excited about the chance to bring their products to the country. Although they were not looking for anything more permanent as of yet, they would definitely love to come back for another comic convention should the chance arise.
In Hall 8, there was a massive display of Hagrid's hut with Buckbeak in front of it, allowing fans to take photos and get a better look at the hippogriff. Right next to that massive display was the Elbenwald stand, which had walls with windows all around it, so visitors had to take a step inside. A massive display of Harry Potter and Fantastic Beasts merch had been brought to the convention, including merchandise for all four Hogwarts Houses, wands from both franchises, and much more. Fans could have easily spent hours looking at all the products in that stand alone. The staff at the Elbenwald stand revealed that essentially all the Harry Potter products the company offers online were brought to Cologne and that the extra space compared to the often more cramped stores was a nice change.
Talking with the staff for a long time, it became clear that they were massive fans and knew their Harry Potter and Fantastic Beasts trivia well. They had some interesting insights to share, especially about wands. They revealed that they work closely with Warner Bros. on all their creations and merchandise and had previously suggested making it possible for fans to get their very own wands. They reasoned that it would be unique and much more personal merchandise. In their vision, you would enter your wand details from your Wizarding World Passport, and they would then create your wand with your name on the box for you. If we all keep our fingers crossed, who knows, someday soon this might become a reality.
It wouldn't be a comic convention without the big comic brands being represented. There was plenty to see for fans of Marvel, DC, and co. with Shazam star Zachary Levi, Dr. Strange and Infinity War actor Benedict Wong, and Riverdale singing sensation Ashleigh Murray in attendance. Furthermore, there was a lot to see on the cosplayer front. Fan groups, like the HogWizards, Stark Entertainment, Deutsche Tolkien Gesellschaft e.V., five different Star Wars clubs, and many more showed off their amazing costumes.