J.K. Rowling Now Has Her Very Own Lipstick Shade – And It's Absolutely Magical
Ever since the Harry Potter series became one of the biggest movie franchises in the world, J.K. Rowling has been honored for her amazing work in every way possible. Not only has the Harry Potter book series won numerous awards, but the Fantastic Beasts series and Harry Potter and the Cursed Child have also had their fair share of wins at awards shows. There is only one thing J.K. Rowling doesn't have yet – a lipstick that's named after her. Well, that just changed.
If there's one person who deserves to have a shade of lipstick named after them, it's Rowling. We could never thank her enough for bringing Harry into our lives and creating such an amazing fandom. British makeup artist Charlotte Tilbury seems to feel the same, because she just introduced her new line of lipsticks – and one of them is named after Rowling. Yeah, just shut up and take our Galleons already.
Tilbury, who has worked with Rowling before, has been teasing the release of her new Hot Lips 2 range on Instagram for quite some time now – and when she finally announced them, Potterheads all over the world were ecstatic to hear that their favorite author got her very own shade. Tilbury makes a point of naming her lipstick shades after iconic men and women who inspire her. Lucky for us, Rowling happens to be one of them. The new shade is called JK Magic – we don't know about you, but we approve of the name. Having the initials J.K. and the word "magic" in the name of a lipstick is all we need to dig our hands deep into our pockets and buy it this very instant.
On to the most important part – what does this shade look like? Well, we think it's safe to say that it's a shade that will look good on almost everyone. Tilbury describes it as a "soft, flattering pink-kissed-with-nude" shade. The best part about the lipstick is probably its packaging – this magical shade is housed in a mystical case adorned with shooting stars.
When asked why she chose to name one of her new shades after Rowling, Tilbury said that it's because Rowling has truly always been an inspiration to her.
I have always had a magical connection with J.K. Rowling; she is an inspirational icon to me. This shade compliments her flawless complexion and beautiful, piercing blue eyes. It looks great worn as a blush on the cheeks for a fresh, pretty pop of colour. This shade will add magic to your every look.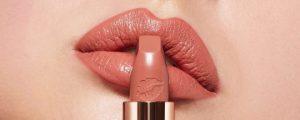 Not only was Tilbury very good at creating a beautiful shade of lipstick inspired by our favorite author, but she is also doing her part to take care of the environment. For the first time ever, the new collection will be available in refillable cases. Tilbury will also be donating £1 million (about $1,265,911) to support Women for Women International. This is an amazing organization that helps women who are war survivors rebuild their lives.
The JK Magic lipstick will sell for $37 while refills will cost you $24. With this new shade, you can really have it all – you can help save the environment and know that you're helping fund an amazing organization. Talk about spreading the magic. The lipsticks went on sale on June 20, so you can head to your nearest store or order them online. Let us know what you think of the new shade as soon as you own it – we bet it's as magical as it looks.