The OP (Formerly USAopoly) Announces Harry Potter: Death Eaters Rising
As previously reported, the OP (formerly USAopoly) was set to release the final game in its trio of Harry Potter-themed games in fall 2019. At the time, not much was known about the unnamed cooperative game. Now, we have not only a name for this upcoming release but also a glimpse of the game itself!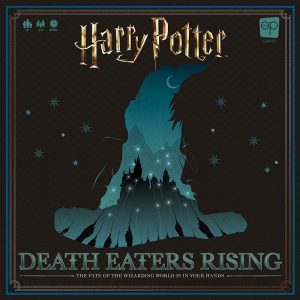 Harry Potter: Death Eaters Rising is based on the events that took place in the movie Harry Potter and the Order of the Phoenix. Players will have to join together to stop the spread of Dark Magic by fighting Death Eaters to regain control of key locations in the wizarding world, such as the Ministry of Magic and Diagon Alley.
As well as well-known locations, players will have to assemble teams of wizards and witches from a selection of familiar faces, including Harry, Ron, Hermione, and Albus Dumbledore. During the course of the game, players will also come across other characters from the movie, including Ginny Weasely, Luna Lovegood, Hagrid, and even Mrs. Norris!
Speaking about the gameplay itself, lead game designer Pat Marino hinted that this game is going to be far from easy:
Just as setbacks and devastation befell Harry and his friends during their journey, players can expect an equally challenging path to success in Death Eaters Rising that makes victory much more rewarding.
As well as a game board, counters, tokens, and an incredible 44 character cards, Harry Potter: Death Eaters Rising has a few unusual game elements. This includes 14 ivory-colored wizard dice, an eight-sided Voldemort die, and one "custom sculpted" Lord Voldemort figure! Check out the full list of contents below.
60 damage counters
44 character cards
24 spell tokens
15 corruption counters
14 ivory-colored wizard dice
6 headquarters cards
6 mission tokens
6 place cards
1 custom-sculpted figure (Lord Voldemort)
1 location board
1 large villain card
1 eight-sided Voldemort die
Harry Potter: Death Eaters Rising is a game for two to four players age 11 and older and has an estimated playing time of 45 to 60 minutes. With a suggested retail price of $49.95, the board game will be hitting store shelves sometime this fall.
What do you think of the third game in the OP's Harry Potter-themed releases for 2019?