Brace Yourself: New "Harry Potter" Insight Editions Are Hitting Shelves This Fall
This fall is going to be an excellent season for all Harry Potter book lovers. Insight Editions is partnering with Warner Bros. to roll out some fantastic new wizarding world film-inspired books in September. Insight Editions is bringing a whole slew of new titles oozing with magic and intrigue. The first new title we can't wait to nab off the shelves is Harry Potter: Magical Places: A Paper Scene Book.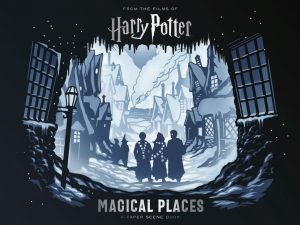 Revisit the magic of Harry Potter through four intricate, multilayered dioramas that capture beloved locations from the films. From Hogwarts to Hogsmeade, Diagon Alley, and the Ministry of Magic, each paper scene is laser die-cut for precision and gorgeously detailed. Every scene is accompanied by essential information about these magical places and fun, behind-the-scenes facts from the films.
A paper scene book is created using multiple layers of paper that are precisely cut and placed to create visually stunning pieces of art with almost a shadow-puppet-type appearance. Nothing captures the imagination more than all the gorgeous illustrations accompanied by the Harry Potter stories. This book is no different. It allows the reader to be transported to the magical wizarding world and go on adventures with Harry, Hermione, and Ron through the staircases of Hogwarts, the snow-covered streets of Hogsmeade, and even the mysterious cobblestone walkways of Diagon Alley.
Harry Potter: Magical Places: A Paper Scene Book is priced at $29.99. The best news yet? You can preorder your copy today!
Please excuse us while we hurry and throw our Galleons at the computer in a rush to preorder all these new books!
As for the other new Potter titles being released this fall from Insight Editions? First, there is a Harry Potter: A Hogwarts Christmas Pop-Up book that allows the reader to decorate a 13-inch paper Christmas tree any time of year. Next is Harry Potter: Exploring Hogwarts: An Illustrated Guide. This unique book contains all-new, specially licensed illustrated art that is a visual masterpiece and will be a joy for readers young and old. And lastly, hitting the shelves from Insight Editions are the first four volumes of the new Harry Potter: Film Vault series, which gives readers a more in-depth look at the magic behind the movies. Each volume (there will be a total of four volumes) will cover a specific aspect of the films.