Fashion Made Magic at Mini Boden "Potter" Collection Launch
There was no better way to spend a damp London morning than at the launch of the Mini Boden Harry Potter collection.
Much like the Harry Potter series, Boden first made an appearance in the 1990s and has since become something of a staple of British culture. In fact, Boden's children's wear range, Mini Boden, launched in 1996, making it just one year older than Harry Potter and the Philosopher's Stone!
The new Mini Boden Harry Potter collection features a range of clothing for children from newborns to age 16. All items have varying Potter influences and motifs, ranging from subtle Hogwarts House color stripes to extravagant sequined magical creatures. Now, as much as we would have liked to, there was no way that we could have tried on the new collection ourselves. Thankfully, our magical friend (and aspiring Hogwarts student) Rosie was able to give us her thoughts and opinions on Mini Boden's new collection.
Before stepping into the store, it was obvious that Boden had fully embraced the Potter series. Besides showcasing the clothes from the collection, the window display was themed around the Forbidden Forest with a moving flying Ford Anglia.
First, the launch began with a storytime session lead by a Boden team member dressed in Hogwarts robes.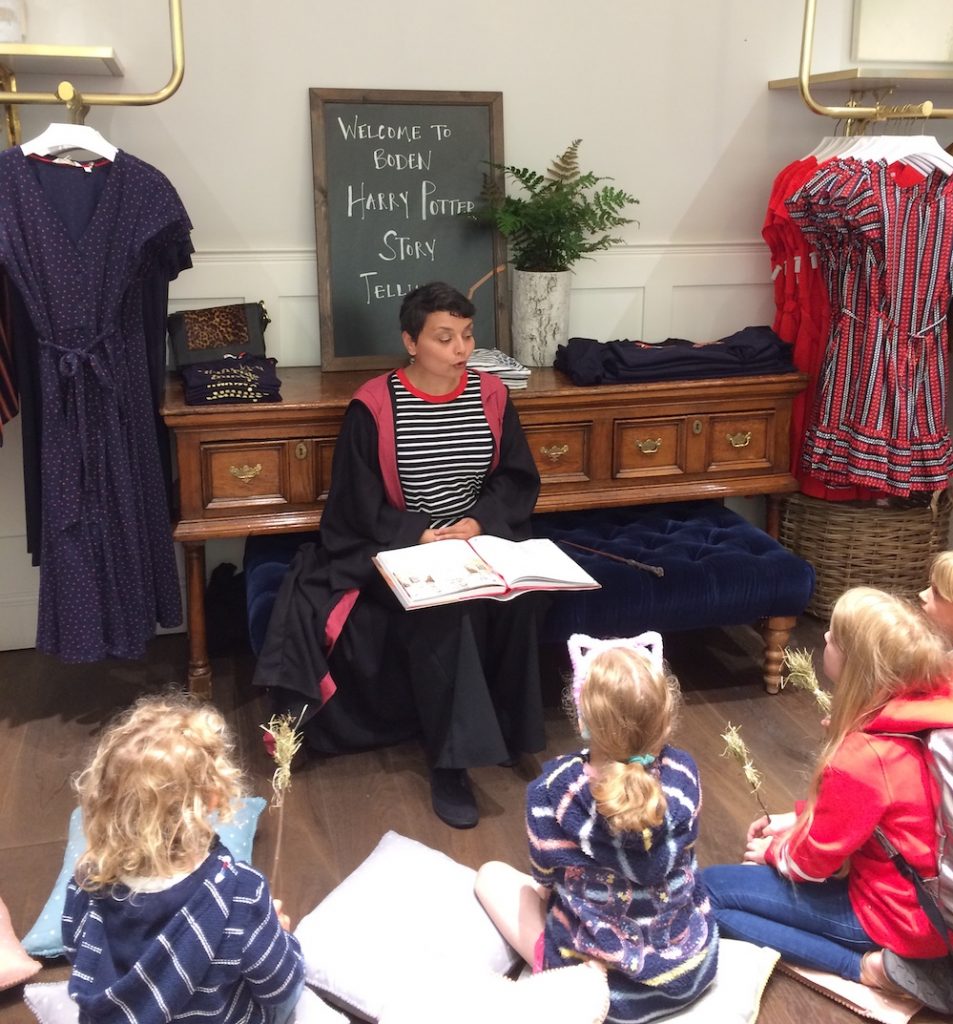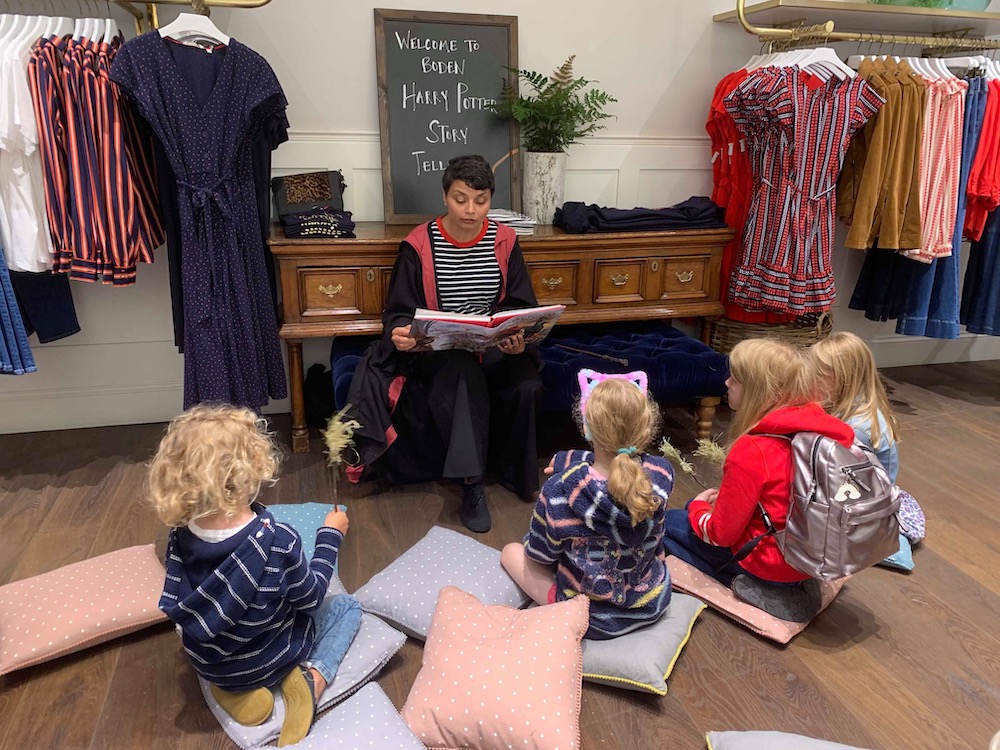 After listening to a chapter from the illustrated edition of Harry Potter and the Philosopher's Stone, we headed toward a section of the store where the Potter clothes were ready and waiting. Here, the walls were decorated with quills, snowy owls, Golden Snitches, and even a Knight Bus!
On a quest to discover Rosie's favorite item in the collection, we started by looking at some of the T-shirts that were on the shop floor. There are currently 13 Potter tops available, including House Breton tops in all four Hogwarts House colors (there's no bias here!).
Two particular T-shirts that caught Rosie's eye were the Platform 9 and 3/4 color-changing sequin and Bertie Bott's Every Flavour Beans designs.
Sticking with the sparkly theme, we then spotted the hippogriff tulle skirt, sequin Seeker dress, and very glittery spell skirt. However, at this point, the store had gotten incredibly busy and it was a struggle to reach some of the items on the racks. When a break in the crowd did appear, we managed to stumble across a rail full of Potter pajamas and baby clothes.
After another trip around the shop floor, we found two items that Rosie claimed to be her favorites of the current Mini Boden Potter collection: (1) a hippogriff bomber jacket, which is made out of soft velvet material and as the name suggests, has two embroidered hippogriffs on the front, and (2) a Seeker zip-up hoodie, which had not only had a cozy fluffy lining but also had a giant Golden Snitch embroidered on the back!
Although the shop was full of Potter attire, it seemed as though not every item from the current collection was out on the shop floor. However, this may have been because they were snapped up quickly by eager shoppers! In any case, certain products appeared to be more popular than others. The Seeker hoodie and yellow Hedwig overalls were in very low supply by the end of the morning, as were the Potter socks.
The Mini Boden Harry Potter collection is available now, with more pieces being added to the line in October. Items in the current collection start at £18, and most of the pieces are available up to size 11–12 years. There are 17 items, including the House Breton tops that are available up to size 15–16 years.
To shop the collection, head to the Mini Boden United Kingdom website or United States website.