Events Roundup: Magic at the Zoo, on the Train, and During Brunch
What magical events are coming up to keep you cool this fall? Pub crawls, train rides, and Quidditch training are on the agenda. Check out upcoming events that pay homage to the wizarding world.
Join New York Potterheads for Potter-thon
This fall, the Jacob Burns Film Center in Pleasantville, New York, is screening the entire Harry Potter series. The series started on September 7, but you can still catch the last seven films each Saturday at noon from September 14 through October 26. Tickets range from $8 for children to $15 for nonmember adults, with discounts if you buy tickets to six or more Potter-thon films. See details here.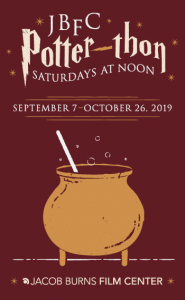 Head to the Pitch for Open Quidditch Training
Always dreamed of playing Quidditch? If you're in Edinburgh on September 14, you can join the Holyrood Hippogriffs for open training at 2:00 p.m. The three-time Scottish Quidditch champions are inviting others to join them as part of the Edinburgh University Students' Association's Welcome Week. Get out on the pitch!
Wizard Pub Crawl Your Way Through Your Favorite City
This fall, Bar Crawl USA's Wizard Pub Crawl Tour is going on the road to host a series of magical events at bars across the United States. Between September 14 and November 9, the crawl will make its way to the following cities: Charlotte, North Carolina; Greenville, South Carolina; Columbus, Ohio; Portland, Maine; St. Petersburg, Florida; Knoxville, Tennesse; Cleveland, Ohio; Cincinnati, Ohio; Lexington, Kentucky; Columbia, South Carolina; Birmingham, Alabama; Sarasota, Florida; Asheville, North Carolina; Austin, Texas; and Dallas, Texas. Fans can expect a signature wand and box, a wristband in their House colors, exclusive themed drinks, and a "graduation" certificate. With a VIP ticket, crawlers will receive extras, including a T-shirt and early check-in to select their favorite wand. Get tickets for the crawl in your city here.
Slither Over to Wizarding Weekend at the Zoo
If you're near Grand Rapids, Michigan, and love animals as much as you love Harry Potter, head over to Wizarding Weekends at the John Ball Zoo. Costumes are encouraged at this family-friendly event all day on September 14 and 15, which will feature interactive exhibits, activities, crafts, games, unique entertainment, and specialty foods. Perhaps you'll catch sight of some fantastic beasts!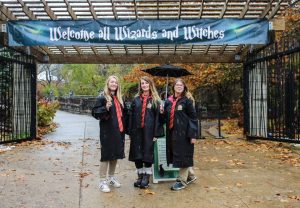 Dance on Down to a Wizard's Ball Block Party
The town of Flowery Branch, Georgia, is transforming into the wizarding world for a Hogwarts on Main Street block party on September 20. The evening will feature specialty treats, magical activities, and a performance by Fly Betty Band.
Grab a Butterbeer in the Great White North
The pub crawls continue! If you're in Ontario, there are multiple chances to jump on a Potter-themed pub tour. On September 21, check out the magical beverages in Toronto. The party will continue on October 25 in Waterloo.
Whiz Your Way to WizCon
On September 22, WizCon 2 will be in Peterborough, UK. The event will feature meet-and-greet opportunities with wizarding world actors, including James Payton (Frank Longbottom), Louis Cordice (Blaise Zabini), Adrian Rawlins (James Potter), Walles Hamonde (Auror 10), and Martin Ballantyne (Mundungus's associate). John Coppinger, who worked on creature effects for the first three Harry Potter movies and helped create effects for the Basilisk and other iconic scenes, will also be available for meet-and-greets. Learn more and buy tickets here.
Feast Your Way Through a Magical Brunch in Dubai
In Dubai and down for a Harry Potter brunch? Yalumba is known for its themed brunches, and "Order of the Remix" is coming up on September 27. From 12:30 p.m. to 2:30 p.m., Yalumba will offer a fantastic feast, "freshly brewed potion" cocktails, and a costume contest. Brunch will transform into a happy hour with DJ Kennedy. Get ready to brunch!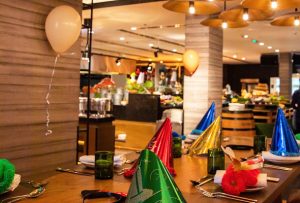 Hop Onboard the Wizard's Train
All aboard! The Heber Valley Railroad in Heber City, Utah, is hosting a series of Wizard's Train nights in October. For $25 (or $45 in the Luxury 850 Lounge Coach), passengers can enjoy a magical 90-minute trip, complete with a Sorting, trivia, photo-ops, and wizarding concessions. Upcoming dates include October 11, 18, 21, 25, 28, 29, and 30. Get your tickets here.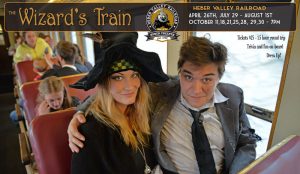 Wiggle Your Way to Wizard Fest
Couldn't make it to the Wizard Pub Crawl? Pop Up Wizard Fest parties will also be making their way around the United States between October 12 and November 22. Wear your dress robes because the evening will include a costume contest, trivia, specialty drinks, and themed music. Plus, there will be a sweepstakes trip for two to London!
Wizard Fest will make its way through over 30 US cities in Illinois, Iowa, Kentucky, Louisiana, Maine, Massachusetts, Michigan, Minnesota, Missouri, New Jersey, New York, North Carolina, Ohio, Pennsylvania, Tennessee, Texas,  Vermont, Virginia, and the District of Columbia. Find dates and details for your city here.
Meet the Phelps Twins in Houston
Fandemic Tour is headed to Houston October 18–20. A whole host of pop-culture guests will be in attendance, including James and Oliver Phelps (Fred and George Weasley), and general admission tickets start at just $40. Learn more here.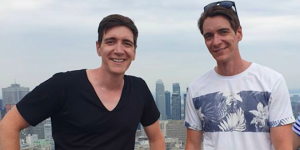 Drink Your Way Through a Bottomless Harry Potter Movie Marathon 
Bottomless Cinema in Manchester will be showing all eight Harry Potter movies in the coming months, starting on October 20 and running through December 8. The films will be shown with subtitles and will feature bottomless drinks and popcorn. Find film dates and nab tickets here.
Grab Your Quill and Join a Script Class
The Darien Arts Center in Darien, Connecticut, is hosting an Iconic Lettering Scripts of Harry Potter class for youth, which will run on Mondays from October 21 to December 2. Students in grades 5 through 8 (Hogwarts age!) can learn the scripts of Albus Dumbledore and Minerva McGonagall and pen authentic Hogwarts acceptance letters.
Link Up with Evanna Lynch in Providence
Rhode Island Comic Con is coming up in Providence, Rhode Island, November 1–3. Evanna Lynch (Luna Lovegood) will be in attendance on Saturday and Sunday. Check it out and get tickets here.
Ride the Wizarding Academy Express 
Couldn't make it to the Wizard's Train in Utah? On November 2 and 3, the Wizarding Academy Express is steaming into Melbourne, Australia. The interactive theater experience is appropriate for all ages and includes a 1–1.5-hour ride, a souvenir, and magical activities. Higher ticket tiers include add-ons like wands, sugar beans, and butter ales. Reserve your carriage here.
Celebrate the Boy Who Lived All Weekend Long 
The 2019 Ironton Wizardfest is popping up in Ironton, Ohio, on November 9 and 10. The festival will involve ButterBrew, live animals, cosplay contests, and a Photo-Op Alley. Festival-goers will be able to get sorted inside the Ironton City building and take classes in topics like broom building, spell casting, and wandmaking.