The Arrival of the Triwizard Competitors Comes to Life in the Illustrated "Goblet of Fire"
On Monday this week, Pottermore shared the release date and new images for the illustrated edition of Harry Potter and the Goblet of Fire. The image featured in the Pottermore tweet was the arrival of Beauxbatons Academy of Magic and their beautiful flying carriage horses. Award winner Jim Kay is responsible for the breathtaking images. He is also the artist of the first three illustrated books in the series, Harry Potter and the Sorcerer's Stone, Harry Potter and the Chamber of Secrets, and Harry Potter and the Prisoner of Azkaban. With thousands of fans waiting anxiously, October 8 can't come soon enough.
C'est magnifique! Here's your first look at the breathtaking arrival of the Beauxbatons Academy of Magic, from the illustrated edition of Harry Potter and the Goblet of Fire. Out 8 October, pre-order your copy here: https://t.co/FVEuj0CTLt #HarryPotterIllustrated pic.twitter.com/zuUnN0OsIM

— Pottermore (@pottermore) September 9, 2019
But that's not the only peek fans have of the new illustrations. The official Twitter feed of Harry Potter Film also released images of the Durmstrang ship floating across the Black Lake.
The Durmstrang ship sails into the Black Lake and onto bookshelves 8th October in the new Harry Potter and the Goblet of Fire Illustrated Edition. [🎨: Jim Kay] #HarryPotterIllustrated https://t.co/ol6ACFmzzJ pic.twitter.com/Es4iQhNLup

— Harry Potter Film (@HarryPotterFilm) September 10, 2019
To help celebrate the book's release, fans in the United Kingdom are eligible to win an original drawing by Jim Kay himself when they place a preorder. In addition, Kay posted a select few photos of his illustrations from the book on his website.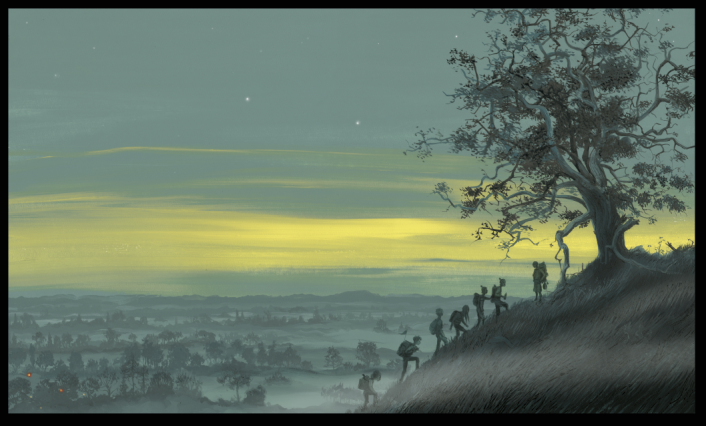 It's pretty easy to see that Jim Kay has successfully brought the magical world of Harry Potter to life with his beautiful depictions of the story. The fourth book is currently available for preorder in the UK on the Bloomsbury website. Deluxe versions of all the available illustrated books are also available for sale in the UK from the publisher. As for the rest of the wizarding world community, preorders are available from Amazon and Scholastic.