20 of MuggleNet's Most Memorable Moments
From celebrity shout-outs to exclusive press opportunities to campaigns reminding us all about the unity of the Harry Potter fandom, MuggleNet has seen and done a lot in the past 20 years. As we celebrate our 20th anniversary, we wanted to take a look back at some of the most memorable moments from the past two decades.
1. J.K. Rowling's "Mighty MuggleNet"
One of the biggest praises a fansite can get is being recognized and approved of by the creator whose work the site celebrates. MuggleNet was given this honor in 2004 when J.K. Rowling herself referred to us as "mighty MuggleNet" and bestowed upon us her "Fan Site Award."
It's high time I paid homage to the mighty MuggleNet. Where to start? I love the design […], the polls […], the pretty-much-exhaustive information on all books and films, the wonderful editorials […], 101 Ways to Annoy Voldemort, […] pretty much everything. […] I salute you.
2. A Chance-of-a-Lifetime Sit-Down Interview with J.K. Rowling
Imagine your home phone ringing and the woman on the other end saying they're J.K. Rowling and asking you to tea. That's exactly what happened to Emerson Spartz in 2005. Spartz and Melissa Anelli were invited to do a joint interview with Rowling at her home in Edinburgh, Scotland.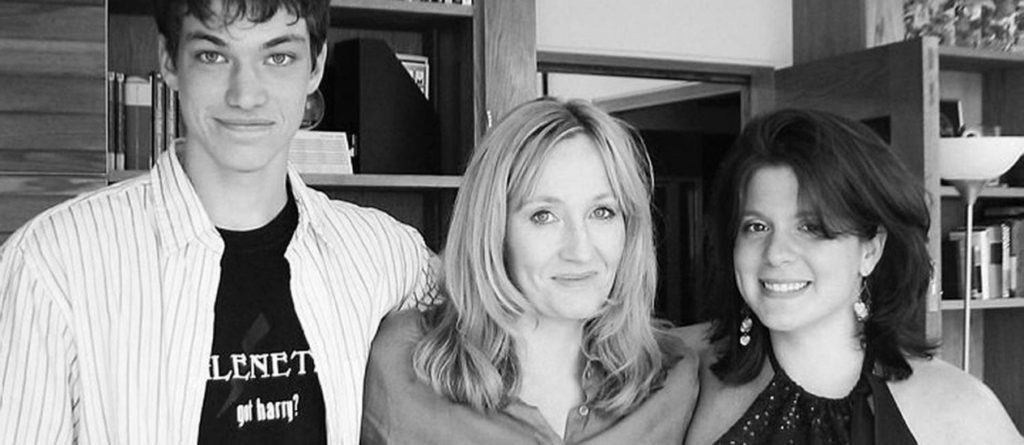 MuggleNet's Senior Contributing Editor, Eric Scull, refers to it as "the interview that sank a ship." It was that interview in which Spartz called Harry/Hermione shippers "delusional" and Rowling admitted she'd always thought it was clear that Hermione would end up with Ron.
"MuggleNet and the Leaky Cauldron were, to our knowledge, the only sites to receive this such honor, and it happened in the heyday of Harry," says Scull.
3. A Casting Call Seen by the Right Person
In 2006, Evanna Lynch was scrolling through MuggleNet when she happened upon a post about an open casting call for Luna Lovegood. The rest, as they say, is history. Lynch has given MuggleNet shout-outs multiple times over the years as she's rehashed the story of how she got the role in interviews.
4. What Will Happen in Harry Potter 7?
In 2007, MuggleNet staff wrote a book theorizing about what would happen in the yet-to-be-named Book 7. What Will Happen in Harry Potter 7?  sold over 335,000 copies prior to the release of the seventh Harry Potter book and spent six months on the New York Times Children's Best Sellers list. The cowriters of the book embarked on a book tour that many of our current staff members remember attending.
"I begged my mom to take me so that I could buy it and get it signed. I remember making sure to get a good seat and would shush my mom because she had no idea what was going on," says Recruiting Coordinator Lizzie Sudlow.
"On my 12th birthday, I made my mom drive me an hour away to a Borders where Emerson was giving a talk and holding a book signing for the What Will Happen in Harry Potter 7? book," remembers Creative Team Manager Amy Hogan.
5. The Launch of the First Harry Potter Podcast
The world of podcasting was still relatively new in 2005, and until MuggleCast, there weren't any shows dedicated solely to Harry Potter. Scull, a MuggleCast host, reflects:
Hosts laughed together, cried together, quipped, joked, and analyzed with each other and the bombastic listener base of around 50,000. For me, doing the podcast taught me how to speak publicly and refine my thoughts, to analyze something I was passionate about, and to hear multiple contradictory opinions with 'truth' being somewhere in the middle.
Since then, MuggleNet has launched several other podcasts. Our current podcast family also includes Accio Politics, Alohomora!, Beyond the Veil, Reading, Writing, Rowling, and SpeakBeasty.
6. Alan Rickman Tribute
On January 14, 2016, fans mourned the loss of Alan Rickman, arguably one of the greatest actors of his time. Weeks later, MuggleNet held a tribute to Rickman at the Wizarding World of Harry Potter – Diagon Alley during the park's A Celebration of Harry Potter. Hundreds of fans filled the London area of the Orlando theme park, raising their wands and in unison, reciting the word "always."
7. Spellbound Event Draws Over 10,000 Attendees
On July 16, 2005, MuggleNet teamed up with fellow fansite HPANA and Potter companion book authors Wizarding World Press to throw a massive event in anticipation of the release of Harry Potter and the Half-Blood Prince.
Spellbound, held at Randhurst Mall in Mount Prospect, Illinois, drew over 10,000 fans.
8. Potter It Forward
In fall 2015, heartfelt notes from one Potter fan to the next began to appear tucked inside the pages of books in stores and libraries. Hogan's #PotterItForward campaign asked fans to leave a message for someone picking up a Harry Potter book for the first time.
It started as an idea that popped in my head on a long bus ride, and from there, our amazing team at MuggleNet brainstormed and fleshed out the logistics and official hashtag for the #PotterItForward campaign. The overwhelming response from the global Harry Potter community leaving notes and welcoming new readers into our midst just goes to show what an amazing and welcoming family this fandom is.
The campaign took off, catching the attention of major media sites. J.K. Rowling herself acknowledged the campaign by Liking a MuggleNet staff member's tweet.
9. Appearing in the New York Times Crossword Puzzle
MuggleNet was part of a hint for the answer to 18 down in the New York Times' May 1, 2019, crossword puzzle.
"For musicians, a fulfilling measure of success or growth would be to appear on the cover of Rolling Stone. For print and news media, or say, Harry Potter fan sites [sic], the equivalent is the New York Times' Daily Crossword," says Scull.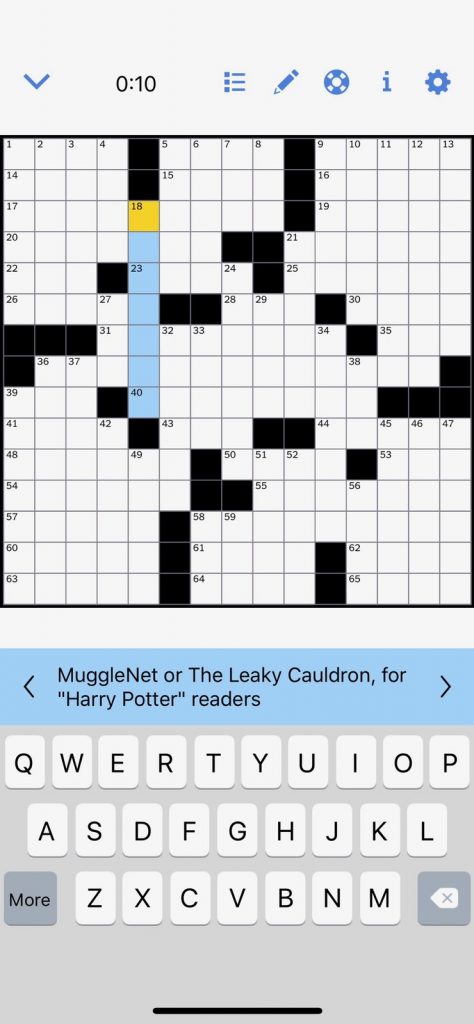 The answer, of course, was "fansite."
10. MuggleNet Live! 2017: 19 Years Later
On September 1, 2017, the Harry Potter fandom marked a significant date: the day and year on which the epilogue takes place. MuggleNet threw a private party after hours in the Wizarding World of Harry Potter – Diagon Alley at Universal Studios Florida. Hundreds of fans showed up to celebrate the event, hobnobbing with cast members, eating as much butterbeer ice cream as they could take, and of course, boarding the Hogwarts Express from Platform 9 ¾.
Special Potter guests at the event were Sean Biggerstaff, Christian Coulson, Ellie Darcey-Alden, Rohan Gotobed, Chris Rankin, and Ryan Turner.
11. MuggleNet on the Harry Potter and the Half-Blood Prince Red Carpet
MuggleNet has been on our share of red carpets, but there's something about fans lined up against the barricades chanting "MuggleNet" that still gives us chills.
At the red carpet for the Half-Blood Prince film premiere, Emerson Spartz interviewed cast and crew members. There's a really great exchange between Emerson and Daniel Radcliffe where they greet each other like old friends before diving into questions about the toughest scenes to film and what moments Dan was looking forward to filming in the next movie.
12. Exclusive Partnership with Newsweek
In October 2016, MuggleNet teamed up with Newsweek, contributing stories for its entirely Potter special edition. MuggleNet staff contributed two articles to the magazine. Former Creative Team manager Nicole Rivera reflects on her experience:
Getting to write an article for Newsweek was an honor and huge learning experience. I had never before written for a publication the caliber of Newsweek. It was quite the magical experience to submit 'Generation Potter,' work with the editors, and then see it in print. When it was published, I ran out to Barnes & Noble and snapped pictures with the edition.
That issue of the magazine was rereleased the following year, and we've since helped Newsweek put together two more special editions focusing on the wizarding world.
13. Back on the Red Carpet for Fantastic Beasts
MuggleNet is no rookie when it comes to red carpets, but there was something truly thrilling about being back at a premiere for a wizarding world film years after we thought there would be no more.
All the A-listers were out in full force in New York City for the Fantastic Beasts and Where to Find Them film premiere, including J.K. Rowling herself.
14. MuggleNet in the News
MuggleNet has appeared in major publications and on network news several times throughout the years. Our résumé includes appearances on CBS, Fox News, and the BBC as well as mentions in the New York Times, Washington Post, and Wall Street Journal. As Sculls puts it, "A worldwide quest to help everybody learn to capitalize the 'N' in MuggleNet cannot succeed without good press."
15. April Fools' Pranks That Really Got People
You've probably learned by this point to check your calendar before believing an article that seems unbelievable. Our staff has come up with some doozies for April Fools' Day over the years, some of which still circulate around the Internet. Our 2013 prank claiming Emma Watson had been cast as Ariel in a live-action version of The Little Mermaid even prompted a Snopes Fact Check. MuggleNet staff even went so far as to Photoshop an image of Watson as Ariel to accompany the article. Seniors News Administrator Catherine Lai reflects:
The image seemed to really sell it because the story spread far and wide across the Internet. A year later, the first word of a real live-action Little Mermaid being in the works seemed to breathe new life into the Emma-as-Ariel rumor. The rumor and image still seem to pop up from time to time.
16. MuggleNet Gets a "Thank You" for Coming to J.K. Rowling's Defense
In May 2006, controversy erupted in the Harry Potter fandom, with claims that all overweight Potter characters were depicted as evil. MuggleNet staff member Andy compiled a list to prove that was not entirely accurate. J.K. Rowling thanked him by name on her website, saying he saved her precious time that she then spent writing the final chapter of the final Harry Potter book.
17. MuggleNet Quoted on Posters for Off-Broadway Show Puffs
When you have a Harry Potter parody show opening Off-Broadway and you need some reviews, who ya gonna call? MuggleNet, of course. When Puffs was playing on Off-Broadway, MuggleNet was invited to see the show and pen a review. Words from Sudlow's rave review are still used on the show's marketing materials all over New York City.
To actually find out that my review was so highly appreciated and coveted that a show would use it in its marketing materials is next level. I'll never forget when I first found out my words were in print and blown up on subway ads.
18. MuggleNet Live! 2015: Expo Patronum
In April 2015, MuggleNet hosted its first-ever convention: MuggleNet Live! 2015: Expo Patronum. The event was held in London and was a chance for fans to interact with each other and cast members from the film series in an intimate setting. The guest list included Afshan Azad, Jon Campling, Jessie Cave, Robbie Jarvis, Georgina Leonidas, Eduardo Lima, Harry Melling, Miraphora Mina, Nick Moran, Chris Rankin, Anna Shaffer, Nick Shirm, Natalia Tena, and Gary Tomkins.
19. A Social Media Frenzy Surrounding Mysterious Globus Mundi Theme Park Merch
When MuggleNet staff members spotted mysterious new merchandise in the Wizarding World of Harry Potter Universal Orlando Resorts, it sparked a flurry of questions from fans across Twitter. Subsequently, MuggleNet was the first to report that a new store would be opening in Diagon Alley: Globus Mundi Travel Agents.
During the course of our investigation, we stumbled upon a Globus Mundi Facebook page and Twitter account. Within 10 hours of our initial article pointing out the abundance of merchandise dedicated to the travel agency, the Globus Mundi Twitter account went from 6 followers to over 140, showing just how influential "mighty MuggleNet" can be.
We're still not sure who owns the probably-not-so-official social media account, but we're hoping that's the next mystery uncovered.
20. Site Staff Quadrupled
In 2011, MuggleNet quadrupled the size of its staff by introducing internships. With the fandom in a transition period after the last film, we needed to rethink our structure. To keep up with creating engaging and timely content, we needed more minds on board. Today, we have over 130 staff members.