Bonnie Wright Talks Sustainability and Living Your Values at Package Free in New York City
This Monday, October 28, Bonnie Wright spoke at the store Package Free in New York City about her commitment to protecting the environment. Lauren Singer, the founder of Package Free, a store dedicated to providing its customers with sustainable and waste-free products, interviewed Wright about her journey in environmentalism, her advice for fellow eco-conscious consumers, and her current goals and projects.
Wright started with a brief introduction to her career and how she developed her interest in environmentalism. Her many years in film led her to have "an obsession with storytelling," which she brings to her environmental advocacy. She was introduced to sustainability at a young age through her parents' professions as jewelry designers. They had a "respect and reverence for materials" and a commitment to understanding the metals and stones they bought.
Her original interest in the environment started with reducing single-use plastics, and from that point, she realized that she needed to have "just a mindfulness generally about how you pick things up." She has partnered with Greenpeace, an organization that she has admired since she was a kid. Since they only take money from individuals and not corporations, they are able to call out anyone. Wright gave an example of how volunteers from Greenpeace rigged a "Resist" banner on a crane that happened to be over the White House when Trump got elected. She thinks of it as "modern-day positive piracy."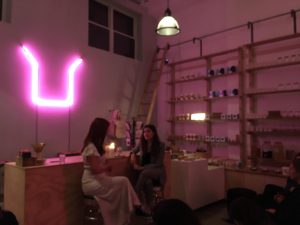 On an ocean trip with Greenpeace trawling for microplastics, Wright realized the importance of using her storytelling perspective. The ship had been on the ocean for three months straight, and when they put down a net for one hour every day, they never failed to find plastic. Wright knew that most people aren't on the ocean, so those problems become out of sight, out of mind. She wondered, how can you use storytelling to "bring people to that place and environment? How do you bring the large scale to the small scale?"
One way that Wright is attempting this goal is through directing her first feature film, in the thriller monster genre. This genre allows her to "take people on a ride and flip the norms." At the end of the film, you realize that "we're the monster, we're to be most feared." Wright intentionally did not want to do a documentary because she wanted to tell stories that would address people's empathy and heart, and then subtly slip in her message.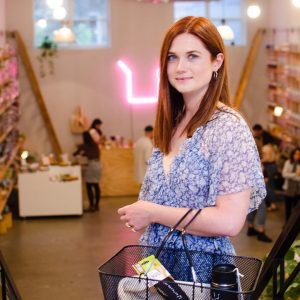 Wright spoke about how film is an inherently wasteful industry, and that it has been "interesting to personally question that with [her] values." Her goal has been to make her sets as low waste as possible, but she says it's easier in some areas than in others. She started in the catering department, where she can promote reusable cups and silverware. She also tries to rent as many of her costumes and props as possible. Lighting and camera departments, however, are where she meets the most resistance.
"Sometimes I can feel very disheartened by the scale of things," Wright said about climate change. As a result, she has tried to find a community of people who share the same values in order to collectively learn and educate themselves. In Los Angeles, Wright has started a meet-up group called Waste Watch where she invites speakers to talk about sustainability. Wright said that you have to remember to "take your ego out of it. You don't need to convince others." You just live your values and "hope maybe someone is inspired by what you do."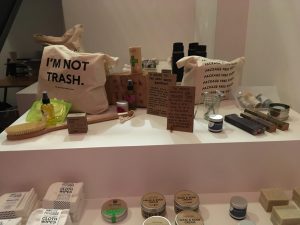 Wright next gave suggestions about how to address climate change on an individual level. "You can't change everything in your life at once. It becomes wasteful." Instead, start by choosing one department of your home and decide to learn and educate yourself. She personally started out with packaging and then moved on to beauty and cleaning products. Her current goal is to experiment with composting in her own garden and see if she can create a circular system.
Bonnie and Lauren both ended by touching on how, despite the enormity of the task we are facing, positivity is more inspiring and sustainable than negativity. "The best way to make people feel inspired is by celebrating progress and using progress," Wright said.