J.K. Rowling Encourages Students to Stand Against Voluntourism in New Campaign Launch
In the wizarding world, Lumos sheds light, and in the Muggle world, author J.K. Rowling uses it for a similar purpose. Lumos is a nonprofit organization founded and led by Rowling, working toward a world without orphanages and institutionalization, a world where every child lives and grows as part of a family.
This week, the One Young World Summit in London welcomed delegates from over 190 countries to engage with four days of speeches, panels, networking, and workshops with the goal of accelerating social impact. Notable attendees included Canadian Prime Minister Justin Trudeau, Dutch businessman Paul Polman, Meghan Markle, Duchess of Sussex, and J.K. Rowling.
Speaking on behalf of the Lumos organization, Rowling encouraged audiences to join the fight to end the institutionalization of children, stating that orphanages cause "irreparable harm" and "perpetuate the abuse" of children and their communities. This, she said, meant avoiding volunteer visits that unintentionally support what Lumos calls the orphan industry.
Despite the best of intentions, the sad truth is that visiting and volunteering in orphanages drives an industry that separates children from their families and puts them at risk of neglect and abuse. Institutionalism is one of the worst things you can do to childen in the world. It has huge effects on their normal development, it renders children vulnerable to abuse and trafficking, and it massively impacts their life chances. And these dire statistics apply even to what we would see as well-run orphanages … The effect on children in universally poor.
This week, Lumos launched a three-year global campaign in conjunction with YouGov that works to challenge attitudes toward voluntourism practices: the #HelpingNotHelping campaign. This initiative is supported by the British Foreign & Commonwealth Office, which recently revised travel advice to warn travelers against supporting a multi-million dollar tourism industry that fuels and is fuelled by the institutionalization of children. This support marks an important shift. The new campaign will aim to educate the majority of British students who are unaware that 80% of the world's eight million institutionalized children have at least one living parent and the estimated two-thirds of British students who view voluntourism as an opportunity to enhance career prospects.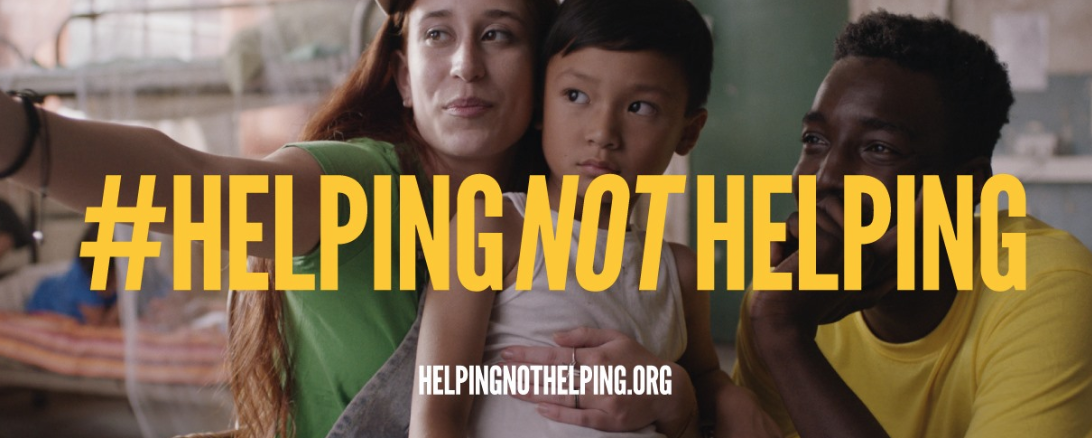 The #HelpingNotHelping campaign will recognize students as some of the most prolific participants in voluntourism and call on schools, colleges, and universities to support changing mindsets and education. Rowling asked hopeful travelers to reconsider orphanage volunteering trips.
My message to young people today is: yes, volunteer – but plan carefully and thoughtfully. Your time and energy are precious: use them wisely and they will help change the world. Do not volunteer in orphanages. Instead, look at what drives children into institutions and dedicate your time to projects that tackle poverty or support communities with vital services.
Those who wish to support the #HelpingNotHelping campaign can access substantial advice on the campaign website, commit to asking questions and learning about global institutionalization practices, and work to educate others of the dangers of the voluntourism industry by joining the campaign and sharing it on social media.