Review: The Keys and Curios Journal from Wizarding World Digital Is Simply Gorgeous
The Keys and Curios journal is a personalized year-long journal project included in the welcome gift for the upcoming Wizarding World Gold.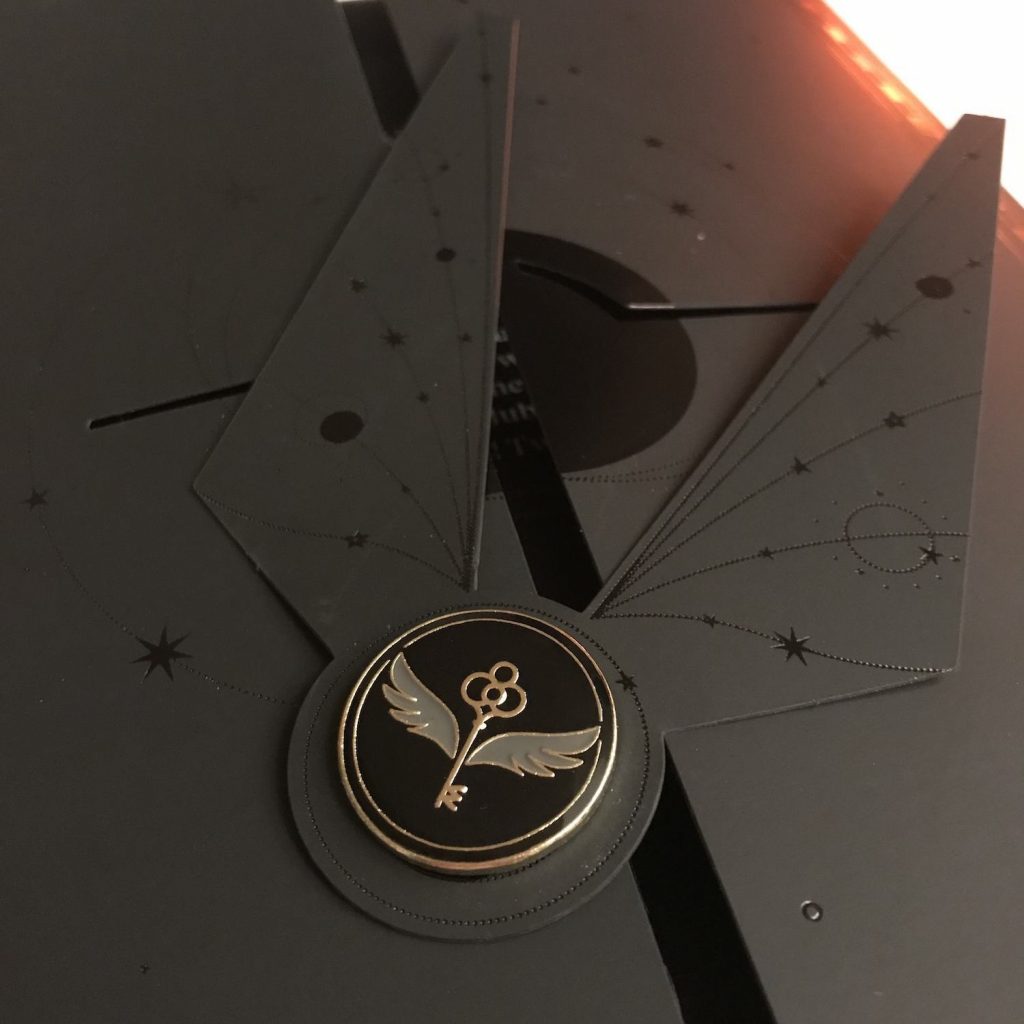 It arrives in a black plastic covering decorated with stars and held closed with a Snitch clasp and winged key magnetic pin. Around the edge are emblems of the House animals, a different one in each corner. At first, Rebecca was worried about the pin's magnet making it less secure than a regular pin, but the magnet is pretty strong, so you can wear it all day without fear of losing it. After opening the cover, you are greeted by a welcome message from Headmaster Albus Dumbledore: "Welcome to a new year at Hogwarts! Before we begin our banquet, I would like to say a few words. And here they are: Nitwit! Blubber! Oddment! Tweak!" On the back is an original sketch by J.K. Rowling detailing the Hogwarts grounds, even down to the pumpkin patch outside Hagrid's hut.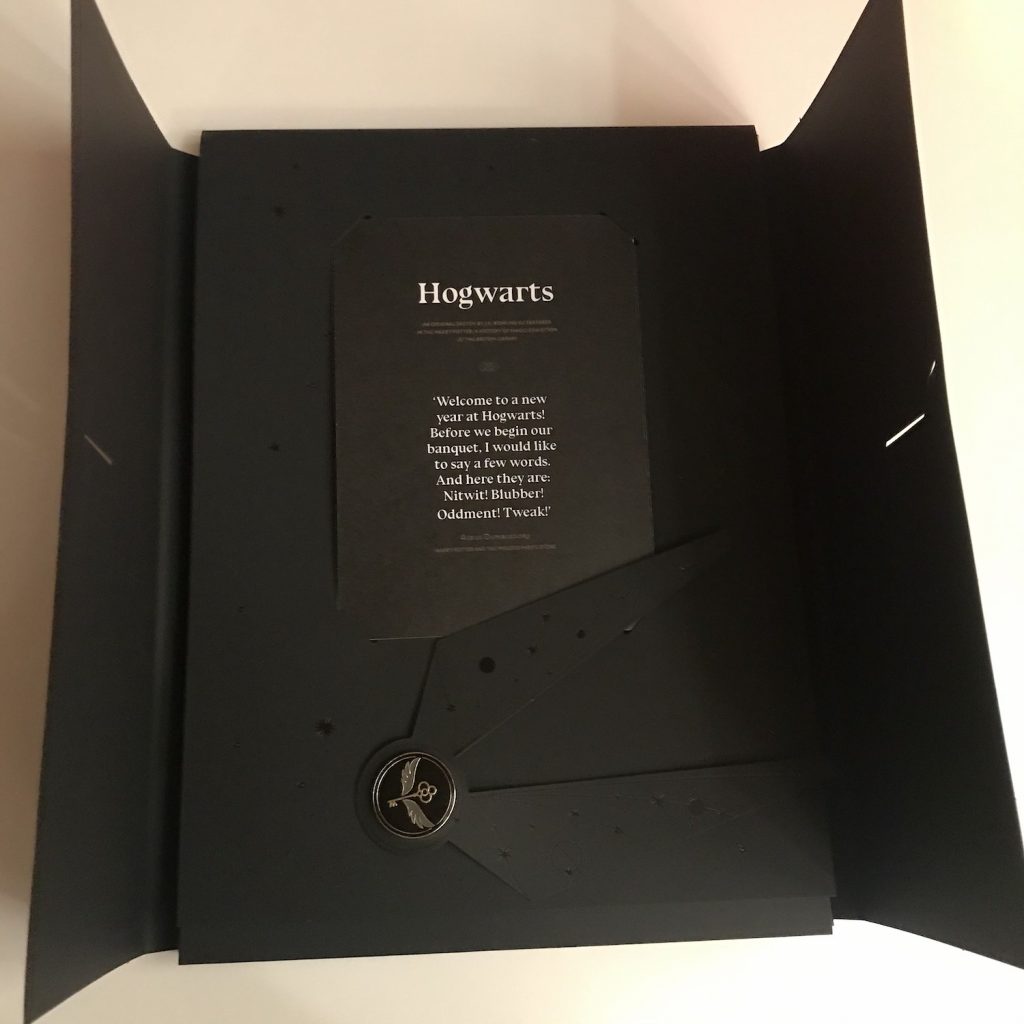 The cover of the journal is simply gorgeous, prominently featuring your House animal along with the inscription on the Time-Turner in the center. The border includes more stars and winged keys along with your House animal and the object most related to your House founder (the sword of Gryffindor, Hufflepuff's cup, Ravenclaw's diadem, and Slytherin's locket). Felicia may be biased, but she doesn't think she'd love this journal as much if it had any other background color. There's something about the dark navy overlaid with gold that really fits the astronomical theme more than the other Houses' versions.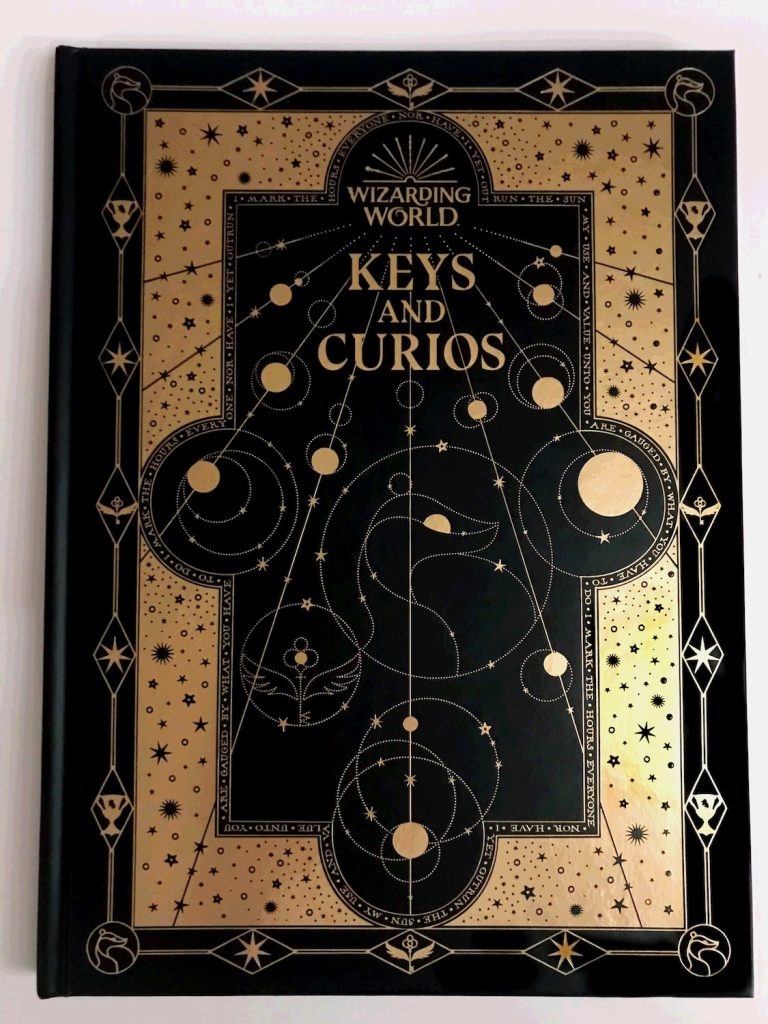 It's time to get to the content of the journal itself! We love that it's personalized because it makes it feel really special. The borders of each page are full of detailed drawings and themed to each month.  There are two-page spreads interspersed throughout the journal, including a Dark Arts page before October, a Christmas page before December, a "Magical Mischief" page before March, and a "Back to Hogwarts" page before August. One of Rebecca's favorite parts is the  "Back to Hogwarts" page because it shows your chosen Hogwarts pet and has a little "property of" label with your name written in. Both of us have always been big fans of MinaLima's designs, and having those details woven into the pages is pretty exciting. Flipping to the August page, you even get a personalized Hogwarts school list! Each of the monthly pages encourages you to write down your magical ambitions and self-reflections around a certain theme. For example, October's theme is "face your fears." This seems like a meaningful activity, and we think it will be fun to look back on at the end of September 2020.
Throughout the journal, you will also find a new "enchanted key"  each month. These keys can be unlocked with the Wizarding World app as the months go on, which means there will be new content to keep you engaged in the journal all year long. The introduction page has the first key and is the only one you can currently unlock. Unlocking it on the app explains how they work and clues you into the "puzzling curiosities" that will be hiding on each page and will help you out later. In the back of the journal is a two-page "Pensieve" to "fill… with absolutely anything" as well as a puzzle to put together after you've finished completing your journal. Apparently, "this journal knows more about you than you realized"!
Preorder Wizarding World Gold now to receive your welcome gift. The subscription is expected to be activated sometime this fall, but your journal will be shipped immediately.