Plus-Size Fashion Brand Launches Enchanting "Harry Potter" Collection
Calling all plus-size witches (wizards, centaurs, house-elves, etc.)! The fashion brand Torrid, which specializes in designing clothes for sizes 10 to 30, has just dropped its all-new officially licensed Harry Potter collection.
This wizarding world-inspired collection features everything from raglan tees to embroidered wool cape coats. The prices range from $17 to $96, and everything in the collection is currently 25% off (or the underwear is now 5 for $40). The line also features a varsity cardigan available in every Hogwarts House color, which means a comfy sweater for every student.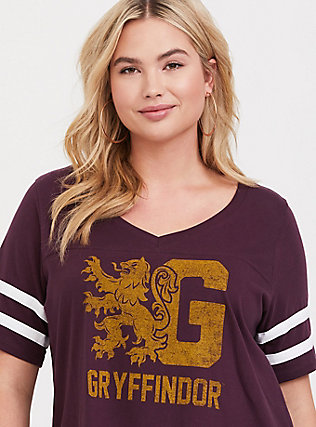 The clothes sold from Torrid have always been very high quality, and we have been fans of theirs for years. So grab your Muggle money and head to your local Torrid store or go to Torrid's website and order all your gorgeous Harry Potter-themed clothes!
If you are looking for clothes for your kids that are officially licensed with the wizarding world, Mini Boden has released a wonderfully magical line. Need a purse or bag to pair with your Harry Potter-themed gear? Vera Bradley is releasing a line of iconic wizarding world bags in 2020.