Merch Madness: Trivia Games, Baby Onesies, and Miniature Props
We are excited to tell everyone about our newest addition the news cycle here at MuggleNet: Merch Madness! We'll bring you the latest and best products to hit the streets since the Nimbus 2000. Everyone knows merchandise is a key feature of any and every fandom. What would you do without those collectible figures or that one-of-a-kind piece of art? Thanks to the size of the Harry Potter franchise, wizarding merchandise is never short of quantity or quality.
Without any further ado, let's get started with this week's Merch Madness.
Dinnerware from Seven20 and Target
Eat like you're sitting in the Great Hall of Hogwarts. Target and Seven20 have collaborated to create several styles of dinnerware. On one set is the Hogwarts crest all in gold with olive green trim. Other sets feature the Hogwarts Castle outline with grey trim, the Marauder's Map, and each of the Houses. Themed dinnerware is great for your next Harry Potter marathon party, or just when you're feeling like you need a little magic in the kitchen. Prices start at $29.99 for a set of four and go to $119.99 for a set of 16. To check out these and other products from Seven20 and Target, check out the Target website.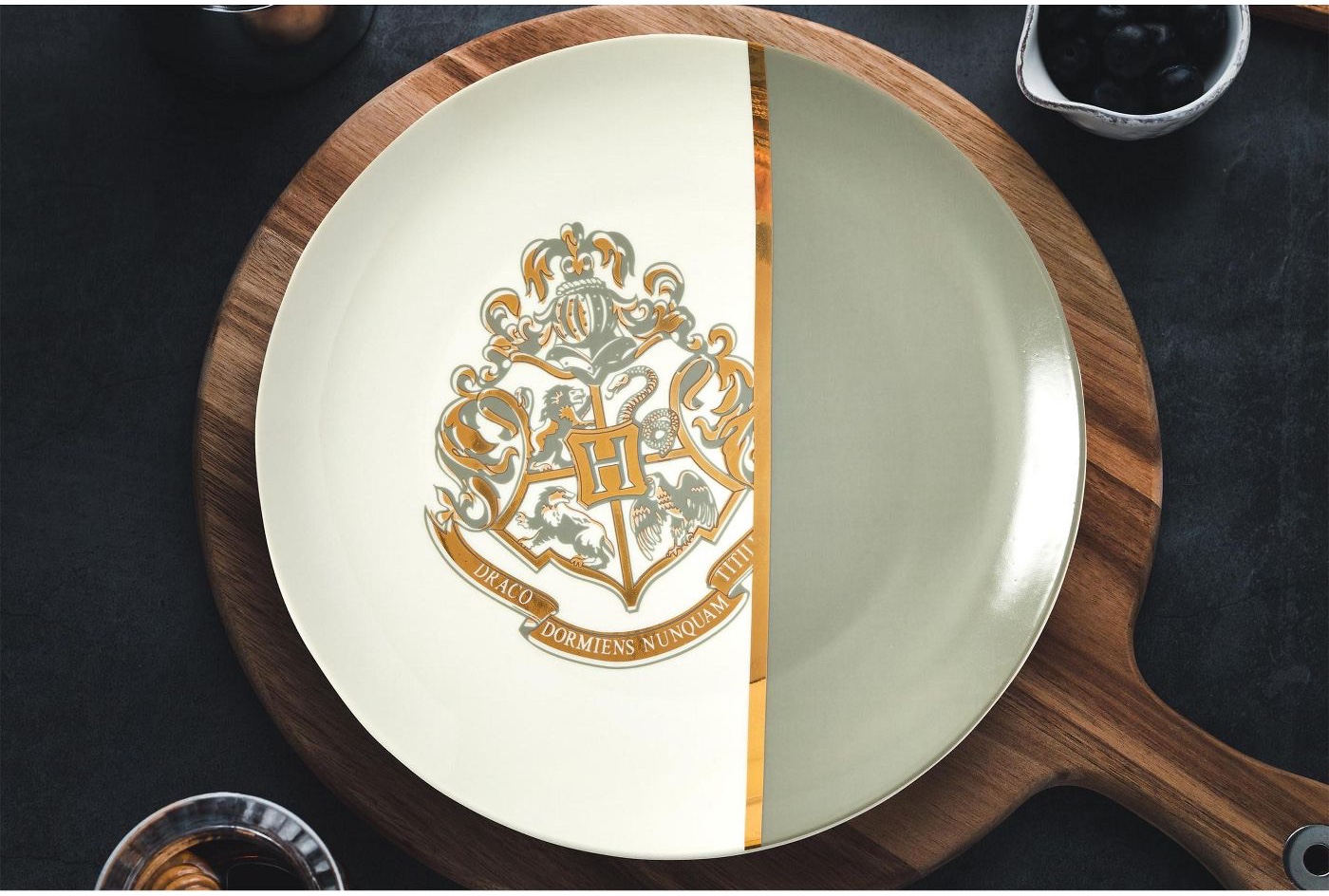 Ravensburger's Pictopia: Harry Potter Edition
No Harry Potter game night is complete without someone who has expert knowledge of the entire series. Test out that knowledge with Pictopia: Harry Potter Edition and best your friends in this trivia game. The game is playable with two to six players, includes content from all Harry Potter and Fantastic Beasts movies, and has 1,000 trivia questions with pictures. Pictopia: Harry Potter Edition is available on Amazon for $19.35.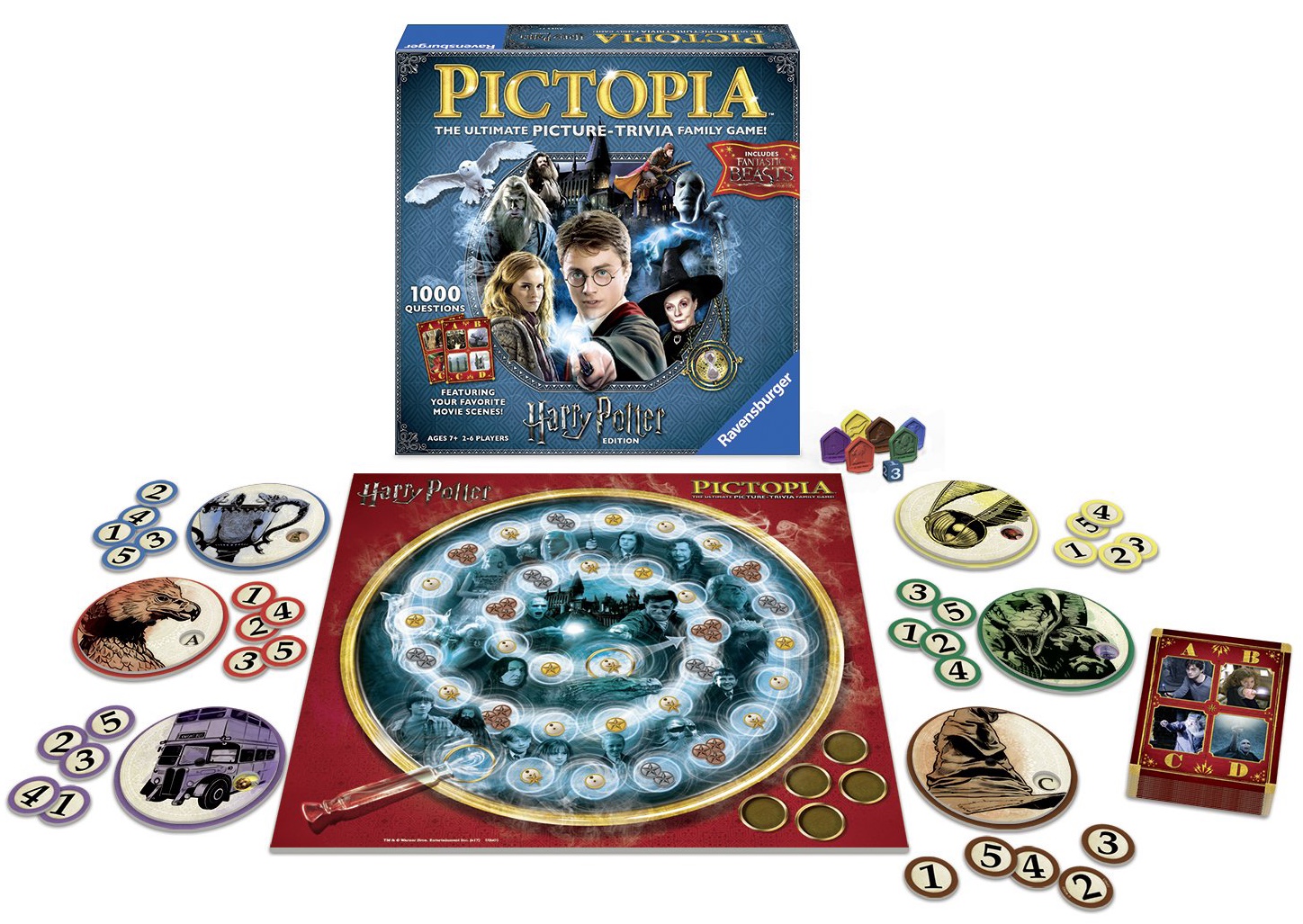 Imitation Props by KUZOS
Miniaturizing is all the rage on social media these days, so why not create tiny versions of props? KUZOS did just that and made three new products for collectors to take home. The Sword of Gryffindor (3.75 in. x 0.75 in. x 0.15 in.), a Platform 9 3/4 sign (2.25 in. x 1.25 in. x 0.5 in.), and Tom Riddle's diary with a Basilisk fang sticking out of the middle (1.5 in. x 1 in. x 1 in.) are tiny enough to take up minimal space in your collection while still allowing you to display them with pride. Each piece costs only $10.00 and is available now on Factory Entertainment.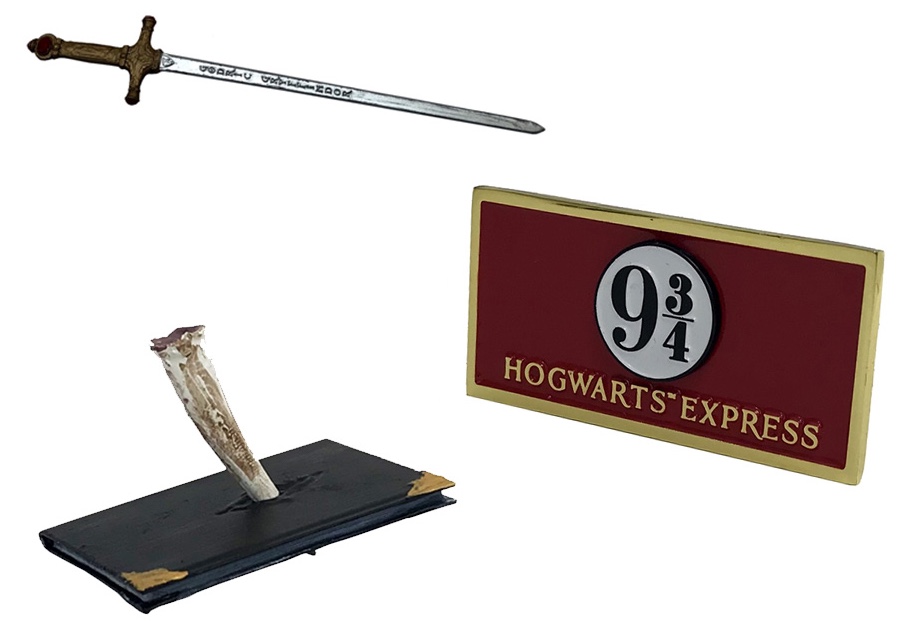 Nendoroid Draco Malfoy Figure
There's a new Draco Malfoy figurine that's about to hit the market. It's cute, it's not quite like other figures, and it doesn't resemble the Draco we came to know from the films. This toy is in the Nendoroid style, with big eyes, a smallish body, and exaggerated expressions. Draco Malfoy is not the only Harry Potter character made available in this style. Harry, Ron, Hermione, and Snape are also available for purchase on the Goodsmile website. Changeable faces, a wand, a broom, and changeable hairstyles are all included in the box. The figures start at $40.99 and preorders for the toy will continue through February 19.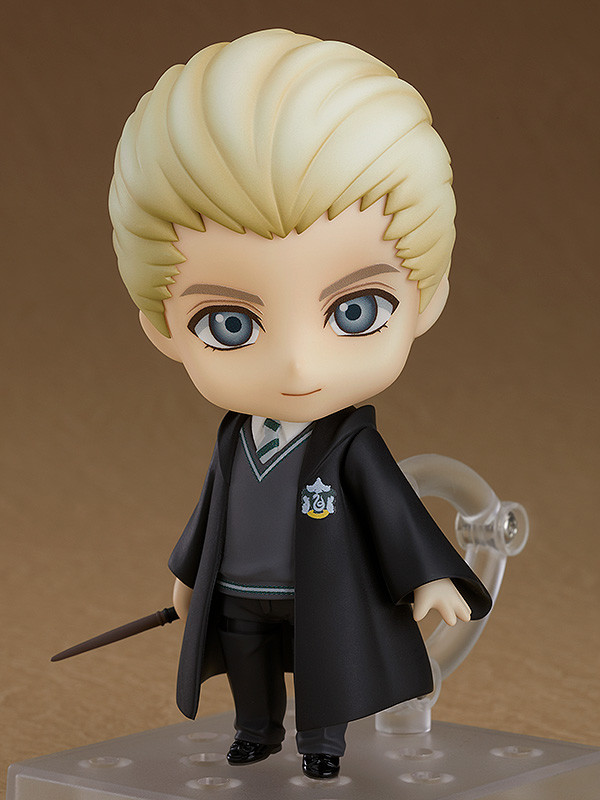 Hogwarts House Onesies
Babies are adorable; there's no denying it. But make them even cuter with some Harry Potter onesies! Ravenclaw, Hufflepuff, Gryffindor, or Slytherin could be the perfect look for your little one. But until they are ready for the Sorting Ceremony, the onesies don't guarantee House placement. To make things even cuter, if that's even possible at this point, each onesie comes with a matching bib. Check out POPSUGAR Parenting for more info.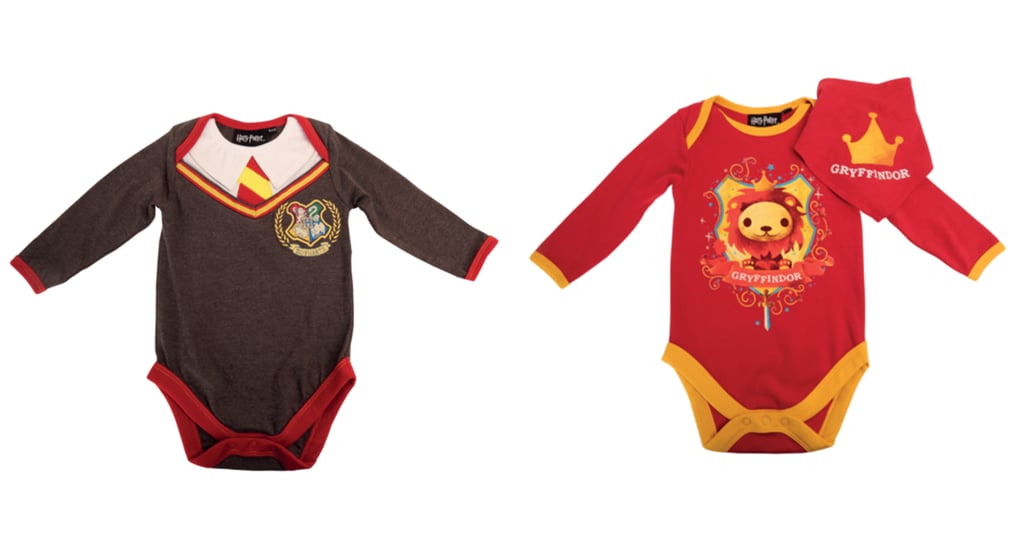 3D Puzzles
This year at the London Toy Fair, University Games unveiled a new series of 3D puzzles for fans. The managing director of University Games, Richard Wells, calls Harry Potter a "modern-day classic," and after all this time, fans are still impressed with the new merchandise hitting the shelves. University Games's new 3D puzzles are based on iconic locations from the Harry Potter universe. Hogwarts Castle, Ollivanders Wand Shop, Gringotts Bank, and more are available for fans of all ages.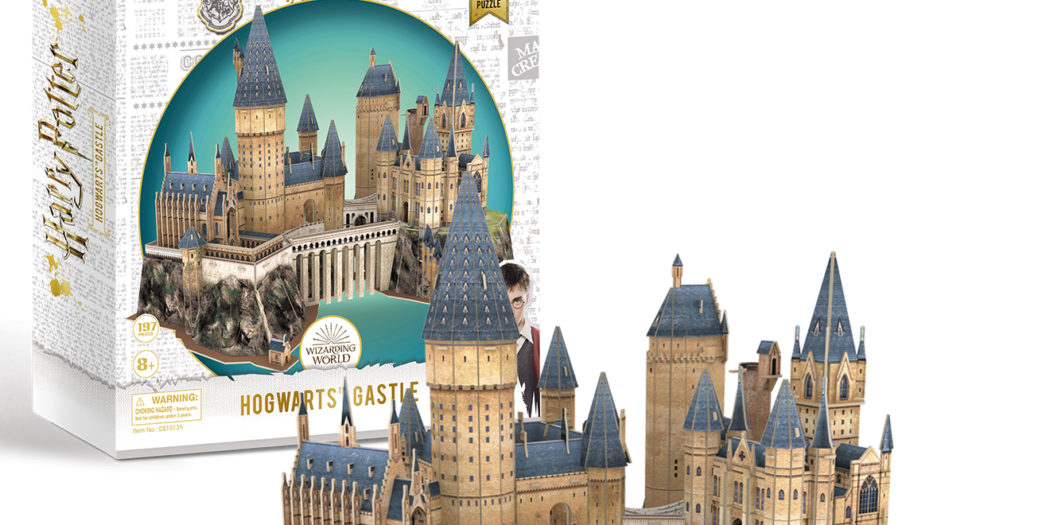 Knitted Cozies and Socks
Hero Collector is launching a line of knitting kits inspired by the wizarding world. All the kits come with the materials and instructions you need to make yourself Harry Potter–inspired crafts. Unlock your inner Mrs. Weasley and create a Hogwarts Express door insulator, House scarves, socks, mittens, backpacks, teapot cozies, and egg cozies. That's right – egg cozies. Hero Collector is expected to officially launch its line of knitting kits later in 2020.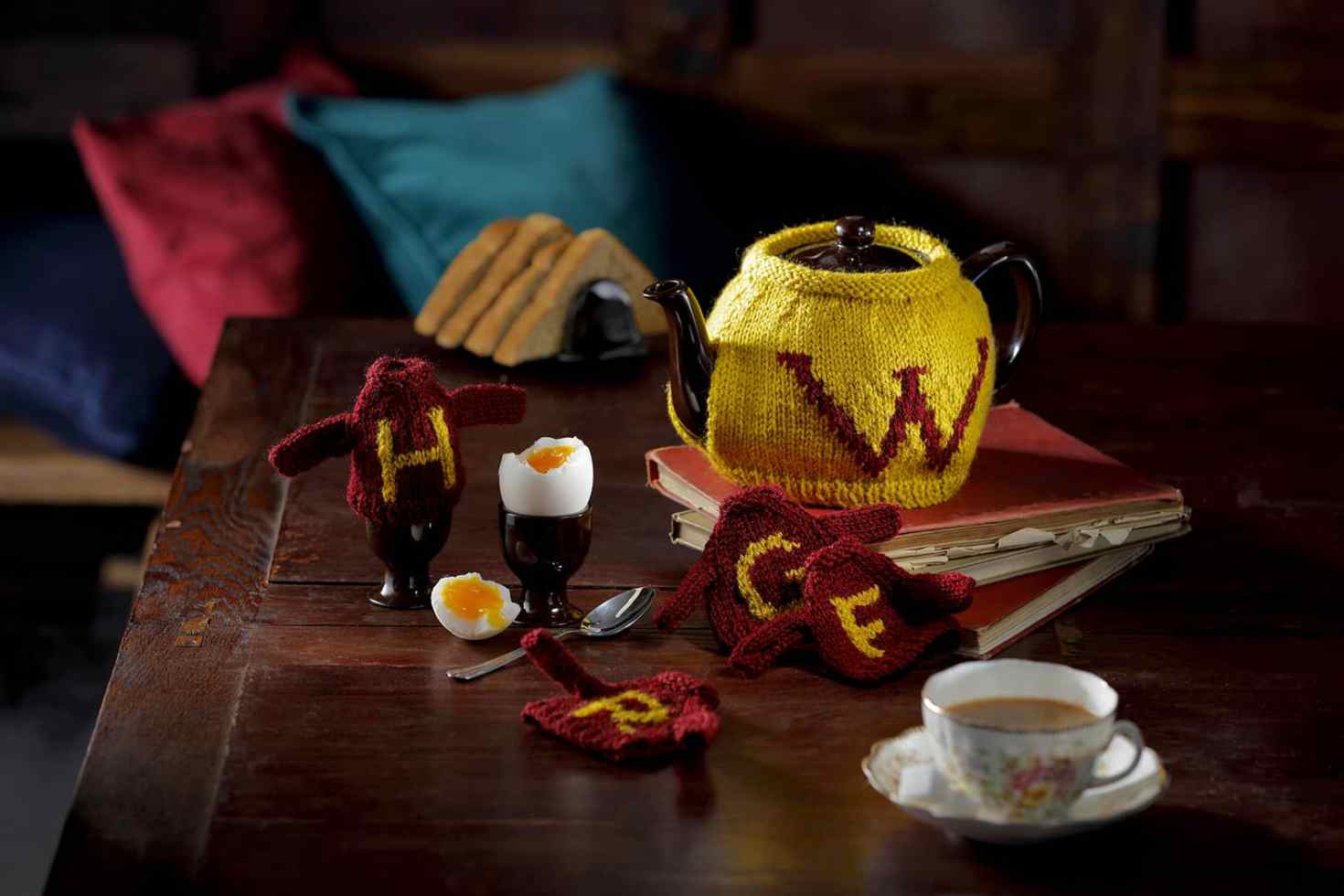 Have you gotten some good Harry Potter merch recently? Drop us a line and let us know!