"Wizards Unite" Turns Focus to Snape's Lost Love, Winter Gets Colder in "Hogwarts Mystery"
by Brienne Green · Published · Updated
The month of love may be on its way out, but Harry Potter: Wizards Unite and Harry Potter: Hogwarts Mystery aren't quite finished with the topic just yet. Part 2 of Wizards Unite's Lost Love Brilliant Event begins today and is turning its focus from Minerva McGonagall to Severus Snape. Meanwhile, your characters may still be swooning from their Valentine's Day dates in Hogwarts Mystery, but they're about to find themselves with their minds on an entirely different sort of kiss altogether. Phones at the ready!
Wizards Unite Update
We're fresh off February's Community Day in Wizards Unite, and we were up to our elbows Sunday in Erklings, Doxies, Horned Serpents, and Leprechauns. With any luck, you were able to pick up some nice rewards and rid your city streets of a few fantastic pests. There's nothing worse than being attacked by a kamikaze Doxy while driving.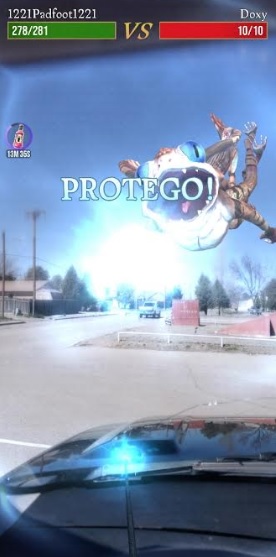 Just kidding; we were parked. Never Ducklifors and drive, kids!
Now, however, it's time to sigh wistfully and turn your thoughts to unrequited love with the start of Part 2 of the Lost Love Brilliant Event. The event begins at 11 a.m. today in your local time zone and will wrap up at the same time Tuesday, March 3. The focus this time around is on Severus Snape and Lily Evans. As always, don't forget to grab your free Diagon Alley Shop bundle and to leave yourself enough time to complete the bonus assignment at the end of the event. In addition to the Restricted Section Books, Spell Books, Silver Keys, and gold you can earn, you also have the chance to pick up a Potions Class Arch Portrait Frame, Severus Snape-Themed Portrait Frame, and Lost Love Achievement Badge for your Ministry ID.
While you wander the streets in search of love (or just Foundables), you'll encounter Brilliant Severus Snape and the Brilliant Mirror of Erised, completing event tasks will earn you a Brilliant Infusion of Wormwood and a Brilliant Cauldron, visiting Madam Puddifoot's Tea Shop through Brilliant Portkeys will let you collect the Brilliant Vase of Lilies, and completing Wizarding Challenges with event-specific Runestones will produce a Brilliant Photograph of Lily and Severus as children.
As it did for the first time with Part 1 of this Brilliant Event, Wizards Unite is once again adding incentives for your progress. Place the Brilliant Severus Snape image in your Registry and Healing Potions will have their effectiveness increased from the usual 35% to 50%. Baruffio's Brain Elixir will last for 45 minutes instead of 30 once you've placed the Brilliant Vase of Lilies image, and placing the Brilliant Photograph of Lily and Severus will cause Potent Exstimulo Potions to last for six spell casts instead of five.
You may also notice some rarer Foundables have begun appearing in Portkey rewards, which is excellent news. You now have a shot at picking up fragments of the Portrait of Dumbledore, Portrait of Voldemort, and Nimbus 2000 in 2K Portkeys; the Sorting Hat, the Veil, the Foe Glass, Sirius Black, the Mirror of Erised, and the Demiguise will appear in 5K Portkeys; and 10K Portkeys may offer some of the rarest Foundables of them all: the Goblet of Fire, Buckbeak, the Pensieve, Young Harry Potter, Pickett, the Flying Ford Anglia, and the Swooping Evil.
And speaking of excellent news, it was a major bummer for those of us gamers who like to fly solo - distancing ourselves from the pack in order to keep those we care about safe while using the Dark wizards and witches we battle as metaphors for our own personal demons (it was obviously also a bummer for those of us gamers who like to create elaborate backstories for ourselves) - when the start button disappeared from Wizarding Challenges. After all, considering we're carrying that aforementioned baggage into every showdown, we don't have time to hang around in the lobby waiting to fight. So three cheers for the return of the start button that allows you to opt out of the pre-Challenge countdown! Other updates are listed below.
Wizarding Challenges: Did we mention the start button was back? Other updates include the correction of an Aurors-only issue where defeating a Wizarding Challenge foe with a Bat-Bogey Hex wasn't counting toward Challenge achievements and the correction of an issue that was allowing players to use Health Potions and Invigoration Draughts even when their Health and Focus levels were at a maximum.
New Features/Updates: When preparing to engage in a Wizarding Challenge at a Fortress, a display of your Player Grade potential rewards will appear when you select a Chamber. Daily Login rewards have also been refreshed with new items.
Bug Fixes: Two issues have been corrected, including friends' Wizarding Levels not appearing in their Friends List entries and red dots not appearing on the Gifting icon when gifts have been received.
Hogwarts Mystery Update
There's really only one way we can start off this Hogwarts Mystery update: Awwwwwwwww!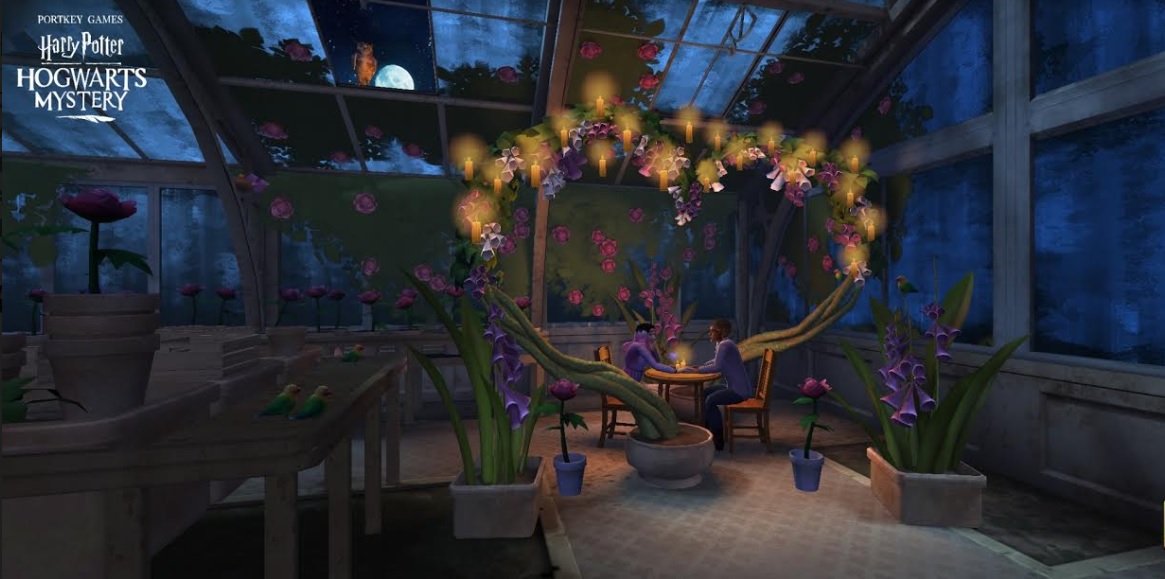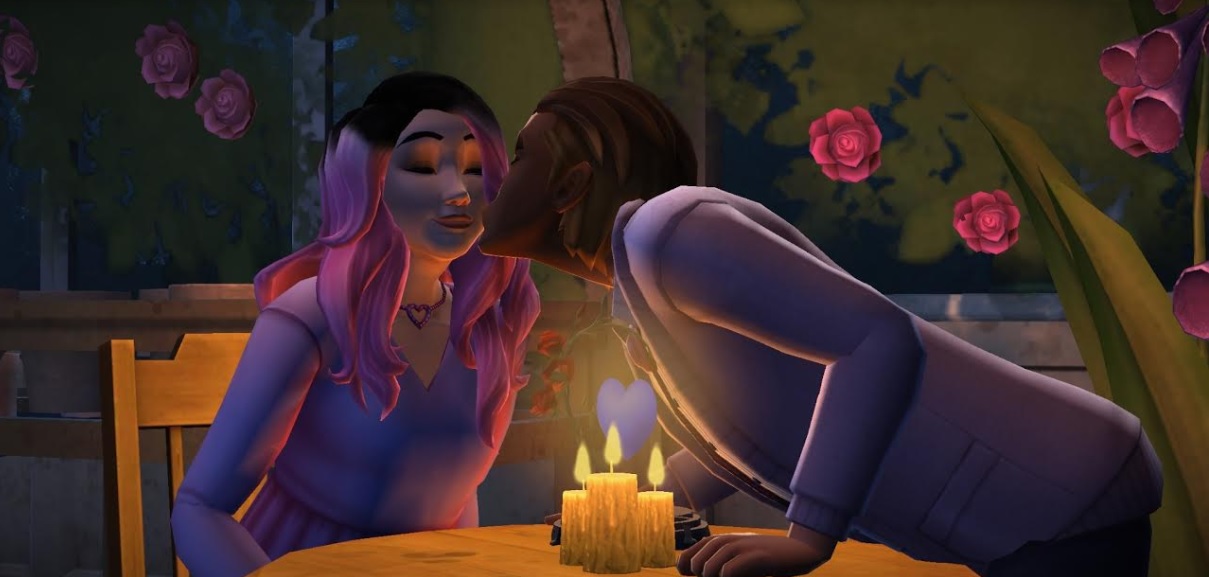 Honestly, how adorable was this year's Valentine's Day event? The visually gorgeous greenhouse date at the end of the evening and sweet awkwardness of adolescent affection were almost enough to make us forget that we were first stalked, then attacked by Gilderoy Lockhart at a fake book-release event in a heinously decorated Madam Puddifoot's Tea Shop.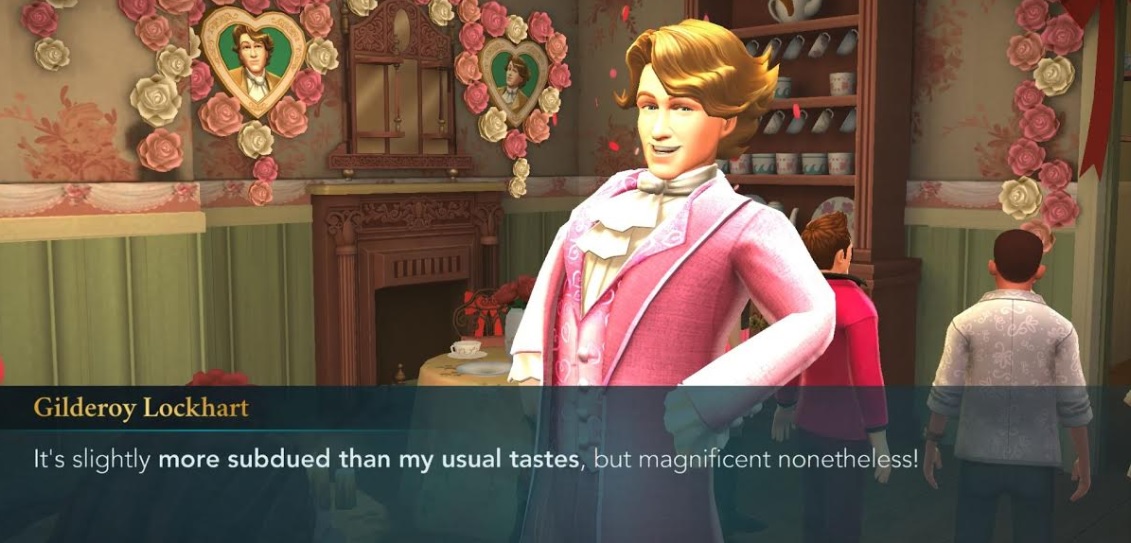 Yeah, bite us. We're all aware, of course, of Lockhart's idea of doing research for a book. Whether or not his theft of your and your friends' intellectual property will ever come up again in the game remains to be seen, but if there's one upside to being accosted with a Memory Charm, it's that maybe nearly everyone you know forgot that they all asked you to be their date. Because for people who hate hurting other people's feelings - even if they happen to be fictional - that was entirely too much stress.
Meanwhile in the story, your character is still on the hunt for the final Cursed Vault, and in between events and side quests that make it not a concern at all, the statue curse remains a concern. But at least those affected are under the care of a stalwart and kindly medical professional who...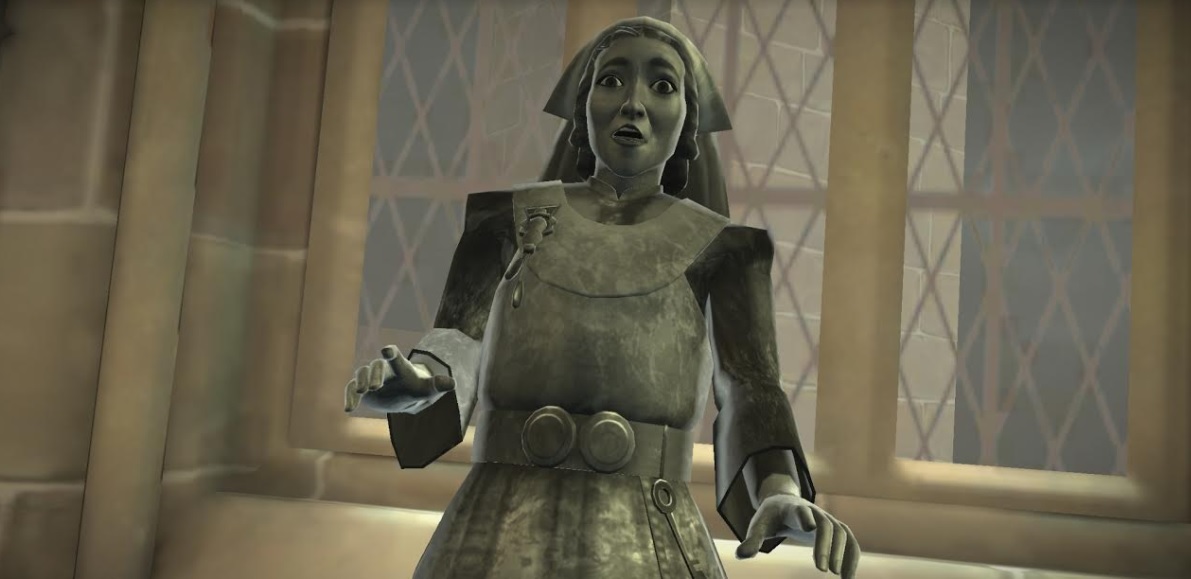 Well, that's the opposite of good! Moving on, the addition to the game of the Daily Planner has been a helpful one. The tasks are simple to complete and offer rewards we actually need, such as energy, gems, and creature food. And if you completed the Valentine's Day side quest, you've also added the gift from your date to the energy-producing items in your dormitory.
As for what's coming up, it seems that even though winter is drawing to an end, things are about to get chillier.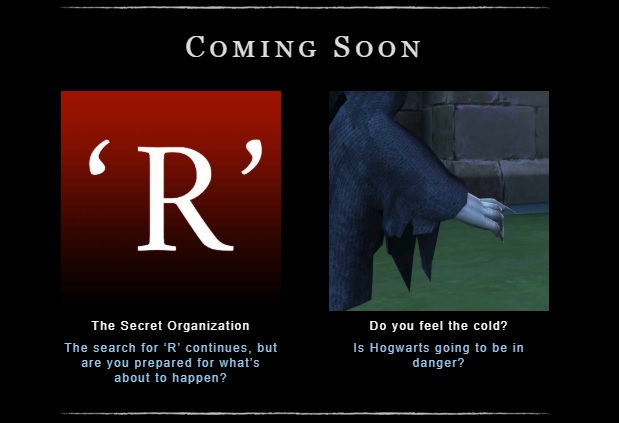 Dementors are apparently on their way again, so keep an eye out for that as you continue to contend with the forces of "R"!