"Wizards Unite" Unveils Adventure Sync, Wizarding World Digital Gets Puzzling
by Brienne Green · Published · Updated
Happy February, wizarding world gamers! There's a lot to love this month, which – considering the next holiday on the horizon – only seems appropriate. There's a big development in Harry Potter: Wizards Unite that'll have you on your feet (and hopefully walking a lot!), Harry Potter: Hogwarts Mystery is teasing another Valentine's Day event, and Wizarding World Digital itself has a bit of puzzling news (pun intended). Phones at the ready!
Wizards Unite Update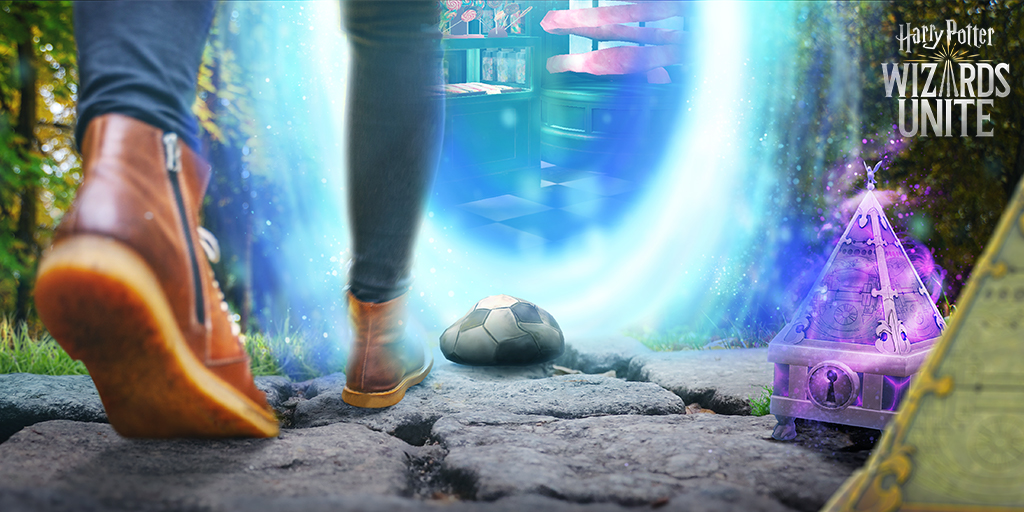 The big news in Wizards Unite as the new year heads into its second month is the arrival, at long last, of Adventure Sync! Insert your own fireworks noises here! Niantic and WB Games San Francisco have been teasing the update for many months, and with the release of Version 2.9.0, you'll finally be rewarded for your daily moving about.
Players of Pokémon GO will be familiar with Adventure Sync, but for those who aren't, Wizards Unite will now sync - with your permission - to your Apple Health or Google Fit app in order to apply all the walking, jogging, chasing of unruly children or ice cream trucks, etc. you do on a daily basis to your progress in unlocking Portkey Portmanteaus. This occurs even when the game isn't actively open.
In addition, the game has made a few changes to the Portmanteaus themselves. You now have space for a full ten active Portmanteaus, and once unlocked, you'll notice the Portkeys differ. Portkeys of the 2K variety will feature the traditional Boot, 5K Portkeys will be in the form of a Kettle, and a Deflated Ball will represent 10K Portkeys. Portkey locations you previously only saw during Brilliant Events - such as Umbridge's Office and the Three Broomsticks - will make appearances in regular gameplay now, you'll have a chance to discover Foundable fragments previously unavailable in Portkey locations, and some Wrackspurts will offer Spell Energy.
You can check out the other updates included in Version 2.9.0 below.
Friends and Gifting: You now have the ability to sort your friends either alphabetically (ascending or descending) or by those from whom you have an unopened gift waiting.
Bug Fixes: Players having issues with error messages when they attempt to collect brewed potions should no longer see those errors. Corrected issues with Wizarding Challenges include the elimination of error messages seen when players attempt to enter a Challenge and immediate updates of the number of players joining a group Challenge.
And that's not all in the world of Wizards Unite! Players will also see a pair of special events kicking off this week, and you won't want to miss them.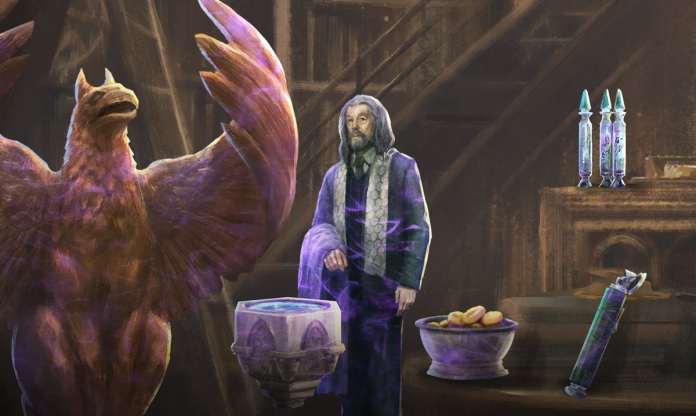 We'll start with Part 2 of the Darkest of Times Brilliant Event, which continues to focus on Albus Dumbledore - specifically, objects and characters relating to the buildup to the Second Wizarding War. Part 2 is set to begin at 2 p.m. (Eastern) today and will end at 2 p.m. (Eastern) Tuesday, February 11.
Out there in the wild, be on the lookout for Brilliant Pensieve Foundables. Completed Event Tasks will reward you with Brilliant Memory Vials, Brilliant Sherbet Lemon, and Brilliant Young Dumbledore. And no, sorry - we don't mean Yumbledore; think more along the lines of the version we saw pay a visit to 11-year-old Tom Riddle. And finally, you'll piece together a Brilliant Griffin Statue by using Brilliant Portkey Portmanteaus and a Brilliant Deluminator by using event-specific Brilliant Runestones in Wizarding Challenges.
As always, be sure to complete your tasks early in order to participate in the Bonus Assignment, and don't forget to pick up your free Diagon Alley Shop pack. Baruffio's Brain Elixir will also last for one hour, and Brilliant Portkeys will transport you once again to Dumbledore's Office.
The Brilliant Event will overlap another in-game celebration as Wizards Unite pays tribute to this year's Harry Potter Book Night theme: the Triwizard Tournament!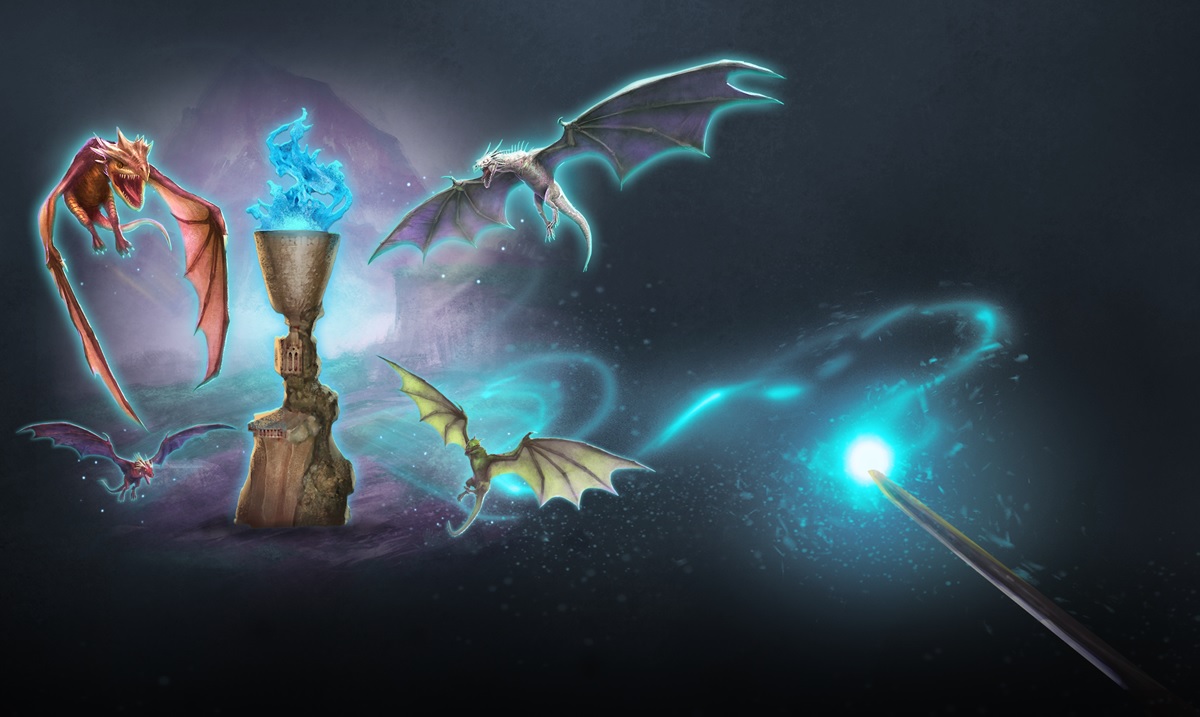 With Harry Potter Book Night taking place on Thursday, February 6, the game will increase appearances of items relating to the Triwizard Tournament from 11 a.m. (local time) Wednesday, February 5, through 11 a.m. (local time) Friday, February 7. Players will receive a free Diagon Alley Shop pack and see increased instances of Goblet of Fire Foundables, Magical Games and Sports Runestones, Triwizard Cup Fragments, Wizard XP, Spell Books, and Keys. Oh, and you'll also want to watch your head... Dragons are back in town!
Appearances of Dragon Oddities will increase on your maps, with Peruvian Vipertooths and Welsh Greens appearing in Europe, Africa, the Americas, and Greenland, and Chinese Fireballs and Antipodean Opaleyes popping up in Oceania, Asia, the Middle East, and India. Be on the lookout for Dragon Eggs and Dragon Egg Portmanteaus as well, and note that when using Magical Games and Sports Runestones in Wizarding Challenges, you'll be more likely to receive Triwizard Cup Fragments in addition to the usual rewards.
How's that for a little early-February excitement? Think you can stand a bit more? Your in-game Special Assignments page is already teasing the start of a new Brilliant Event in nine days: Lost Love Part 1! We'll be back soon to fill you in on that, and be sure to use the hashtag #WizardsUnite on social media to share your progress in the meantime.
Hogwarts Mystery Update
We haven't nearly as much to report this time around in Hogwarts Mystery, but you should be good and worn out from your recent Quidditch Cup-winning efforts anyway. Consider this a time to take a breather! Bask in the adulation of your professors and peers.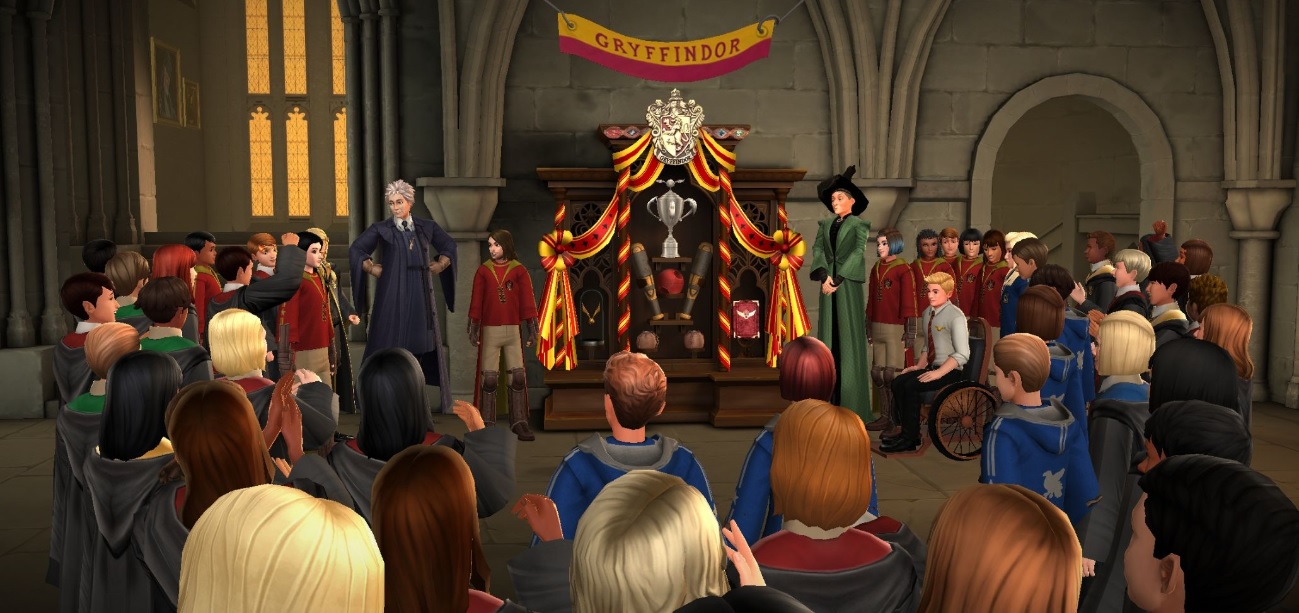 Erika Rath is probably still lurking around somewhere wanting to exact her revenge, but there's good news on that front as well - you'll soon be pretty skilled with a bat yourself!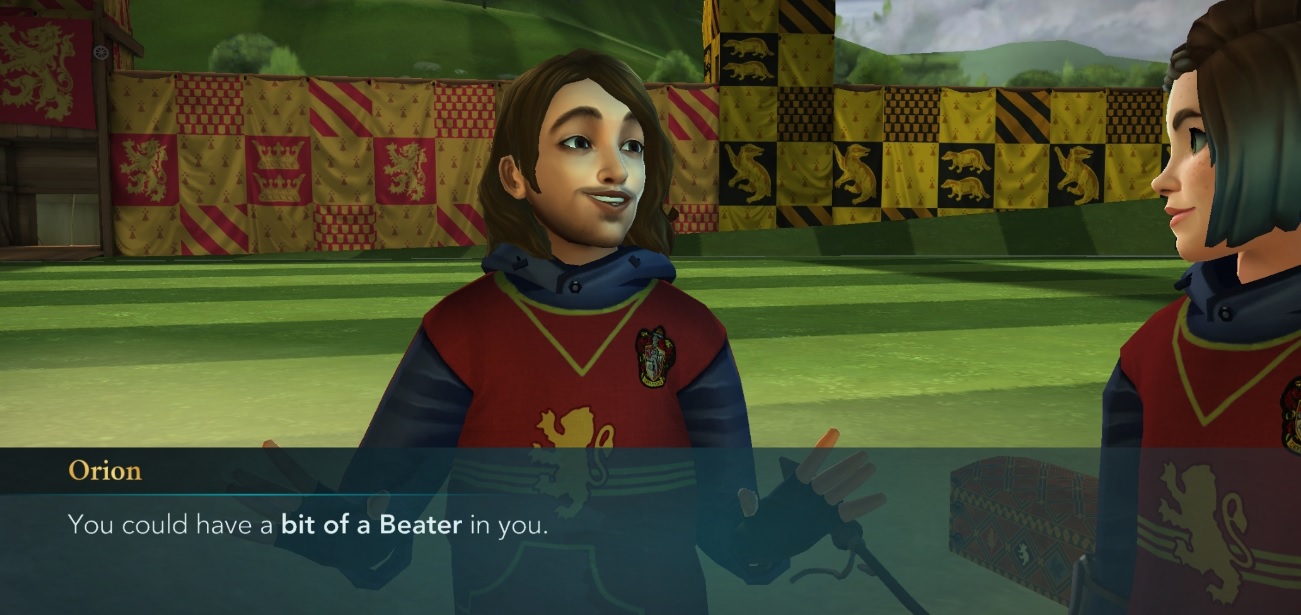 Of course, if you want the latest fashions, you have to spend the bulk of your time completing classes and racking up points for House Pride and Full Marks Events. Do we really want to look like Beatrice Haywood's creepy impersonation of Ismelda Murk? No, but we'll be damned if we're going to let anyone else get that outfit! Fashion's also playing a role in the story line as you make use of your invisibility cloak, and even though danger seems to be lurking in every dark corner, just be sure you're keeping your priorities as straight as Andre Egwu's!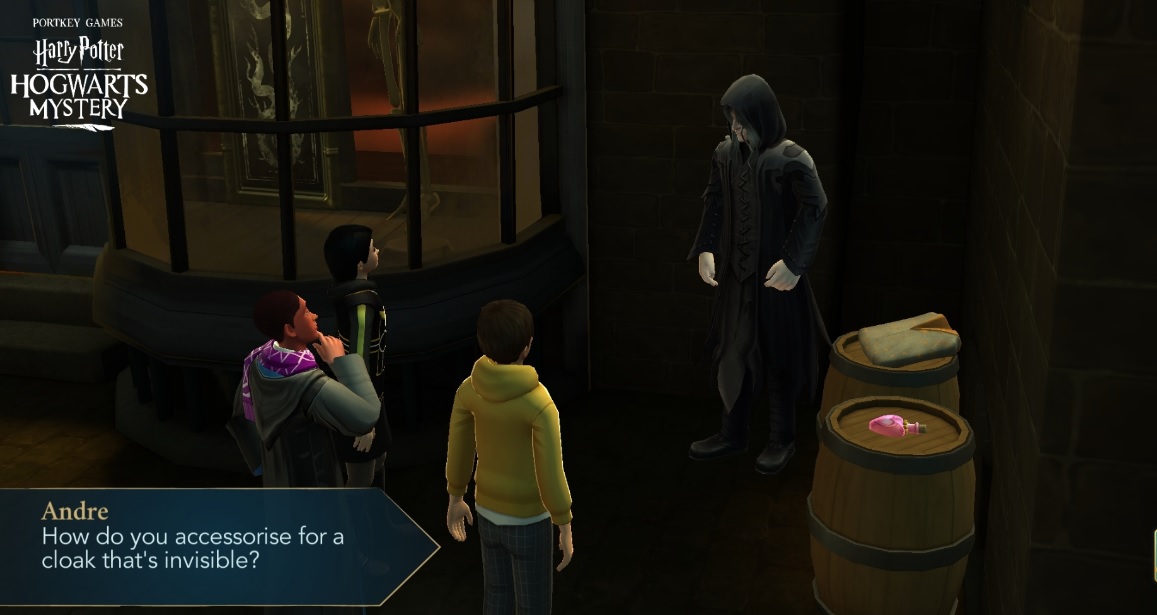 Jam City has been teasing a new event that will certainly provide a welcome distraction: It looks as if our characters will soon be back on the dating scene! We're taking Talbott Winger in this round of the playoffs. Fight us in the comments!
The most romantic day of the year is soon to come…which one would be your dream date? pic.twitter.com/w9ISsczRpX

— Harry Potter: Hogwarts Mystery (@HogwartsMystery) January 28, 2020
Wizarding World Game Update
Both Wizards Unite and Hogwarts Mystery are official titles, of course, but Wizarding World Digital has recently made a few new gaming announcements of which you'll want to take note.
You may have already noticed this first development: The Wizarding World app is now featuring puzzles!
And seeing as this is the Wizarding World, expect your puzzles to be peppered with a little sorcery, which shall become apparent once you start playing. Some puzzles will also come with secret codes, which you can unlock with the Wizarding World app for an extra treat.
What types of puzzles you're seeing apparently depends on whether or not you're a Wizarding World Gold subscriber. Crossword puzzles and word searches have recently begun appearing in the app feed. Some are free to all Wizarding Passport holders, while Gold subscribers see extra puzzles.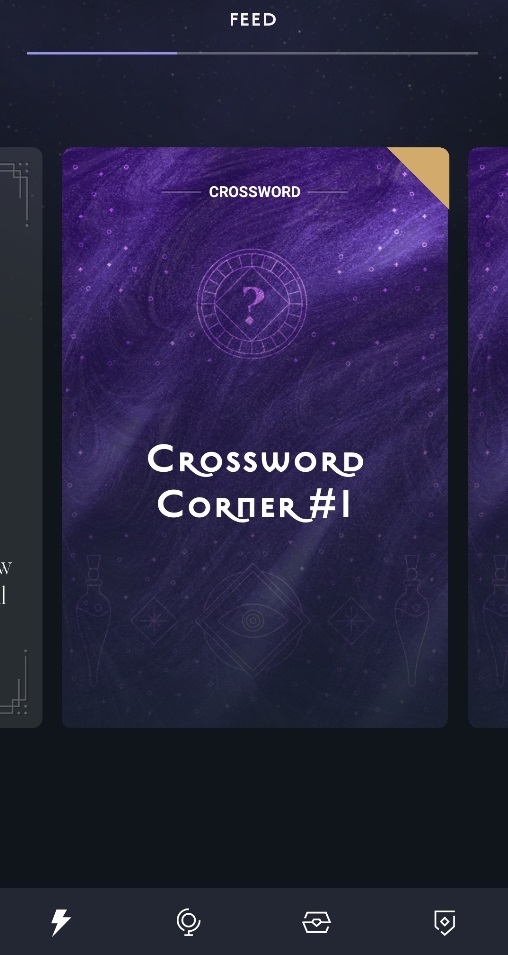 The company also says additional types of puzzles in a range of difficulty levels will be coming soon.
Outside the app, Wizarding World Digital has also announced that a new Harry Potter mobile puzzle game is in development under the Portkey Games label. San Francisco-based Zynga is developing the game, which is currently in beta testing.
From the moving bricks at the entrance to Diagon Alley, the delicious treats of Honeydukes and the mischief of Weasleys' Wizard Wheezes, players will be able to match their way through the moments from the Harry Potter films they know and love. With themed puzzle boards, familiar characters, potions and spell combinations, as well as magical mischief, players can celebrate the Wizarding World in a whole new way.
We'll definitely keep you posted on that!