Castium Revelio: Bonding with the Batmobile
by Brienne Green · Published · Updated
Leave it to James Bond to be fashionably late, right? We'll be waiting a little longer to see Ralph Fiennes in No Time to Die, it seems, but to help you overcome your disappointment, we've got photos of Robert Pattinson bonding with the Batmobile! Jason Isaacs is also busy this week as he prepares to film a pilot for a potential CBS medical drama and awaits the premiere of Scoob!, whose final trailer you can view below. You can also check out a new trailer for Artemis Fowl, check out Jude Law reciting poetry over a Vampire Weekend track, and check out Callum Turner in general! All the latest on your Wizarding World favorites is here, so don't wait for the grass to grow! Castium Revelio!
Harry Potter Cast & Crew
The biggest news we have for you this week is that MGM has officially bumped back the premiere date for the latest James Bond film, No Time to Die, starring Ralph Fiennes (Lord Voldemort) as M, from April 10 to November 25. Sad faces all around. The studio had its reasons, however, citing concerns over the coronavirus. With speculation that virus fears could eventually prompt theater closures worldwide - 70,000 theaters have been closed since January in China alone - the studio estimated its box office returns could have taken as much as a 30-percent hit, the Hollywood Reporter says. Sources have said the decision to delay the premiere will still cost MGM between $30 million and $50 million. But with $300 million in potential losses on the table due to theater closures, the date change was the more prudent of the options. So here's to nearly nine more months of hype! You can start with the film's most recent television spot.
To further cheer you up, we also have new photos of Batinson checking out his sweet ride!
The Batman
director Matt Reeves released the photos of
Robert Pattinson
(Cedric Diggory) as Batman alongside his trademark vehicle this week via Twitter, and we are frankly 100 percent here for this version of the Batmobile. It's a muscle car with full emphasis on the muscle.
The Hollywood Reporter says 2017's Beauty and the Beast, which starred Emma Watson (Hermione Granger) as Belle, is getting a prequel. Rather than another film, however, the prequel will come in the form of a six-episode, musical limited series on Disney+ and will focus on the dastardly duo of Gaston and LeFou. The actors behind those roles – Luke Evans and Josh Gad – are on board. According to the Hollywood Reporter's sources, the series will be set "well before the events of the film" and will expand the Beauty and the Beast universe. No other stars from the 2017 picture – including Watson – are currently attached, but the sources say "there is a possibility that they could pop in for a guest spot." We'll keep our eyes on this one!
Daniel Radcliffe (Harry Potter) has made a number of appearances over the years on Today, and the show released a compilation video this week recalling some of his most memorable visits. From talking Harry Potter and the Goblet of Fire in 2005 on a decked-out set with a few young fans to turning up shaved-headed alongside James McAvoy in support of 2015's Victor Frankenstein, it's a fun stroll down memory lane that also includes segments regarding 2013's Kill Your Darlings and 2018's The Lifespan of a Fact.
Radcliffe was also still busy last week making the continued rounds for
Guns Akimbo
, which premiered February 28. He
spoke with the New Zealand Herald
, saying that while he doesn't feel like he's still
"stuck"
in the role of Harry Potter, he continues to embrace the fact that many fans will always associate him with that character.
I don't know what I would've had to do to not get away from 'Potter'. What's a similar part that I could've played? I want people to see me as an actor rather than just one character, obviously. [But still being Harry Potter to many people] is fine too. 'Potter' was a huge part of people's childhoods. Everyone's got some sort of memory of it and that's lovely. The idea that something that I was involved with could mean as much to somebody as things I loved when I was a kid is really special, and not something that I shy away from. I think people always assume that I won't want to talk about 'Potter' but that's ten years of my life. I loved doing those films, I'm very happy to talk about it.
We're coming up on the May 15 premiere of the animated film Scoob!, starring Jason Isaacs (Lucius Malfoy) as Dick Dastardly and produced by Chris Columbus (Harry Potter director and producer), and we're rery rexcited, Raggy! We can't wait to hear Isaacs in this role, especially since we get to hear him for only a split second in the movie's final trailer, released this week. Pay extremely close attention around the 1:47 mark!
There was more major news on the Isaacs front this week when
Deadline Hollywood announced
the actor would be starring in a pilot for a potential new CBS family medical drama titled
Good Sam
. He's set to play the male lead opposite Sophia Bush, and you can check out the synopsis below. Right now, only the pilot is planned, but we'll let you know if it's picked up!
'Good Sam' centers on Sam (Bush), a talented yet stifled heart surgeon who embraces her leadership role after her renowned and pompous boss, Griff (Isaacs), falls into a coma. When he awakens and wants to resume surgery, however, it falls to her to supervise this overbearing blowhard who never acknowledged her talents – and also happens to be her father. Isaacs' Dr. Paul 'Griff' Griffith is the brilliant, arrogant, unrivaled Chief of Cardiothoracic surgery, a wizard [insert MuggleNet rim shot] with a scalpel. He's notoriously hard on his residents – none more than his equally gifted daughter, Sam.
Just Jared reports that stars in attendance at the Mammoth Film Festival in Mammoth Lakes, California, last week paid tribute to late basketball legend Kobe Bryant during a celebrity bowling tournament held in conjunction with the festival. The bowlers – including Tom Felton (Draco Malfoy) – wore Bryant's number and the Los Angeles Lakers colors on their bowling shirts, and unfortunately, while there seemed to be an abundance of photos of every other participant, there was exactly one photo of Felton. More accurately, there was one photo of Felton's back. But never let it be said that MuggleNet failed to show you any part of Felton's body. He's on the right.
As MuggleNet reported in early February, Imelda Staunton's (Dolores Umbridge) turn as Queen Elizabeth in The Crown is set to coincide with the series's fifth and final season on Netflix. But the Internet began speculating this week that the show might continue elsewhere after the question was posed to producer Andy Harries at a Banff Media Festival event in London, England.
That's a very cheeky question. It's quite well known that [Sony-owned] Left Bank [Pictures] retained the rights to 'The Crown'. [...] The plan is ongoing. It's still exclusively on Netflix and it stays there for the moment.
However, Deadline Hollywood later reported that sources have since clarified the show wouldn't move to another network or streaming service at the conclusion of its fifth season.
Meanwhile, filming for Season 4 of the series was underway this week in London, and Helena Bonham Carter (Bellatrix Lestrange) was seen out and about among her castmates.
BBC One released an official trailer this week for The Nest, a five-part drama set to air this year. It stars Katie Leung (Cho Chang) and Shirley Henderson (Moaning Myrtle) in unnamed roles and tells the story of an 18-year-old girl who agrees to carry a Glasgow, Scotland, couple's baby. According to the synopsis, "it feels like they were meant to meet, but was it really by chance?" You can view the trailer below.
The popular BBC comedy sketch program
The Fast Show
is making its return for a one-off special,
the Daily Mail reports
. The original series starred
Mark Williams
(Arthur Weasley), and while there's still no word on whether or not he'll be taking part in the upcoming special, we're mentioning this because
Johnny Depp
(Gellert Grindelwald,
Fantastic Beasts
) appeared on the show's initial farewell episode in 1999, and there's a picture of him with Williams and Williams's costar, Paul Whitehouse, that we simply couldn't resist. It's too cool.
The United States release date for How to Build a Girl, starring Dame Emma Thompson (Sybill Trelawney), Frank Dillane (16-year-old Tom Riddle, Harry Potter and the Half-Blood Prince), and Beanie Feldstein (Lady Bird) is coming up May 8, and Empire reports the movie now has a United Kingdom release date as well! The film, based on the novel by Caitlin Moran, will premiere July 3 in the UK. Feldstein stars as teenager Johanna Morrigan, who reinvents herself as the worldly woman Dolly Wilde in order to obtain a job as a music critic in London and save her poverty-stricken family. Thompson plays Amanda, and Dillane's role is as yet unlisted.
Miriam Margolyes (Pomona Sprout) is off on another adventure for the BBC. This time around, Miriam's Big Fat Adventure will see the 78-year-old actress, who says she's spent her life worrying about her weight, trying to determine why the UK seems to be getting heavier. Episode 1 of the four-part series is scheduled to air Monday on BBC Two, and you'll be able to stream it online once it does. In support of the documentary, Margolyes visited The One Show this week and was in her usual rare form.
Margolyes will also be included as a narrator in a new audiobook series for
Letters of Note
. The curation of
"remarkable letters"
was originally an online effort but spawned a hit series of books and the
Letters Live
events, during which performers – including
Jude Law
(Albus Dumbledore,
Fantastic Beasts
) – gather to read letters aloud. The first six
Letters of Note
audiobooks cover the topics of love, cats, art, war, mothers, and music and are
available now on Audible
. Other narrators include Law,
Helen McCrory
(Narcissa Malfoy),
Toby Jones
(voice of Dobby), and
Stephen Fry
(narrator of the UK
Harry Potter
audiobooks).
Meanwhile, if you've ever wondered which ten books McCrory would take to a desert island, wonder no more! The actress shared her list with Vulture, stating that she has no time for tablet reading or audiobooks; she's a paper book fan all the way. You can view her list on Vulture's site. We'll end the suspense and tell you up front that it doesn't include any Potter titles.
The Hebden Bridge Film Festival is coming up March 27–29 in Hebden Bridge, England, and this year's program will include an opening-night screening of Misbehaviour, starring Rhys Ifans (Xenophilius Lovegood), Keira Knightley, and Jessie Buckley. The movie recounts the true story of the Women's Liberation Movement's 1970 flour-bombing of the Miss World pageant. Tickets can be purchased on the festival's website.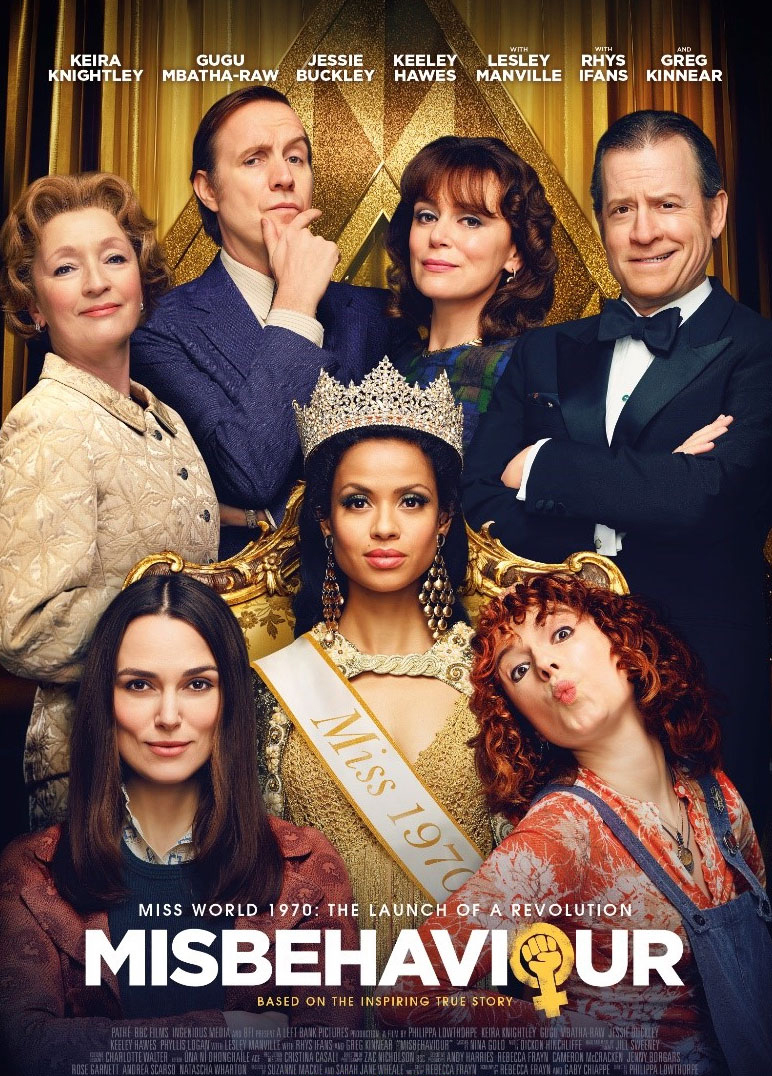 It's been quite a while since we had an update on Last Call, the 2016 picture starring Ifans as Dylan Thomas as the poet dreams and drinks his way through his final days, but Deadline Hollywood mentioned this week that the film has been acquired by K Street Pictures with plans to release it this year. There's no date listed yet on IMDb, but we'll keep an eye out!
DuckTales fans, get ready for another season of daring do, high adventure, and plenty of wise-quacking. Season 3 of the popular reboot, starring David Tennant (Barty Crouch Jr.) as Scrooge McDuck, is set to premiere April 4 on Disney XD and DisneyNow. In addition to their continued quests for treasure and artifacts, the Duck family will also encounter a secret organization from Scrooge's past – the Fiendish Organization for World Larceny (F.O.W.L.) – which will seek to stop them in their webbed tracks.
Tennant will also be revisiting his role as the Tenth Doctor once again in another audio drama for Big Finish. Tennant has teamed up multiple times with one of his most beloved Doctor Who companions, Donna Noble (Catherine Tate, who also voices Magica De Spell in DuckTales), for the audio adventures, and Tate has a solo series titled Donna Noble: Kidnapped. It's on this series that Tennant will be guest-starring in one of the four dramas included in the Kidnapped boxed set, which is now available for download and CD purchase.
And in Tennant's personal life, he and wife Georgia have finally confirmed the name of their four-month-old child – but only after their eldest son, Ty Tennant, accidentally let it slip during a shout-out to his family while appearing on British talk show Lorraine. Oops. But everyone was going to find out eventually anyway, and the name is adorable: Birdie!
View this post on Instagram

A post shared by Georgia Tennant (@georgiatennantofficial) on
The 15th season of Great British Menu is set to premiere March 18 on BBC Two, and David Bradley (Argus Filch) will be appearing as a guest judge. The series will run for nine weeks, with guest judges scheduled to appear during the half-hour regional finals on Friday. Bradley will judge the Wales final, and considering the theme of this year's show is "Britain's Success in Children's Literature," we can cross our fingers that he'll be sampling some Potter-esque fare!
Elsewhere, Bradley will be reprising his role as Tony's Dad in Ricky Gervais's Netflix series After Life, with the release of Season 2 set for April 24. UK fans will have the opportunity to see an advance screening of two episodes from the new season during a special event on April 19 at BFI Southbank in London. The screening will also include a Q&A with Gervais. Tickets are set to go on sale on March 10 and can be purchased on the BFI's website.
Every time we open our hearts again... PBS fans and fans of period drama alike will be disappointed to learn that Sanditon – the eight-part series coproduced by PBS Masterpiece and ITV and based on Jane Austen's final, and unfinished, novel – will likely not continue into a second season. ITV essentially abandoned the project, leaving its future development up to Masterpiece. Masterpiece issued the below tweet last week.
Dear #SanditonPBS fans: We want to thank you sincerely for your support during our broadcast. We love the series and wish it could go on; however, at this time there are no plans for another season. You'll be the first to know if that changes! pic.twitter.com/2uBXJQVYhb

— MASTERPIECE | PBS (@masterpiecepbs) February 25, 2020
We can hold out hope, based on the "if that changes" remark, but fans of the series – which featured Adrian Rawlins (James Potter) as Mr. Heywood – were quick to unleash their displeasure on Twitter, particularly considering the show ended on a cliffhanger. As writer Andrew Davies told British Period Dramas last week, "I don't know if you could tell from watching it, but we were rather counting on getting a second series!" Us too, Andrew! For now, you can try out Delhi, India, in the early 1800s with Beecham House, set to air on Masterpiece this summer and starring Imelda Staunton's and Jim Carter's daughter, Bessie Carter, as Violet.
And speaking of period drama, Emma, starring Callum Turner (Theseus Scamander, Fantastic Beasts) and Bill Nighy (Rufus Scrimgeour) made its wide-release premiere Friday, and Nighy sat down with the A.V. Club to talk about that film and some of his others that he feels are slightly unsung. You can click the link above to watch that video and check out another with movie critic Chuck Koplinski below.
Have you ever wanted to meet John Cleese (Nearly Headless Nick)? Well, it turns out you can – for a price. The comedian and actor is giving fans a chance to video chat with him via Fanmio at a cost of between $200 and $300. In addition to the video encounter, you'll receive an HD file of the meeting in a Cleese-themed digital frame and a ticket to his live show, The Untold Stories of John Cleese. Those signing on for the higher-end experience will also get a framed, signed photo and a T-shirt. He'll tell you all about it below, and if you're ready to pull the trigger, visit Fanmio to pick your package.
Meanwhile, Crocodile Dundee may have had his heyday in the 1980s, but guess what: He's back. Paul Hogan is returning once again to the iconic role in
The Very Excellent Mr. Dundee
, and Cleese, Luke Hemsworth, and Chevy Chase are joining him. This latest installment in the film franchise follows Dundee as he attempts to restore his reputation on the eve of knighthood, and it's set for an April 30 release in Australia. We'll let you know if it goes further than Down Under.
Filming has begun on the new Netflix drama The Irregulars, a Sherlock Holmes spinoff centered around the Baker Street Irregulars. The Daily Post reports that scenes were being shot this week at the Ruthin Gaol Museum in Ruthin, Wales. While no listings for the roles of Sherlock Holmes and Dr. John Watson appear on the series's IMDb page, the Post says those roles will be played by Henry Lloyd-Hughes (Roger Davies) and Line of Duty's Royce Pierreson, respectively. We'll keep an eye out for a release date.
Coronavirus concerns have also forced the cancellation of the popular Austin, Texas, festival SXSW, at which The Green Knight, starring Ralph Ineson (Amycus Carrow) in the titular role, was set to make its premiere. The Arthurian tale of Sir Gawain's quest to confront the Green Knight also features Dev Patel, Alicia Vikander, and Joel Edgerton. It's still slated for a May 29 theater release in the US, Canada, and the UK.
The WhatsOnStage Awards were presented last week, and Sophie Thompson (Mafalda Hopkirk) was a winner! Thompson took home the prize for Best Supporting Actress in a Play for her role in Present Laughter. Congrats, Sophie! Her costar in the play, Andrew Scott, won Best Actor in a Play, and the two shared a giggle backstage.
Thompson is also among the cast of new Netflix series Feel Good, starring Lisa Kudrow. The show will follow Mae, a comedian and recovering addict trying to control her addictive personality and intense romanticism. Thompson will play Maggie in the series, which is scheduled for a March 19 release. Check out the trailer below.
Deadline Hollywood has revealed
that
David Heyman
's (
Harry Potter
and
Fantastic Beasts
producer) Heyday Television will be adapting Greg Howard's book
Middle School's a Drag, You Better Werk!
for TV. The book tells the story of a boy who starts his own junior talent agency, signing a 13-year-old aspiring drag queen as his first client. That sounds like a good time waiting to happen, so we'll definitely keep you informed!
Fantastic Beasts Cast & Crew
Esquire last week released a list of the actors they consider to be the UK's next wave of leading men, and Callum Turner (Theseus Scamander) was among them. Turner told Esquire that British indie films such as A Room for Romeo Brass gave him the acting bug, as did films featuring Al Pacino, Robert De Niro, and Daniel Day-Lewis. He says British moviemaking continues to own his heart, telling the magazine, "Look, British cinema is so special because it's magical. Pure, pure magic." Know what else is magic? Photos of Turner! You can check out Esquire's below, and if you'd like to see a short video of the actor sipping on a pint of Guinness and buttoning his jacket – AND WHO WOULDN'T? – you can click the link above.
MuggleNet told you way back in May 2019 that Jude Law (Albus Dumbledore) was featured on a bonus track on the Japanese version of Vampire Weekend's Father of the Bride album, and we can now finally hear that track! Law isn't singing on "Lord Ullin's Daughter"; he's reciting a 200-year-old Scottish poem over an instrumental. But it's still no less enthralling. Enjoy!
The Berlin International Film Festival wasn't its usual hub-of-activity self this year, due to outside factors that included coronavirus fears. But a few major deals were still brokered, including one for
Eddie Redmayne
's (Newt Scamander)
The Good Nurse
, also starring Jessica Chastain. Netflix snapped up that biopic about serial killer Charlie Cullen for around $25 million. We'll let you know as soon as we see a release date!
Sir Kenneth Branagh's (Gilderoy Lockhart, Harry Potter) much-anticipated adaptation of the Eoin Colfer novel Artemis Fowl is coming up on its May 29 debut, and a new trailer was released this week. Colin Farrell (Percival Graves) stars as Artemis's father, Artemis Fowl I, whose disappearance leads his son (Ferdia Shaw) into battle against a hidden race of fairies. You can check out the extremely awesome-looking trailer and the new movie poster below.
Zoë Kravitz's representation for Yves Saint Laurent is extending past fashion and into fragrance with the release of Black Opium Neon. The new fragrance has notes of dragon fruit, mandarin orange, citron, sambac jasmine, and orange blossom over coffee, musk, and vanilla absolute, and you can see Kravitz in the promotional video below.
Sea Fever
, an Irish thriller about a trawler crew struggling for survival after being marooned at sea as a parasite invades their water supply, made its Irish premiere today at the Virgin Media Dublin International Film Festival,
Raidió Teilifís Éireann says
, and will debut April 24 in theaters in the UK and Ireland. The movie stars
Olwen Fouéré
(Melusine) as Ciara, and you can check out the trailer below.
Cursed Child Cast & Crew
Netflix has released a teaser trailer for its upcoming limited series The Eddy, written by Jack Thorne (playwright, Harry Potter and the Cursed Child). The story of a New York City jazz pianist trying to revive his failing jazz club in Paris, France, is slated for a May 8 release.
Sir Colin Callender
's (producer,
Harry Potter and the Cursed Child
) production company, Playground, has scored a coup.
Variety reports
that the screen rights to
The Stranger Times
, a novel by C.K. McDonnell and one of the most sought-after titles in the publishing world, have been acquired by Playground. The supernatural thriller, which follows a weekly newspaper devoted to
"investigating the weird, the unexplained and the inexplicable,"
will be developed as a returning series. The book itself is the first in a planned series and has, interestingly enough, yet to be published. That part of the process is expected in early 2021.
There you have it for another edition of MuggleNet's Casting News, and don't forget to check back next week so you can brag to your friends that you knew about that upcoming project before anyone else! As for us, we're off to watch Callum Turner drink a pint again. And again. And again.