A Mural to Spread Hope: "Expecto-Coronus"
Amid the global COVID-19 (coronavirus) pandemic, many wizards and Muggles have been doing their best to spread hope during this time, such as a virtual tour that takes fans to Harry Potter-specific locations in London via the Internet.
An artist in Cape Girardeau, Missouri, by the name of Craig Thomas has painted a mural of Harry Potter as a symbol of hope. The art shows Harry casting the Patronus Charm on a giant spiked germ representing the coronavirus. Thomas gave the painting the name Expecto-Coronus. The name comes from the Patronus Charm, which Harry uses many times in the series. A Patronus is the only spell that can defeat Dementors, which is quite fitting for this painting because coronavirus seems to be having a similar and devastating attack on the world as if all happiness is leaving.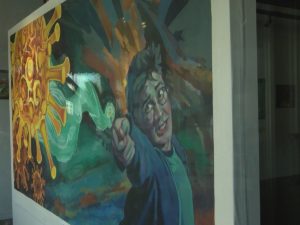 In an interview with local news station KFVS12, Thomas commented on why he chose Harry as the focal point for his artwork:
He doesn't always have it all figured out. I mean, he's bright enough and he has good friends and they all work on it together, and so I think a lot of people identify with that; if you just try your best, you know something good might happen.
While most museums and art galleries are closed, it is possible to still admire this beautiful artwork. The mural is hung in the window of the arts council in Cape Girardeau.
Thomas added that people can see his art while still social distancing.
Come by at night and you can really see it nicely at night. You don't even have to get out of your car.
What do you think about this artwork?